Real Geeks Blog - Internet Marketing
Written by The Professor
Feb 25, 2021
February's second Real Geeks Keeping It Real Training with Frank Klesitz and Greg Harrelson featured Steve Lamothe of Elevate Realty Group. Together they brought focus to 4 Steps to Get More Listing Appointments. Sharing that his primary sources of business are referrals from his sphere, agent to agent, past clients, repeat customers, and referral syndicates, Lamothe suggested four ways to ramp up business.
Four Methods to Get More Listing Appointment
1. Meticulously managed database
2. Cold calling
3. Run ads as an instant home offer, NOT as a home value ad
4. Syndicated Referrals (radio, partner organizations)
Explaining that "all marketing is buying your time back as you run out of it," Lamothe shared that he invests time, money and energy into his marketing. He's partnered with several organizations, including HomeLight, Dave Ramsey, Open Door, and Zillow (with a small spend only strategically per zip) in order to build his business and his database, because in Lamothe's words, "Your database IS your business."
Setting Up an Effective Database
"You should break your people up into two groups," Lamothe suggested. "You have your not mets and your mets," he explained, referencing Gary Keller's book, The Millionaire Real Estate Agent. "The people that you have met, you would call your sphere database," Lamothe said. "The real money making activity is taking that database... and then breaking it down into segments and groups. Really understand what's in it. Think of your database as a way to get information to your clients."
Lamothe modified Keller's "33 Touch" system and actually contacts his database 66 times a year, and says it results in a million dollar business, where his team creates over $400 million GCI per year. He encourages agents to start now with messaging and growing their contact database, "do it from this point forward," he said. Lamothe found that events were key in growing his database, called "Touchplan Events" and said he feels it would take agents 24 months to create similar value and results.
Details of Lamothe's Database Touchplan
• 66+ touches (many broken down around events)
• 4 events per year - portraits in the park, movie event, Thanksgiving pie event, ice cream social
• 16 calls quarterly (4 around each event)
• 2 emails (requesting registration), 1 voicemail and 1 last-minute email, 1 text & 1 voicemail for each event (6 touches per event)
• Mailer (12 per year - 4 centered around event)
• 2 video emails per month to entire database (24 per year)
• 13 recurring holidays where past clients get a text message
• 1 educational webinar per month (12 total)
• 2 touches to each client on social media per year
Harrelson focused on the long term business plan Lamothe has created. Klesitz explained that is where agents experience "the shift from salesperson to business owner," and begin to understand the lifetime value of each customer.
How to Make Cold Calling Work
"For every 100 dials, you're probably going to speak to 7 people, so this is not the best job for someone whose dollar per hour is pretty high." Lamothe revealed. He said if you used an overseas team, you'd probably see 1-2 nurtures per 1,000 calls and that it would take a year for an appointment and then 10% convert to a closed sale, making his investment $80 each. "It's a long game, just like your database," Lamothe said. "You should expect to burn that cash for the first 12 months," but in the second year you'll see a large return, he explained, and you'll get some deals in that first year, too.
How to Warm Leads with Social Media Advertising
Harrelson shared that while both cold calling and calling leads yourself are effective ways to grow your database. He recommended that segmenting a social media audience is work as well, but results in a warmer lead than a cold call. "That's what RG specializes in," Frank explained. Harrelson shared that he has spent $1,298 on FB ads and has created 294 fully opted in seller leads from a What's My Home Worth campaign. Harrelson has uploaded individual community segments to Facebook and targets them directly with messaging and exact neighborhood images, with a pocket area properties. An ad copy example, Harrelson shared, may be, "Attention Grand Dunes property owners, another property recently sold that could have impacted the value of property in Grand Dunes. Find out what your property is worth now." Since these campaigns are run through the Real Geeks CRM, they are targeted and nurtured. Harrelson has 700-800 niche home value campaigns and uses cloned, not new creative in his ads.
Lamothe also calls, mails, but also retargets website visitors as listings go live in specific communities, and changes messaging as properties move through the real estate cycle in neighborhood (new, pending, offer, sold). Lamothe focuses two neighborhoods based on price point and zip code when running Facebook ads. "If you'd like an offer on your home within 24 hours, click now," results in high conversion in Lamothe's area. See a sample ad here.
Lamothe also shared that targeting buyers with a follow up Facebook campaign using a mid-level, "move up" home specific to a 15 mile radius was very successful. He said this type of ad could be used for an entire database segment, even people in the active met list, due to its relevancy. This type of ad typically brings in 2 transactions, as it targets existing home owners who would sell their existing home when buying a new one. Lamothe said that in these campaigns, 2/100 are legitimate buyers.
Radio Ads & Syndicated Referral Systems Create Interest and Demand
Lamothe also uses radio ads (spending $10K annually) and uses messaging that brands the company as a while and seeks to solve a problem. He says the ads rotate messaging based on options that show they are unlike any other agent in their market. They offer renovation loans, offers to buy homes outright, full listing packages, and a menu based approach of options with competitive listings. This competitive approach was taken once Lamothe realized that "Almost every appointment had an offer from OpenDoor or Zillow before the seller had been contacted. Lamothe had to find a way to be unique.
Lamothe suggests using an indirect circle prospecting script when calling, such as, "Good morning Mr. Brown. This is Steve with Keller Williams. We're calling to notify you that we recently sold a home in your neighborhood. We had several offers on that home, do you happen to know of anyone that's considering making a move in the next 12 months?" After letting them respond, the virtual assistant then says, "Have you yourself considered leaving the neighborhood, or do you just love it so much, you're going to die in the home?"
As a recap, Klesitz and Harrelson shared resources discussed on the show and Harrelson underlined that Lamothe's events were key to building his sphere because he went deeper than his competition. "There's so many ways to build a business," Harrleson said. "Choose a path and you go deep on that path."
Lead Flow Resources
• Dave Ramsey https://www.daveramsey.com/elp/real-estate-agents
• HomeLife https://www.homelifeus.com/
• Agent Pronto https://agentpronto.com/
• FastExpert https://www.fastexpert.com/
• Referral Exchange https://www.referralexchange.com/agents-web/
• Glen Beck https://www.realestateagentsitrust.com/
• UpNest https://www.upnest.com/
Skiptracing Email Harvesting Tools
• Cole Realty Resource https://www.coleinformation.com/real-estate/
• Exact Dial https://exactdial.com/
• Remine https://www.remine.com/
... Read More!
Written by The Professor
Feb 22, 2021
This Facebook LIVE Coaching session with Greg Harrelson and Abe Safa of C21 The Harrelson Group details "Keys To A Powerful Listing Presentation." Covering the three parts of a powerful listing presentation: information gathering, a plan, and confidence, this episode breaks down components for securing a seller's trust and earning the listing! Watch and learn as you hear Safa walk you through a typical listing presentation scenario in a seller's home.
The Value of Knowing Your Listing Presentation
Safa believes in having a general listing presentation that is adaptable. "The bones of the presentation stay the same," he said, "but you throw in different components and conversations depending on the market."
According to Safa, the components of a good listing presentation include the following:
"Information - information starts way before you even get to the appointment." This would include gathering client info, property info, market data, and more.
"A Plan - How do I want it to go?"
"Confidence - I think confidence is the most important thing."
Harrelson agreed and began comparing securing a listing to an appointment at a doctor's office, Harellson said, "You've got your pre-presentation, your presentation, and your post-presentation." Like a nurse who gathers the info, you first need to be an information gatherer. Then the doctor is the presenter who recaps the information that was collected, asks follow up questions, and starts the presentation.
Pre Listing Presentation Essentials - Gathering Information
One piece of information Safa wants before he meets with a seller is, "I want to know as much as possible about the seller," said Safa. "I want to know their motivation first and foremost. Is this going to be a listing presentation or is this going to be an opportunity to meet and do a walk through and get to know each other? I want to know how serious they are."
Knowing this allows Safa to tailor his approach and avoid surprises. To do this he roleplays over the phone with the potential seller, learning their feelings on range, reasons for selling, and discussing any work that's been done on the home. "The more things that I know about that seller and their circumstances," Safa explained, "number one, the better I can help them. And then number two, the better I can present to them and give them options… and also be efficient with my time."
Safa and Harrelson said that agents need to make it easy for sellers to choose to be represented. "They're looking for reasons to use you, not reasons to eliminate," Safa explained that consumers don't want to make hard choices and its up to the agent to make it easy for them to choose to list.
Listing Presentation Mastery & Execution of the Plan
According to Harrelson, memorization, internalization, and personalization are the keys to an effective meeting with sellers. Just as restaurants don't cook everything on the menu for every client, Harrelson explained, they serve what client orders. Real estate professionals need to do the same, he said, know the presentation, but cater to what the client needs. Safa added, "I don't deliver the same presentation to every seller… What is consistent is each component of the presentation. I have canned components." Then depending on the client experience, Safa customizes those components and only shares what is important to that particular seller.
When asked by viewers about specific scenarios, Harrelson said his presentation wouldn't change if a property had been listed previously. In the pre-presentation stage, Harrelson explained he would address the motivation issue and discuss the seller's backup plan. Harrelson would mirror the client by restating the reason they originally want to move, focusing on that goal, and trying to understand what was really holding it up. In sharing an example where a seller was moving to be closer to family, he shared an insightful potential discussion.
Harrelson said he might say to the seller, "I way I see it, the only thing that's keeping you from your family is $25,000. You have to decide what's most important, staying here and holding… or getting to your family and moving on with your life?" Harrelson and Safa agreed that typically this type of conversation gets the property listed for the right price and sold. "I'm not going to have that dialogue with each client I see."
Safa shared his typical seller presentation. First of all, when Safa rings the doorbell, and takes a step back as to not intimidate the person opening the door. Then he walks in, shakes hands, and asks if he should remove shoes, which he said sellers love because it is a courtesy. Next he does a walk through with the client where he asks the seller to lead. The walk through generally lasts under two minutes, and during it Safa listens closely to how the client talks. "I want to hear how they describe each room. I want to know what's important to them," Safa said. He plants seeds and reaffirms their confidence with his comments, as takes notes. Once they've seen the property, Safa says they go to the kitchen table and sit down. "If they ask me if I want something to drink, I always say yes."
Then the discussion of the property ensues, with Safa sharing the components that best resonate with the seller. If the client said marketing or track record is important, he highlights those thoughts in the appointment. Harrelson added that he often tells the client on walk-throughs, "This is your opportunity to be the real estate agent. What would you show to your buyers?" Their answer helps him understand the seller better and deliver more value. And, it empowers the seller. Harrelson likes the seller to feel involved. "I'm controlling the range," Harrelson said in regards to seller input, "but, they're choosing the price within the range."
Confidence Comes with Knowledge
Before meeting with a seller, Safa sends over his "Know Your Property" form. This form provides insight into why the sellers originally chose the home and neighborhood, what they love about it, and specifics regarding the age of the roof, appliances, and any remodeled features. Harrelson mentioned that the purpose of that form was "getting them to make an additional investment into Abe," and Safa agreed that when the form was already filled out on arrival he knew the listing presentation would be easy.
Written by The Professor
Feb 11, 2021
This week's Facebook LIVE Real Geeks Mastermind training was all about the numbers. Titled, Understanding Number Tracking, Greg Harrelson and Abe Safa from Century 21 The Harrelson Group brought ratios into focus. In discussing the numbers, Harrelson and Safa agree that the capture to contact ratio is key. Safa defined what lead capture is clearly, "Capturing a lead is when a lead comes in to your Real Geeks account, no matter what the source," he said. Finding ways to improve that ratio will drive your ad spend down.
Harrelson explained that if you're spending $10 a lead in an ad campaign, and capture 100 leads at $10, you've spent $1000. If you only capture and talk to 20 of those leads or 20% Your cost per lead contact is $50. "While you can't control the lead cost, you can control whether or not you contact them," he said. So, if you contact and talk to 60%, your lead cost goes down to about $17.
"If we do it right, right at the beginning, and we make sure we drive our lead cost down, that's going to affect everything," said Harrelson, as he shared how the reduced cost per lead makes way for profit. Harrelson explained that the reason workflows are baked into the Real Geeks system is to optimize these costs. "With workflows," he said, "we can get it to 60%, if not a little more." Citing an example, Harrelson specifically explained how the drop in lead cost from $250 to $80 could allow for ad spend to be doubled, and therefore increase profits, since that meant ratios were upped by 300%. Safa suggested that agents revisit an earlier Real Geeks Training episode which specifically discussed PPC conversion to truly understand this.
Tracking Numbers for Motivation
Safa and Harrelson agreed that there are many ways to track the numbers and that each agent needs to find what number most motivates him or her. According to Harrelson, any one of these data points and ratios can be improved, and result in greater success. Though the tracking is generally simple math, Eric Robb suggested CTE and SISU as possible tracking tools for further study.
Listed below are several ratios to consider to get you started.
• Capture to contact?
• Contact to appointments?
• Offers written to offers accepted?
• Average price per closing?
• Number of homes shown to a buyer?
• Number of buyers contacted to contracts written?
Remembering What Works
Harrelson and Safa discouraged agents from spending more money without understanding the ratios. The idea that we need to buy more leads to do more business can't be the answer, they explained. "Instead of thinking of upping our budget, we have to think of optimization." One of the ways this can easily be done in 2021 is by moving the questions on qualifying to the end of the conversation, and moving appointment and engagement questions to the beginning of the conversation. In an interesting roleplay, Safa and Harrelson showed how easily this switch in order, can result in more appointments and sales.
Harrelson stressed that it's important to give access and over deliver, rather than reciting information, as buyers are researching on their own. "The studies show that the reason why buyers are calling agents right now is to gain access to the property, not information," he said. "Once we give them what they want. They will reciprocate by answering all of our questions." Harrelson shared that asking this particular question would show respect for the buyer's intelligence and get them fully engaged, "Are you paying cash or what lender are you already talking to?"
Safa and Harrelson reviewed ways to be more efficient with buyers when showing homes. They suggested asking the same question at all properties and explaining to the buyer that how they answer that question helps the agent find out why or why not they want the property. This reduces timeframe, gives power to the buyer, and shows that the agent cares.
At the end of the segment Harrelson walked through a technique used in Mind Storming by Brian Tracy. Harrelson said agents should think about the process of turning contacts into contracts, and spend 20 minutes writing down as many ideas as possible. At the end of 20 minutes, each agent can take one and put it into action. "Track it for two weeks and find the baseline, and then determine how you can improve that one ratio for 20 minutes, and then highlight one idea, and implement." Harrelson said. "Do this every two weeks for next couple of months, and you will experience a breakthrough in your business."
Written by The Professor
Feb 8, 2021
This month's Keeping It Real hosted by Frank Klesitz and Greg Harrelson summed up Brendan Bartic's "Bulletproof Real Estate Lead Follow Up Plan." Discussing the value of each lead as a person, and the need to nurture individuals on their home buying journey, Harrelson suggested a standard for agents to aspire to with clients. "If we courted all of our new leads like they were a new relationship," he said, "it would be amazing!"
Click the links below to access Brendan's forms and flow charts referenced in the video above:

What is a lead?
Before discussing the details of follow up, Bartic stressed the need for agents to understand that a lead is someone that has interest at some point. "Every single person that comes in has to 'be processed or nourished 100%'," Bartic said, though he added that all need to be nurtured in different ways.
Bartic uses giveaways, radio ads, workshops and seminars, and traditional signage and advertising, alongside online advertising to attract and capture leads. Retargeting has been particularly successful for his team (who closed 230 transactions in 2020), and Klesitz suggested agents search The Bartic Group use the Facebook Ad Library (linked in the resources section below) to understand effective advertising language and images.
Once a lead comes in, Bartic's team segments that person into one of two database categories, "met" and "haven't met". Describing online leads as "top of the funnel," Klesitz had Bartic and Harrelson share their nurturing processes. Harrelson suggested that understanding a person's motivation was important. "Do they really want to buy a property?" Harrelson asked. "Yes. Then they're a good lead… Let the timeframe dictate what you're going to do to incubate that opportunity so you're still at the top of the mind whenever that time frame comes."
Bartic further explained that as every lead represents a person with family and friends who could later be referred, his team responds as such. "We are looking at just trying to get into relationships and look at not every single person, not just as a turn and burn 'Hey, I got this lead. They need to buy in the next 30 days. If not, I'm on to the next'." Instead, Bartic evaluates whether the person's needs can be "met" now and needs immediate engagement or if the person is considered an "unmet lead" and needs to be nurtured through automation.
Harrelson and Bartic agreed that the relationship is very similar to courtship and, in most cases, requires time investment and multiple, consistent touches. "If we courted all of our new leads like they were a new relationship," Harrelson explained, "it would be amazing!" Bartic agreed. "We have to court them over a period of time for that relationship to occur," Bartic said.
Klesitz delved into the financial aspect of lead generation, asking Bartic for real advertising spend numbers in Bartic's Denver area. Stating that his team spends $5-8 per general Facebook lead and that specific ads such as making an offer on a home, are about $15. Google adword PPC leads are closer to $40 per registration form completed. Bartic's cost per lead numbers are determined by how much is spent on advertising, divided by how many people opted in.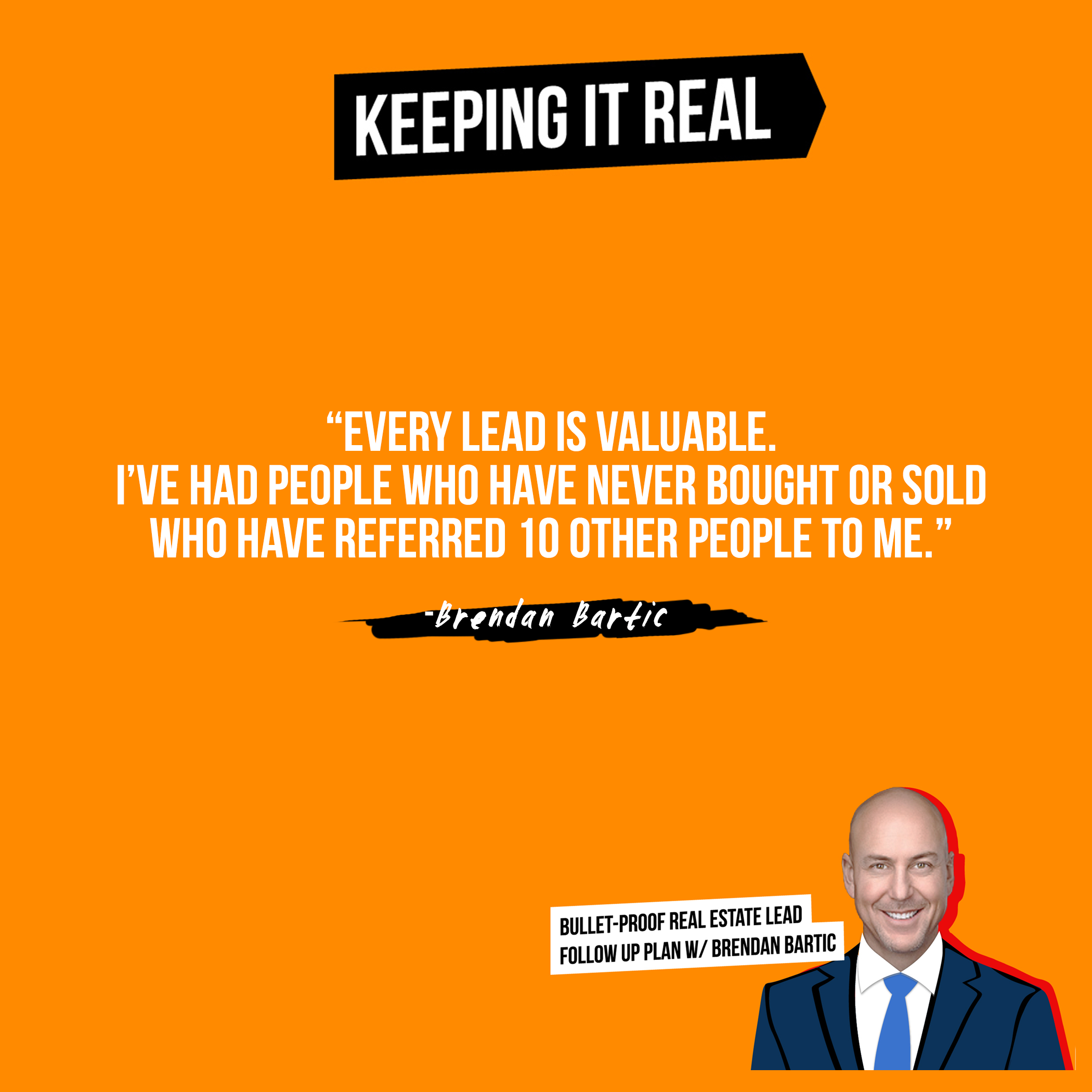 Bulletproof, solid lead follow up is critical
Bartic shared his process for training his sales teams on follow up by referencing his flowcharts (linked below). "We're going to call them [leads] immediately… right out of the gate," Bartic said. "If they answer, then there's a path that we're going to take that allows us to move forward with them. If they don't answer, we hang up immediately, and then we call back a second time. In the industry, we call this a "double-tap." The key to that call is that it is 'unbranded,' with no company or call details being shared in the voicemail as that often causes people to call back.
Bartic went on to describe his F6 lead follow up plan where the agents put in 6 days of consistent effort with daily calls for 6 days. If there is no response then the lead is placed on a weekly automated contact list using a Mojo dialer. Typically Bartic said they see interest from a lead on the 5th or 6th call attempt where guilt is often used to get leads to respond and engage by asking the lead to call and let the hard-working agent who wants to help know if there is no interest. Often, his team finds they'll get a response.
Nudge your leads
Bartic describes another technique called the 'nudge text' saying, "People respond to it like butter." The nudge text results after no response are given to a voicemail. The voicemail is followed up with one text. When that text doesn't produce a response, a second "Did you get my last text" message is sent 6 minutes later. Bartic explained that the nudge text is phenomenal at producing a response from a lead.
Once a lead is engaged, other tools are used such as customized market reports and handwritten notes (addresses are looked up through a service). Bartic explained that it's important to use the lead's name in all contact, from the personal note to the custom home search alerts. "We know that the personal touch part is critical," Bartic said. Using these techniques, lead response grows and percentages change. He shared that if only 1 call is made the response rate is 1-3%, but after implementing F6, that rate changes to 73%. "We have to go deeper, not wider," Bartic reminded.
As a review, the F6 plan includes the following steps:
• Call them immediately.
• Call a second time (unbranded).
• Call once every day for 6 days.
• On days 1-2, look up the lead's physical mail address and send a handwritten note.
• After 6 attempts, with no response, categorize the lead as "unmet" and begin that follow-up sequence with email campaign drips and automated property searches set up which include the lead's name, and personalized market updates, and a market report.
• Once the lead responds, build rapport and set an appointment asking, "...are nights or weekends better for you?"
Bartic feels that "People jump off the phone way too early," rather than recognizing every call as an opportunity to build a relationship. He said that he's had people who've never bought or sold a home with him refer ten people to him.
Overall, Bartic wants agents to know not to give up too early. "It takes time to convert internet leads," he said. To Bartic the lead always has potential, even when wrong information is given. "That's not a dead lead to me," he said, "it's an 'I gotta do more work'." Harrelson and Klesitz agreed that gaining details about each lead and creating that relationship, is most important and helps agents stand out. "We've got to bring some of that personal connection back into our lives," said Harrelson.
Bartic Group Shared Resources
... Read More!
Written by The Professor
Feb 4, 2021
Greg Harrelson and Abe Safa of C21 The Harrelson Group share key concepts in this week's Facebook LIVE Coaching session, "Building A Business Off The Basics." Harrelson and Safa discuss the importance of business fundamentals in real estate and how often agents are led to focus on "enhancements," such as social media, direct mail, calling COI, and open houses, rather than what really drives volume: the basics. Tune in to hear the basic mindset, skillset, and activities that will ensure you start the new year out right!
"When we think about basics," Harrelson said, "It's more of an active strategy." Safa agreed, explaining that when he started out, "We were handed a phone... That's the basics in my opinion." Safa went on to explain that nowadays agents are told to be on social media and use other techniques. This approach "...doesn't teach the basics of what to say, who to call, etc.," said Safa. Agreeing but also recognizing that social media is a valuable tool, Harrelson explained, that social media is an enhancement instead of a basic business builder. The basics of business require understanding three elements: mindset, skillset, and activities.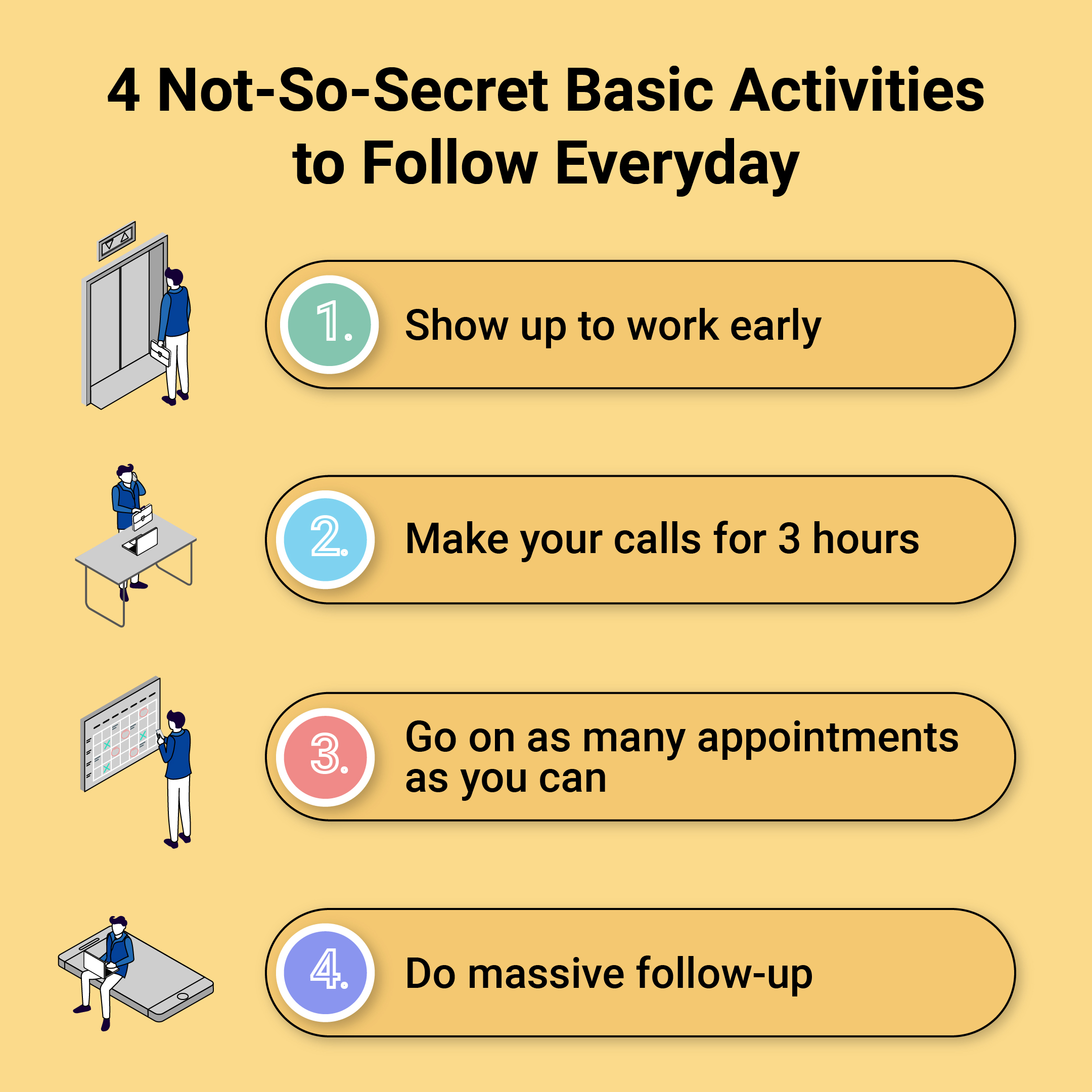 First, Understand Basic Mindset
Harrelson shared that the basics are what he's lived, which is why he knows they work. That's why he shares his scripts with his agents. This doesn't mean that conversations need to be completely scripted, Safa and Harrelson agreed, but they need to start off that way to get the client engaged. "There's always going to be buyers, and there's always going to be sellers out there, doesn't matter the market or economy," said Safa. "You just need to find them and get in the middle..." Talking about the need for fluid conversation with pricing and market fluctuations, "The conversation is always evolving, depending on the market," Safa explained. "Expectations and outcomes change, so the conversation just as well."

"When the market shifts, the only thing that changes is the conversation," stressed Harrelson.

"Agents may get less than they normally get when the market goes south," Harrelson said. "But it's because their mindset goes south." When you adjust your mindset and realize that "real estate is a contact sport," Safa said, "the more business you will do." Harrelson explained that real estate originates from contact and that it's important to remember that, "Every deal we've ever done originated from a contact... so now it's a matter of how many deals do you want?" Safa also encouraged that as you meet with each contact, it's important to deliver an excellent experience and "create advocates" and "raving fans."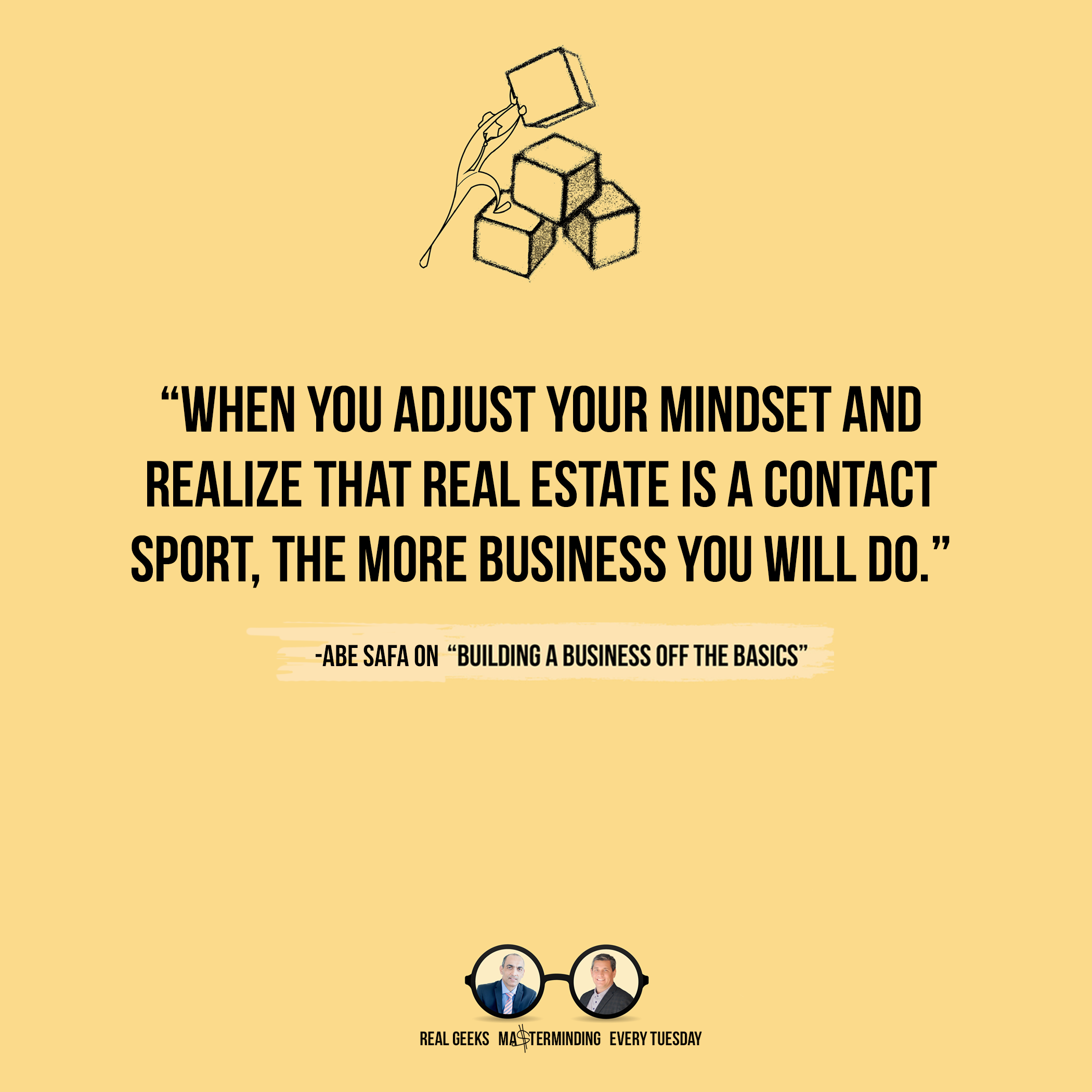 Second, Understand Basic Activities
1. Show up early. "Yes, granddaddy was right when he said the early bird gets the worm! There's no doubt." Harrelson said as he explained that, "people see the success, but they don't see what made the success."
2. Make your calls for 3 hours. "If you're not making calls which is something you can control, then you're waiting for someone else to control you and your business," Greg said. The calls represent your freedom and allow you to determine how the faucet works on your lead flow.
3. Go on as many appointments as you can, Harrelson encouraged. He suggested that agents call every buyer lead and ask whether they want an appointment at 4 or 5. "You set the appointment in pencil and then do the research," he said. If not qualified enough, then Greg has someone else call to qualify and then schedules it in pen. As soon as you set the appointment, the caller feels that they've accomplished their mission. "Once the appointment is set, the caller feels they accomplished their goal, and then you can have the conversation." Greg shared a story of a lead that requested information and was told that the information would come on a callback. Once the information was obtained the agent called back, only to be told that the buyer found another agent. The buyer found an agent who prioritized setting an appointment first.
4. Massive lead follow-up. "You've got to follow up like a mad person," Greg said. Abe added that you need to let the "cream rise to the top" and separate it from the rest. Harrelson agreed, saying, "Segmentation allows you to prioritize." Safa said, "Make sure the people that are closest to the end of the funnel are getting called every day." Discussing workflows, Safa said to use the hot leads function in Real Geeks. Greg's definition of a hot lead means he doesn't let them go 2 days without talking to them. If he calls every day and it feels uncomfortable, he moves them to B or C. Safa agreed on the importance of segmentation, saying, "Don't let your As and Bs get mixed in and diluted with the Cs and Ds. Then you're missing out on business." Harrelson wanted people to understand that tagging and segmentation need to be simple. The challenge with tags and segmentation, Harrelson said, is that we have too many tags and then we don't follow the rules for the tags. Following the tag, rules are more important than tagging.
Third, Understand Basic Skillsets
1. Talk to strangers - "You've got to develop the skill of talking to strangers," said Harrelson
2. Use scripts - "You only use a script to get into a dialogue… with the lead," explained Harrelson. "We need to know the scripts so we can get into the dialogue and have the conversation. That's where the magic happens." He added every script book will work. "Don't fear the script... it's just temporary to get you in the dialogue."
3. Ask for the appointment - "If you never change your skills, but ask for the appointment 100% of the time... your business will change," said Harrelson. Safa agreed and added, "The whole point is not to lose track of your best leads."
4. Outbound prospecting - "You need to follow up and make sure you are top of mind," said Harrelson
5. Negotiations - Practice them! "If a buyer wants to buy and a seller wants to sell, you can always put the deal together. The only thing keeping the deal from coming together," Harrelson said, "Is that the right option hasn't been presented yet. Fight tooth and nail to keep the deal alive."
6. The art of asking questions - "We can never get good enough at asking the right questions," said Safa.?
What Is the Secret?
In closing Harrelson shared the secret to success in real estate. "If there is a secret," Harrelson said, "the secret is in executing on the basics."
Written by The Professor
Jan 22, 2021
This month's Real Geeks Coaching presentation, "Laying A Solid Foundation to Build Your Year On" by Dirk Zeller of Real Estate Champions focused on concrete ways that agents and teams can focus, re-energize, and motivate themselves and their leads to take action and increase wealth. Sharing the importance of a business plan, persuasive messaging, personal motivation, success indicators, and more, this episode inspires.

Tune In to Your Business Plan
At the start of the year, most of us are evaluating where we're at and setting goals for the new year. Some of us review, revise, or create new business plans. It can be an inspiring time. However many of us then put away the document to get about the business of our year.

Dirk Zeller cautions against this in his latest coaching video, reminding that "a business plan is a living breathing document," that can be modified as needed. "Review your business plan EVERY SINGLE WEEK," Zeller said, "not just to kick off your year."

Zeller also advised that agents set tangible goals that relate directly to them, asking, "What speaks to you more? Unit volume, sales volume, GCI (gross commissions income)?"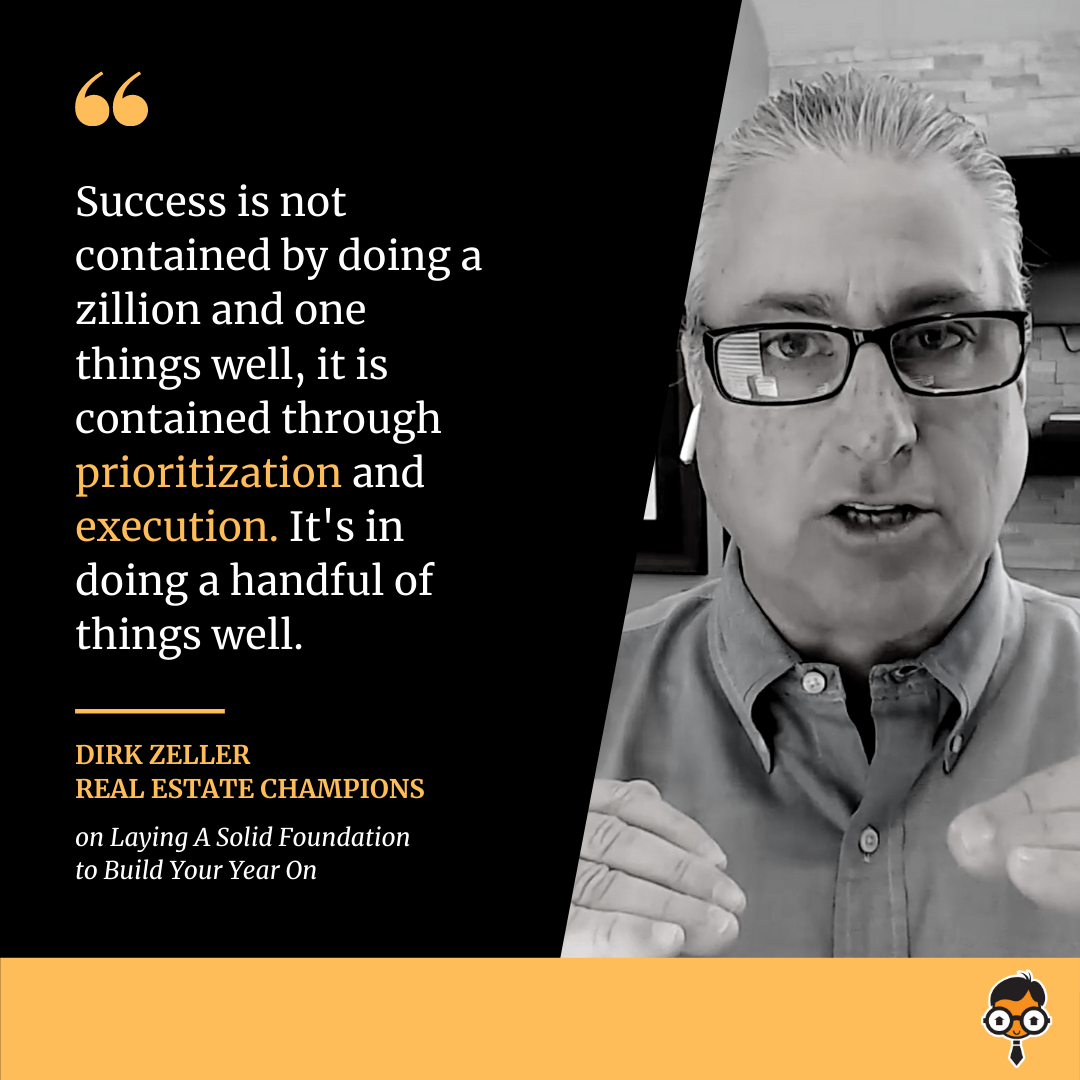 Talk to and Advise Clients
Zeller explained that now is the time to act and provide clients "fundamental reasons" to do business NOW vs. in the future. "The most important 60 days of your business is the 60-day window we're in right here, right now," he stressed.

To do this, it's important to have market stats and persuasive data. Using the example that NAR (National Association of Realtors®) reports that inventory is roughly half (52%) of what it was at this time last year. Sharing this statistic with potential sellers provides motivation for them to list their home.

Understanding the percentage of appreciation in your marketplace last year is another idea. Most sellers react favorably when they see the potential in their home sale. Discussing profit, Zeller explained how he might share this with a potential seller. "The national number [for home value in 2020] was 14% appreciation... and 2021 maybe half that, so if the bulk of that, 7%, happens between March-November." Zeller said to ask your clients, "Do you want it in your pocket?"

Framing statistics favorably, building urgency, engaging, and committing clients in the next sixty days ensures production throughout the rest of the year. Zeller encouraged each of us to ask, "What is a non-negotiable in the next 60 days, that you have to do no matter what?"

Motivate Yourself to Success and Look Forward
"Success is not contained in doing 1 zillion things well," Zeller reminded. "It's contained in doing a handful of things well." Prioritization and execution deliver results. Zeller reminded all of us of the need to look forward, especially now as the economy and the world changes rapidly. Apply the Pareto Principle 2:49 Need his quote here 20% generates 80%, etc.

Zeller encouraged everyone to "Eat, live, and breath the 80/20 rule for the next 60 days," explaining that the real estate industry is an odds game and that the odds are changing. Recognizing the odds of the game and how can agents can and need to make adjustments is critical to success. "Sales ratios have changed," he said. "We've got to adapt to the new sales ratios."

He encouraged listeners to read the book Who Moved My Cheese by Spencer Johnson, and then adjust, adapt, and accept the changes of today's marketplace. "The longer it takes you to get to the ratio recalibration, the longer it will get to the production you want," Zeller cautioned. As agents adjust their mindset, he also encouraged them to focus more on direct income-producing activities instead of production supporting activities.

Change Your Behavior and Mindset
When focusing on income-producing activities, Zeller pointed out that agents needed to ask themselves, "What is the monetary value of an appointment?" He explained that many agents put off activities because the reward is not immediate and asked, "If you got $2000 in cash for the aspect of booking an appointment, would that change your daily behavior?"

Knowing that in many cases it would, Zeller focused on the need to recognize the value of the appointment, noting that instant cash shouldn't change your behavior. "You should treat it with the same intensity even if the payment is delayed," he said, challenging each agent to make the commitment to do a call night once a week. "You've got to move the odds strategically in your favor," Zeller encouraged.

Introducing the four probabilities of success as knowledge, skill, attitude, activities, Zeller shared that high producers have a good enough attitude to DO a whole lot more and that he feels that activities, not attitude has more influence on future success. In his personal life, Zeller has seen that activity influences attitude in high performers more than attitude influences activity. Due to that, he suggests that agents focus on the activities to change their lives, dollars, and everything else. "Get out ahead of goal," he advised, "instead of playing catch-up for a good portion of the year."
Written by The Professor
Jan 21, 2021
This week's Facebook LIVE Coaching session with Greg Harrelson and Abe Safa of C21 The Harrelson Group helps you see possibilities.



Below you'll find a detailed guide on how you can create and replicate systems that best utilize Real Geeks tools and help you re-engage clients and generate business and more leads.
10 Ways To Re-Engage Leads in 2021

1. Aggressive Follow-Up – Abe Safa regularly sets and exceeds personal goals with what he calls "really, really aggressive follow-up." Safa explained how he does this. "I'm calling them when I say I'm going to call them," he said, "and continuing on from the conversation from when we talked before." Though Safa regularly does lead generation, this month [January], he focused on people in his database that he's spoken with over the last few months and years.

2. Use Technology to Assist (Saved Searches, HomeBot, Email Drips, etc.) – Talking about the people he's talked with in January, Safa explained that his ability to re-engage comes from established client history. "A lot of it is based on months and years of being in communication with them," Safa said. Greg Harrelson agreed, "Real Geeks is a technology that helps you identify opportunities." Harrelson explained that because the client is already in the automation system, the drip system sends them information on a monthly or bi-weekly basis, so that agents can see which properties are being looked at in the live feed, in real-time. Then, he shared, the key is to follow up, especially on the information seen in the saved searches. "You can see them looking at that information. If they are, you call them," Harrelson explained. "If you see them looking at it over and over again, you definitely call them,"

3. Add Value – If the client is seeking equity values or searching for homes in a specific price range, use that information to speak directly to the client's needs to engage them in conversation.

4. Text – Email – Text – Harrelson suggested using workflows or doing the steps manually, if needed,d to re-engage clients. "Take 30 buyers you haven't spoken to in 60 days and send them a text," he said. Once you've sent all three of those, Harrelson predicts you'll have 50% engagement, with differing responses.

5. Pay Attention and Engage – Safa suggested specific methods for re-engagement, that are unique and similar to what the client has already liked. For instance, "Send a picture of a property that's similar to one they favorited and ask them, 'What do you think of the kitchen?' with a link to the property," Harrelson suggested. Spending time to find clients who are truly engaged produces results. He said not to ask, "Have you bought or sold yet?" or any other type of yes or no question, as that will not result in engagement.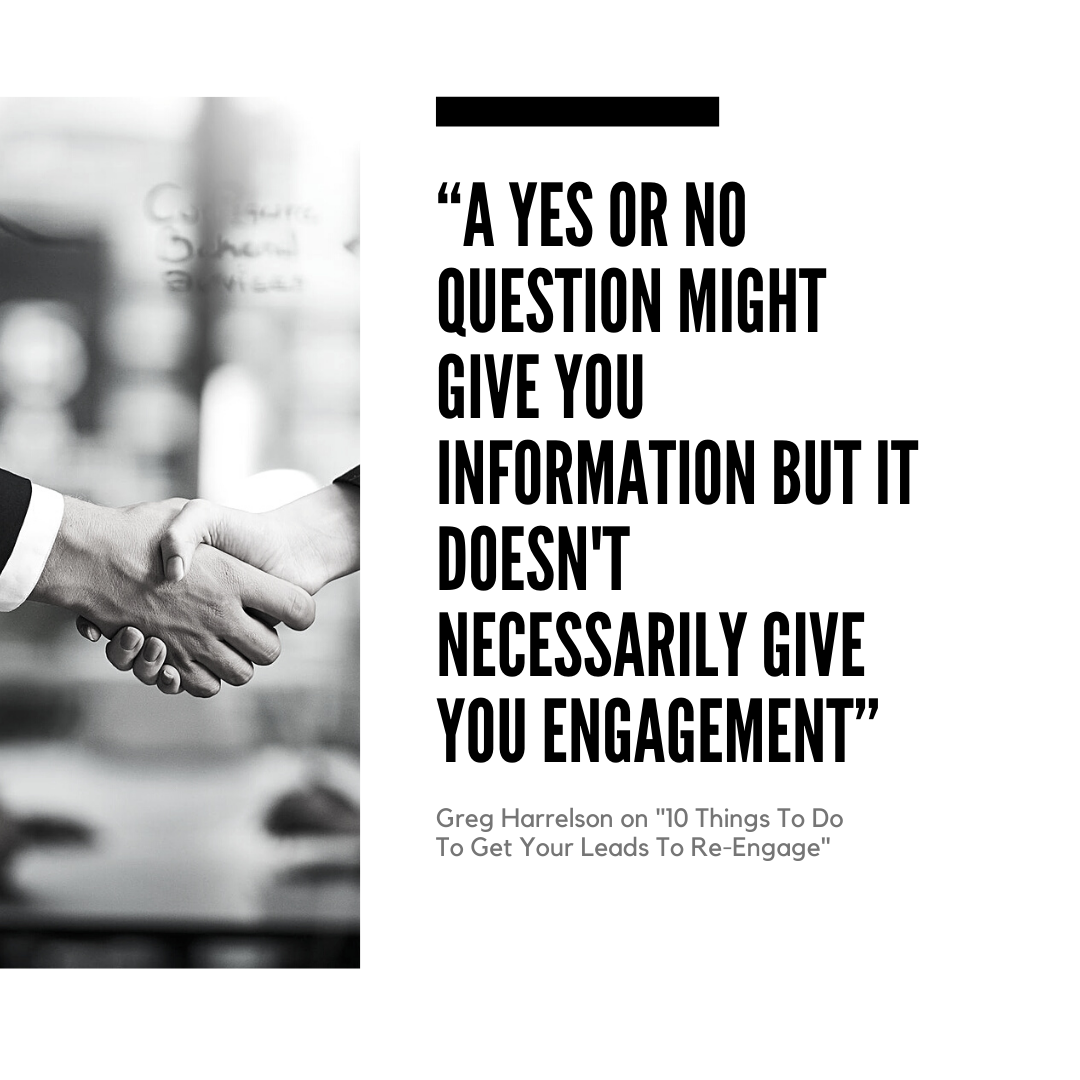 6. Find the Magic – Talking about a recent email campaign that worked, Harrelson said, "The magic is not in the message. The magic is in the activity. If you can blend a great message that works with high activity, then you are going to really do well."

7. Plant a Seed – Lead with market data in conversion, looking at pending and sold properties. Share how many condos have sold in the last 30 days in comparison to previous activity with clients who may want to sell their condo. Then re-engage every day like clockwork. "If that's done consistently," Safa said, "You'll always have a pipeline of business." Continually be incubating your clients so that they will always consider you to be their agent.

8. Engage Yourself – "The biggest thing is for YOU yourself to be engaged. Call everybody and use workflows for everyone you can't reach by phone," stressed Safa. The important thing is to start with calls. "The more conversations you have about real estate with people," Safa said, "the more business you're going to do." If you're just starting out, calling is the most effective and economical way to generate leads. "If you don't have a lot of leads, then your next lead IS high quality," Harrelson said. "The highest quality lead is the one that's better than the ones you already have."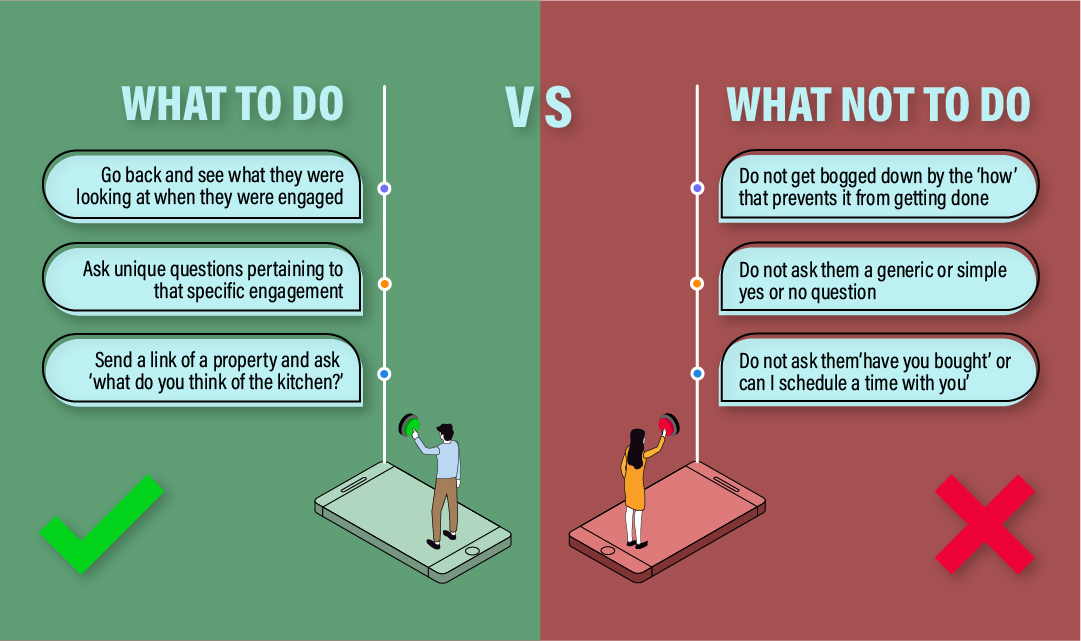 9. Go Back To What's Been Working – "Do it the most effective way, not the sexiest," Harrelson shared, saying that the things that give the next big return usually don't take a lot of time. "Stop trying to create the next best thing," he continued. Safa agreed, saying that he goes back to calls when he finds himself thinking about new options because "it's easy to think there's got to be a better way," but the reality is that calls are what work.

10. Activate Workflows – Safa and Harrelson agreed that workflows, for both buyers and sellers, were key. "A workflow is a tool for reengagement," Harrelson explained, saying that after that agents must be ready to respond. "Take the size of your database and figure out how to divide it into highest quality leads and not highest quality leads," Harrelson said. "Then find the bottom half of your database and activate some workflow." Then, respond as your clients respond, and your list will be engaged.
Written by The Professor
Jan 12, 2021

It's a new year, and Cindy has cracked the code on how to maximize her business opportunities! Through great marketing and lead gen strategies, she has created a successful model where multiple businesses feed one another. From property management to vacation rentals to home sales - learn how she has utilized creative property marketing and open house strategies to dramatically grow her business.
Podcast available on iTunes and Stitcher.
Get Notified of Future Episodes
We want to thank Todd Tramonte and Dr. Cynthia Tant for sharing their knowledge with us and the real estate community! It's important for us now more than ever to band together and support one another through these uncertain times.
... Read More!
Written by Greg
Jan 6, 2021
It is critical that you feel comfortable and confident having that first conversation with an inbound buyer lead. More and more buyers are requesting video tours instead of face to face meetings and agents will have to learn how to adapt. And, if setting a face-to-face appointment is not preferred then at a minimum do a video chat. Getting face to face is important even if it has to be on video.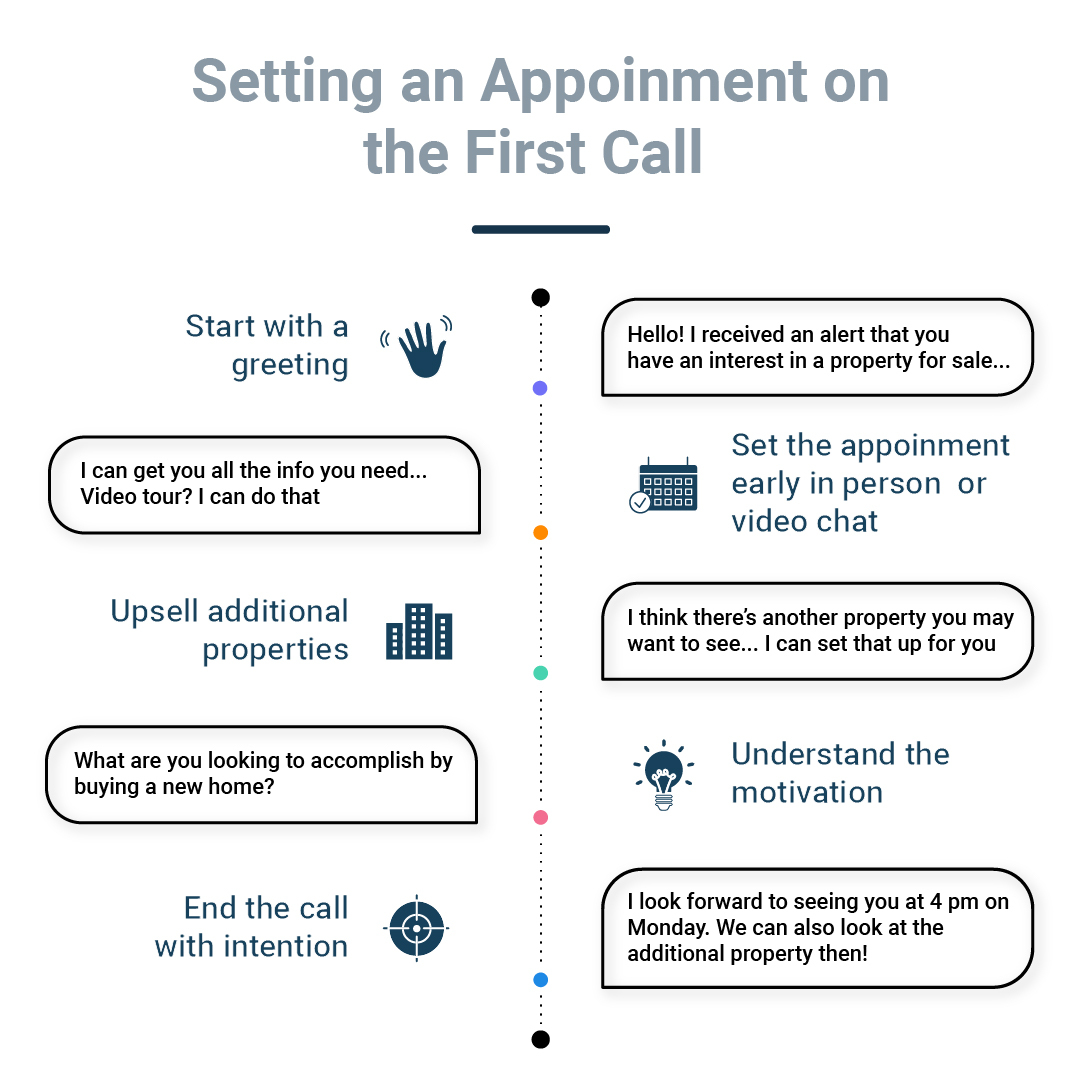 We can increase our conversion from leads captured to contracts closed by increasing the appointments set to leads captured ratio.

If you would like to get better at Scripts and Handling Objections then you should check out our coaching on Real Geeks Mastery Program.
It starts with the greeting:
'Hello _______, this is ________ with _______. I am a local agent in the ________ area. I received an alert that you have an interest in a property for sale… I believe the property is at ________. Are you interest in taking a look at that property?"

Set The Appointment Early:
The first agent to meet face to face with the lead is likely to win the business. These days, most buyers are looking to few the property since they have already seen the pictures and searched the area. Do not get off the phone without setting the appointment.
Simply ask…. "I can get you all the information you will need on this home, when are you available to take a look at it?"
In the event they ask for a video tour, ask them… "I can do that, when would you be able to do a Facetime call with me at the property?"
Upsell Additional Properties:
We know that buyers are going to look at more than one property. So, go ahead and work on setting additional showings so you can deepen your relationship and demonstrate your value.
Approach it like this… "I think there is another property that you may want to see, I will go ahead and set that up also, will that work for you?"
Understand Their Motivation:
Asking the buyer lead questions that go beyond the property is important. The more you ask, the more they feel like you care and they then become comfortable working with you.
Discovery Question… "Just curious, what are you looking to accomplish by buying a new home?"
Ending The Call With Intention:
It is important that you end the call with all parties on the same page.
Great ending… "I look forward to meeting you at the property at ______ pm on Monday. I will have additional information for the 2nd property when we meet. Of course, give me a call or a text with any additional address you want to see. I look forward to seeing you at ______."
Real Geeks Contributor: Greg Harrelson - Real Estate Sales Solutions
Written by The Professor
Jan 6, 2021
For those that know Real Geeks, you know that our websites attract a lot of leads. Real Geeks websites are great for PPC lead generation as well as organic lead generation assuming you invest a little time with SEO.

No matter how you generate your online real estate leads, there is a process for working those leads and moving them through the sales funnel.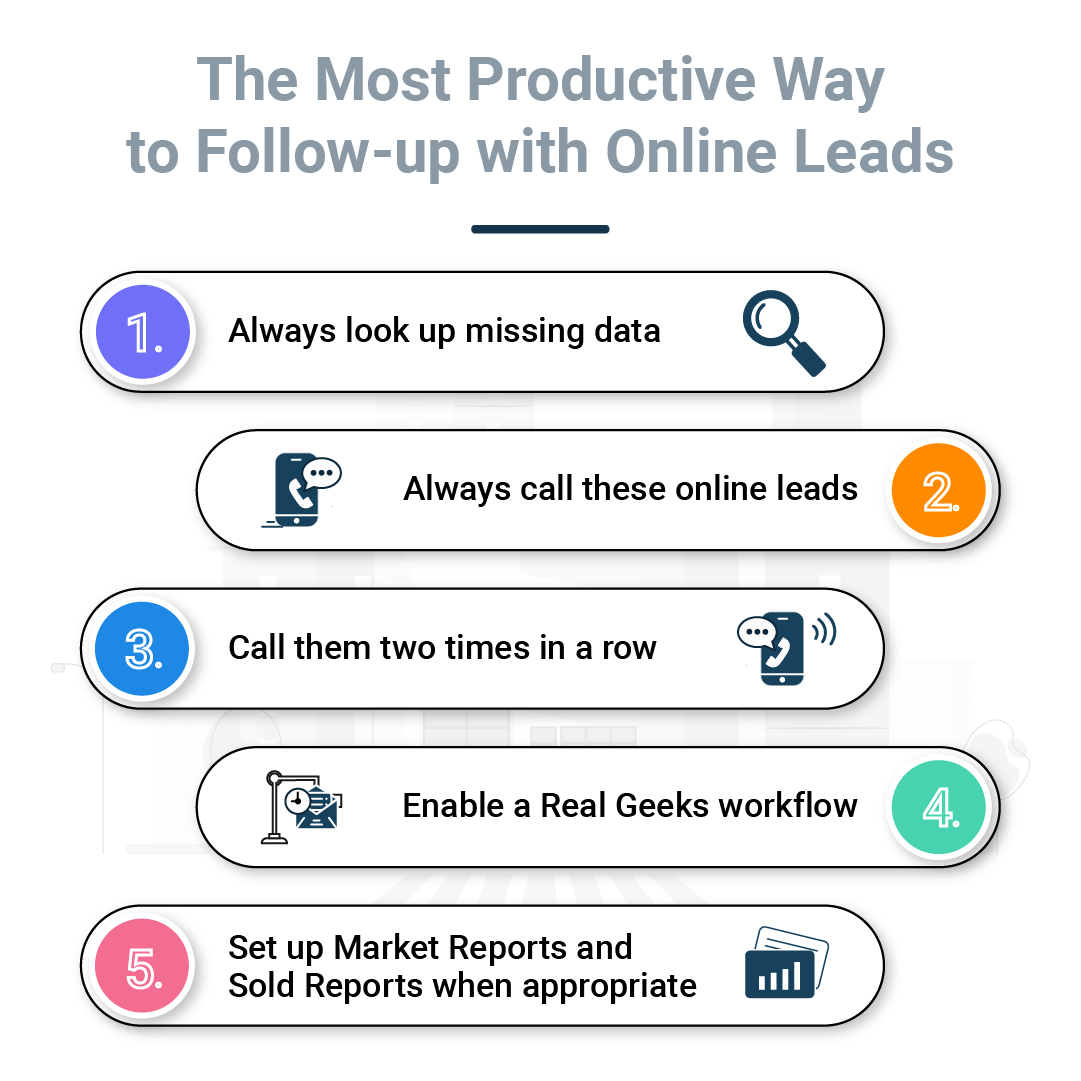 Here are some proven workflows that Greg Harrelson has shared with us. Below, we break down a few common online lead sources that most agents work with. You will see a common pattern in the way these leads are worked. Following this process, every time will prove to be productive.

New online Buyer Lead without an email
Do not be discouraged that they didn't give you an email, do the following…

1. Reverse lookup and find their email address by using www.exactdial.com
2. Once you have the email address…email them
3. Simultaneously Call them
4. If they do not answer, enable a short term workflow that includes 5 attempts in the next 48 hours.
New online Buyer Lead - no number
1. Reverse lookup and find their telephone number by using www.exactdial.com
2. Once you have the phone number…
3. Call them
4. Call them again within 1 minute
5. If they do not answer, enable a short term workflow that includes 5 attempts in the next 48 hours.
Old online Buyer Leads in the system with no number or no email
You should generate a list of all old online leads that you have in your database that are missing a phone number or an email address. Do the following with this list…
1. Reverse lookup and find their telephone number by using www.exactdial.com
2. Call the lead immediately
3. Call the lead a second time within one minute
4. Kick off a Re-engagement Workflow
Online Seller leads (What Is My Home Worth?)
It is likely you generate seller leads by using a 'What's My Home Worth?' widget on your website, Facebook Marketing or from email drips. In any of those cases, do the following…
1. Reverse lookup and find missing data by using www.exactdial.com
2. Call the lead immediately
3. Call the lead a second time within one minute
4. Enable an online seller lead workflow
5. Set the lead up to receive a Market Activity Report
6. Set the lead up to receive a Community Sold Report bi-weekly
Past Clients
1. Set the lead up to receive a Market Activity Report
2. Set the lead up to receive a Community Sold Report bi-weekly
3. Call them quarterly
4. Enable Workflow - Monthly text / Monthly email
When you look carefully, you will see a pattern:
1. Always look up missing data
2. Always call these online leads
3. Call them twice in a row
4. Enable a workflow
5. Set up on Market Reports and Sold Reports when appropriate
It is important that you set up the simple systems that Real Geeks has built into the websites. The above are best practices from agents that are closing hundreds of online lead transactions annually.
If you want to learn more about how to reach the Real Geeks Mastery Level then you should look at the Real Geeks Mastery Program created by Greg Harrelson.
We look forward to growing with you!
comments
|
Share:
|
Posted in Tech
IDX Real Estate Websites that Convert
Get Started Now
Sign ups have increased by a factor of 10 times over our previous IDX website provider. –Lee Cunningham, Greenville
View More Testimonials
Real Geeks Demo & Overview
Categories
Archives