Real Geeks Blog - Internet Marketing
Written by The Professor
Dec 2, 2021
Viewing property details in the CRM
Get key info about the listings your leads want without leaving the page! Maintaining the flow is important when prospecting so we wanted to create a seamless experience for you get all the important things at a glance. This change was made for both the CRM and the CRM mobile App.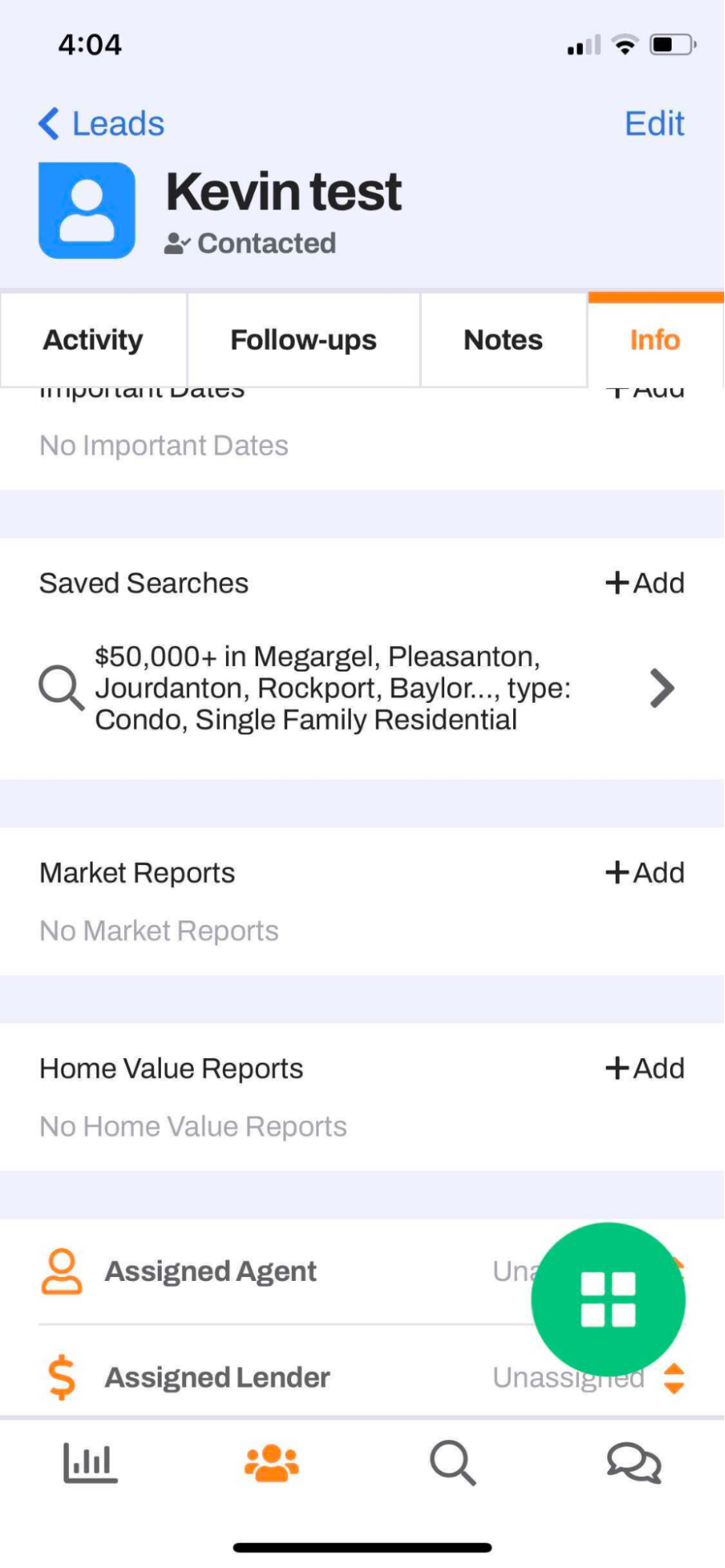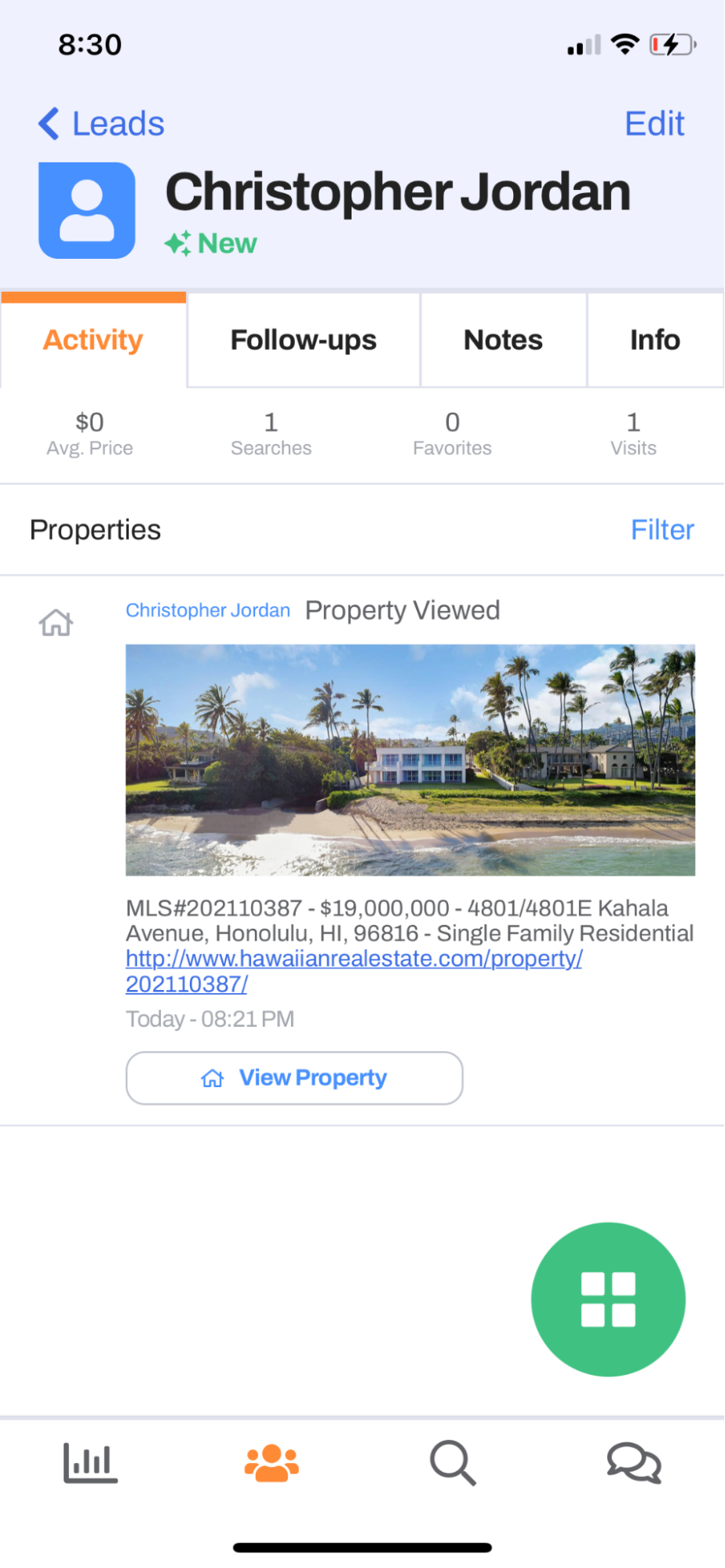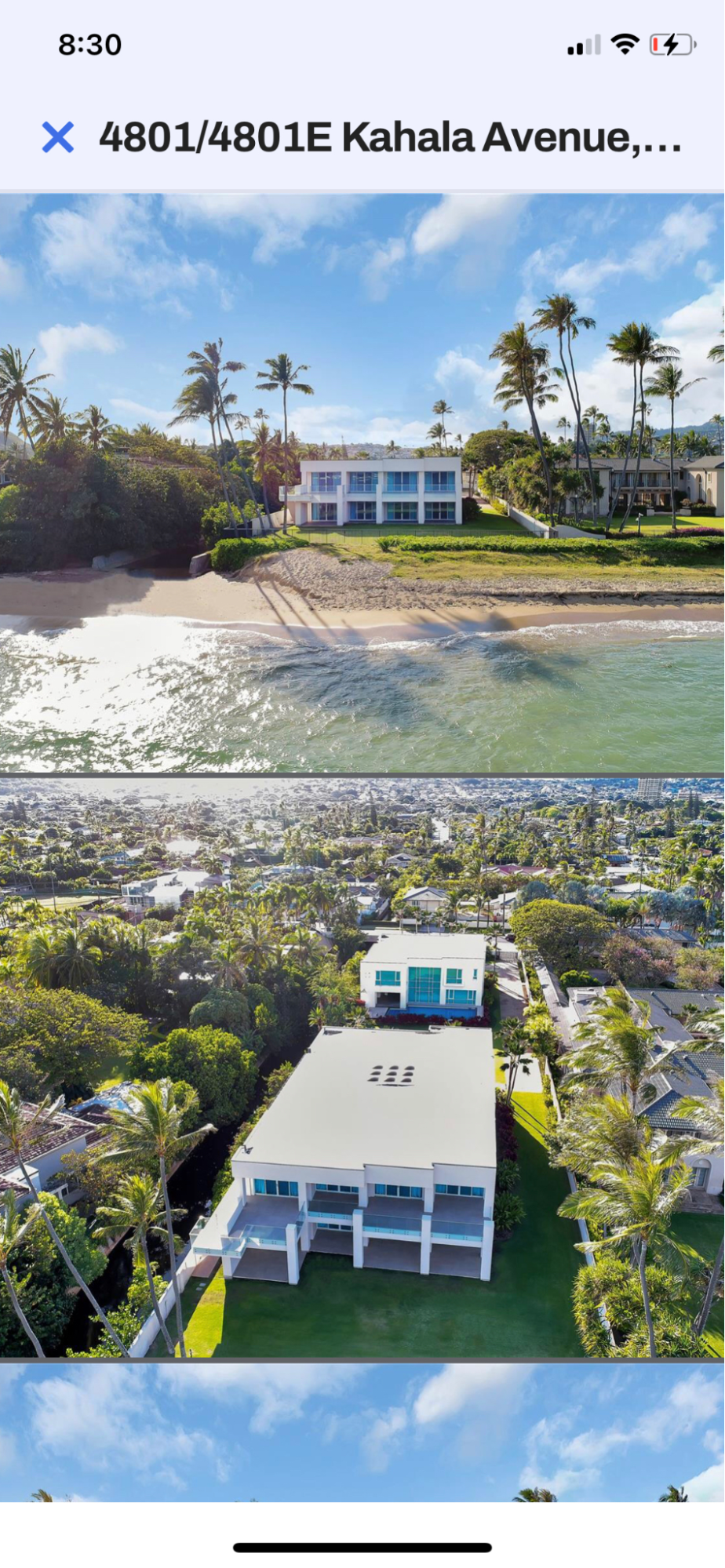 Find any lead from any CRM Page
Want to jump straight to a particular lead that just came to mind? Now, no matter where you are in the CRM, you can always use the search box at the top to find the lead you are looking for.

Lead's Name on Tab
If you are anything like us, you have way too many tabs open. We've made a small improvement to make it easier when you are working a few leads at a time.

Revamping Notes in the App
Sometimes you just want to take a quick note. We've made it easier to see all your notes and important notes in one screen so you can be as efficient as possible.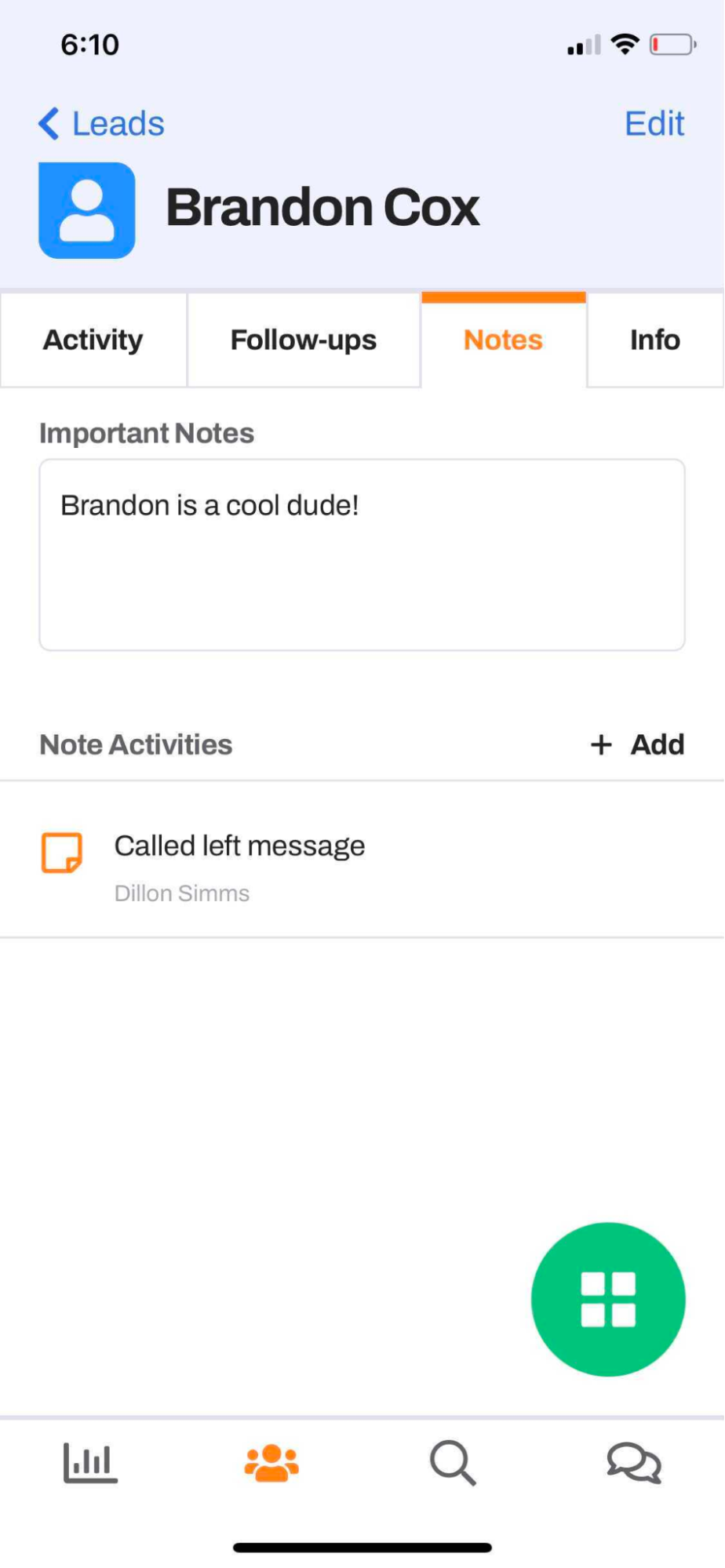 Easy access to Saved Searches from the App
Property Alerts from saved searches are the best way to provide value to your leads and keep top-of-mind for the long term. We wanted to create a simple way to view saved searches and create new ones.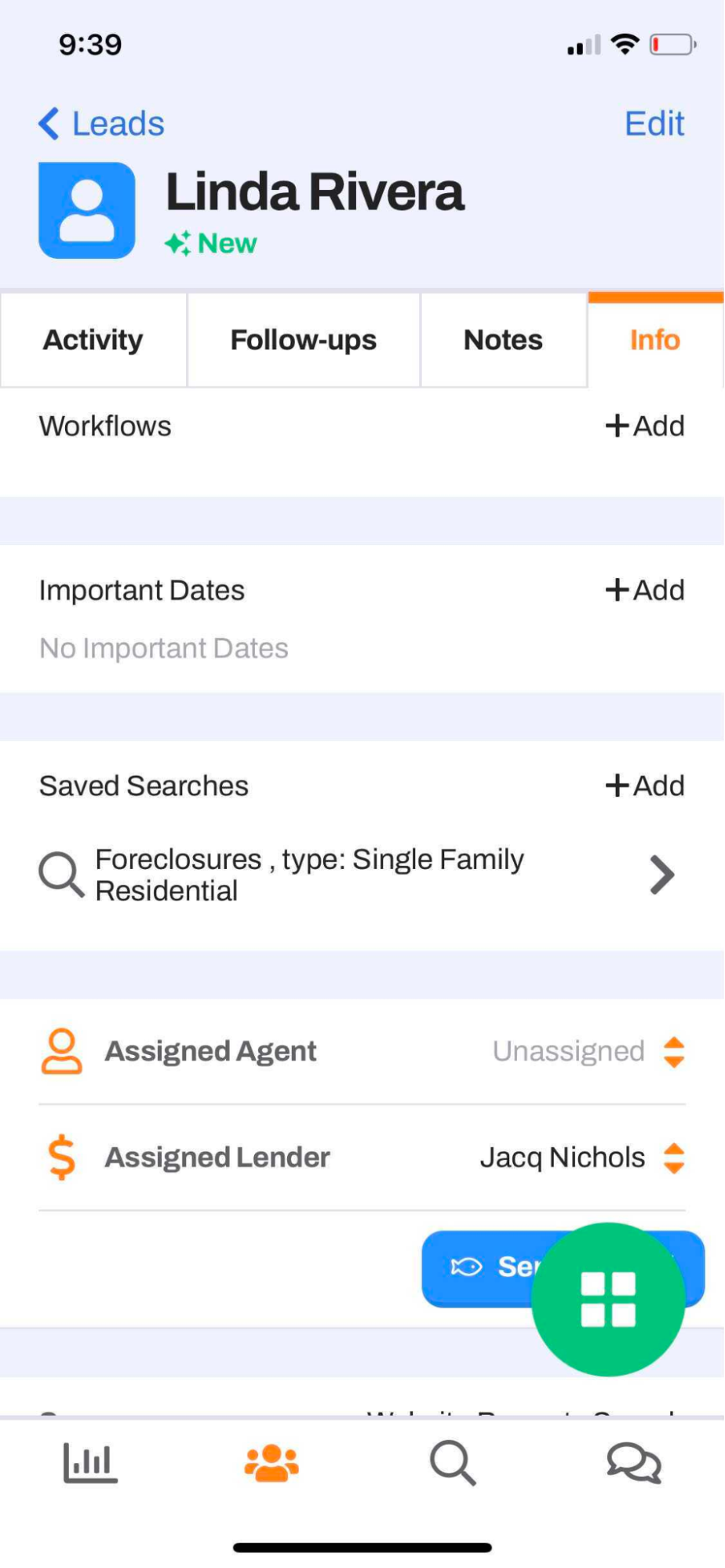 comments
|
Share:
|
Posted in Tech
Written by The Professor
Nov 29, 2021
Are you looking to send lead generation emails to everyone on your database, past clients, or unconverted leads in your CRM? A great email marketing strategy is to send emails that contain details regarding how much their home is worth or if they're interested in getting an offer for their home. In this blog post, we'll guide you through the steps you need to know to set up your magical seller lead generation email.
Sending Out Leads
When you send emails, make sure that you send to warm leads rather than cold ones, and make sure to make it personal. No one wants spam in their emails and everyone knows what a templated email looks like, so don't send out one of those. If it looks like junk mail or if it doesn't look relevant, people are more likely to throw it away or unsubscribe.
Where to Get a List of Emails
Before you can send out an email, you need a list of email addresses. These emails can be found from all of your contacts on Outlook, or your Gmail. Proceed to export all the people on your contacts to your email marketing program. Do the same for everyone on your cell phone and put them in a different spreadsheet. Then do the same for your existing CRM, whether you're using Real Geeks or something else. Export everything except anyone who has unsubscribed from emails in that system. Another source is a dialer — these will make calls for you and may lead to people you've spoken to. Export these into another spreadsheet.
Scrubbing Your Emails
Next, we need to scrub these emails — use NeverBounce.com to ensure that you don't get bounced emails. This works by providing a ping to the email addresses to see if the actual mailbox works. A $50 subscription will be enough to scrub a couple of thousand emails, and businesses of all sizes use this tool.
Eliminating Duplicates
While you now have 4 to 5 spreadsheets of scrubbed emails, you will probably have a bunch of duplicates too. Use Myemma.com or Zoho Campaigns will help you send your marketing emails. Other tools include MailChimp and Salesforce for the big players. Upload each spreadsheet into your email marketing program so that the system automatically eliminates duplicates of the same email address. Now, you have a scrubbed, no-duplicate list of all your best contacts ready to get an email from you.
What To do When the Domain Name isn't Authenticated
Be sure to do an SPF DKIM Authentication — Google will have a help file on how to set this up. Going through this process will significantly improve the likelihood of sending this email to mailboxes where it would be tagged as spam.
Enjoy Limitless Lead Generation
With the steps above, you should be able to get a wealth of leads from emails sent to your contacts. However, this isn't meant to be done all the time and you can't send out an email every single week. Keep in mind that this method is best used about once a month or once every two months.
You can download a pdf of all the emails from this episode HERE
... Read More!
Written by The Professor
Nov 15, 2021
Everybody wishes they had more sales and more clients but wishing for something and working for something are two very different things. While other people will keep hoping for this to come true, you can read below to get actionable tips on how you can make this happen. In this blog post, we will provide you with a 30-day challenge that will help you build the habit to generate consistency for your sales.
Improving Business with Real Geeks
While experts say that "6% of your database will transact," the real question is: How many will transact with you? The reality is, it won't be 6% of them, because some of those people are already in a relationship with somebody else or are already working with other agents.
This is where the 30 Day Challenge comes in. Do an activity for the next 30 days that will help you identify who those 6% are — "the 6 percenters". If you start focusing for the next 30 days, by the time Christmas comes, you will have identified the opportunities in your database that are likely to do a transaction in the next year.
Real Geeks Can be Used as a Lead Identification System
Challenge yourself to identify who the 6% are going to do a transaction in the next 4-6 months, so you'll know who to give attention to for an incredible 1st quarter of 2022. Moreover, "1 in 7 homeowners plan on selling and moving within the next three years, which is roughly 15%." As a result, there's no question that there will be new people transacting with the database.
How Do You Define Leads in a CRM?
Your whole database is pretty much all of the leads, while CRM is the technology used to manage these leads. You can execute the tools from Real Geeks built-in to the CRM to identify these 6-percenters.
How To Identify the 6-Percenters
There are different filters that you can use to help:
1. Sellers Looking Through the Marketing Reports
When you look through the database, be sure to use this three-step process: Filter, Call, and Workflow. Real Geeks provides tools that can help you find leads in the form of people you haven't contacted in a long time.
2. Sellers Who are Actively Looking to Buy Properties
Do an advanced search filter and look for sellers who are after properties to buy. Then call people who are listed under this list.
3. Buyers Who are Active
These people are more likely to be part of the 6-percenters compared to people who are not active.
4. New Leads You've Not Been Able to Contact Yet
Making contact every day will prevent you from getting dead leads. For the next 30-days, make some attempts to contact them. When you don't reach them, start a workflow and let the CRM do the heavy lifting to get more engagement.
The 30-day challenge is to take these tips and do them for 30 days so that you can find 6-percenters that you didn't know existed in your database. Remember, new leads aren't necessarily better than old leads, so you should pay attention to both. Remember: "Your new lead is someone else's old lead."
Written by The Professor
Nov 4, 2021
Considering the holidays and weekends, you have roughly 40 days left to create some momentum for next year. As a real estate agent, you should prepare for massive growth in 2022.
Logging In Consistently
Build the habit of logging in to your Real Geeks account. Research among a group of agents showed that those with the highest level of production also have the highest level of logging in. The more you log in, the bigger your chances of getting more deals.
Then, develop a routine. Use the advanced search filter, click that button, pull up the list from the database, and call those people. The key is to create an activities calendar for Real Geeks. Note that "massive action doesn't mean making big moves; it means that small but consistent moves create massive results."
Cleaning Up the Database
Cleaning up your database will also set you up for massive growth. You can use a search filter and find people from the database with good email addresses but no phone numbers. Create an email workflow, and send them a message to know whether they plan to purchase before the end of the year or the first quarter next year.
Then, ask for their phone number to send the pictures of the property that you think matches their needs. Sharing their phone numbers means they're still interested in doing business. So, you're cleaning up your database while identifying your leads as well.
Creating Your New Year's Workflow
You should also create your workflow for the first week or month of January. Identify how likely your prospects will complete a transaction and when they may do so. Creating a survey will then help you prioritize your list. Remember: to get yourself set up for massive growth in 2022, you have to identify ways to better prioritize your list, so you know where to invest more time.
Downloading Your Database in Real Geeks
If you have too many databases in different locations, you're not leveraging technology or using automation to your advantage. It's crucial to import your database to your Real Geeks. Mapping out plans and messages for the whole year makes a difference.
For instance, create a message to be sent monthly, such as on New Year's, Valentines' Day, or St. Patrick's Day. Real Geeks offers an automated email drip system and e-blasts to help you connect to your target audience better.
Enhancing Your Content
You should also revisit your website. Build a city or neighborhood page. If you can't have a "sold" page, display market data, including pending properties, active listings, and total of days on the market. Real Geeks automatically sends the latest market data and allows fully optimized websites to help increase your conversion rates.
Final Thoughts
Setting up your Real Geeks for massive growth in 2022 means taking consistent small steps to achieve massive results. That includes logging in regularly, cleaning up your database, creating and updating your workflow, and improving your content. Get ready for a bigger 2022 by maximizing Real Geeks tools!
comments
|
Share:
|
Posted in Tech
Written by The Professor
Nov 3, 2021
How do you earn a net income of $1 million in three short years? Is it all about strategy? Is it the right place and the right time? Well, what better way to find out than to ask the man who did it himself in the real estate industry.
Chris Watters is one of the top real estate agents in Austin and he shared with us his secrets to success all the while recognizing and appreciating what Real Geeks has been doing to help real estate agents get their careers going and growing.
How It All Started
Chris' story is quite fascinating in that he did a lot of the things that a typical aspiring real estate agent or entrepreneur does not want to do. This could be the reason why he got unique results with his ventures.
Chris tells us that it all started by buying a CRM. Once he secured leads, he then used them as leverage to get agents to work with him right off the bat. These agents were really useful in following up on these leads and eventually converting them.
What's amazing about Chris' entire journey is that it started with very little capital itself. He essentially zero-costed working with agents at first by getting a few vendors or local businesses who would benefit from the downstream of new movers to invest in his business and, in turn, pay the agents.
Chris also emphasized that it's important to get a sales team to prospect for clients. He noted that agents often hate talking to clients on the phone. That's why you need to invest in a good inside sales team to take over the job.
The Inner Workings
Chris gave us a lot of insight into what made it all work out. It turns out that you can't possibly build a good real estate team and convert clients if you're not a good agent yourself.
So, what do you do? You get yourself trained or coached.
When it comes to dealing with clients you need to accomplish three important things, A) establish rapport, B) establish that you're an expert, and C) make sure to let them know about your value and what sets you apart.
Also, take note of the importance of a good inside and outside sales team. Inside sales teams refer to the appointment setting, following up on a lead, and getting them to meet you. Outside sales teams refer to face-to-face interaction and finally getting them to do business with you.
Essentially, the road to riches in real estate is to learn how to convert clients that have no idea who you are.
Written by The Professor
Nov 2, 2021
The CRM is now easier than ever to navigate
We wanted to make things easier to find. We've gone through an information architecture overhaul with regards to navigation. It may take a little getting used to, but trust us when we say it is better.
Before: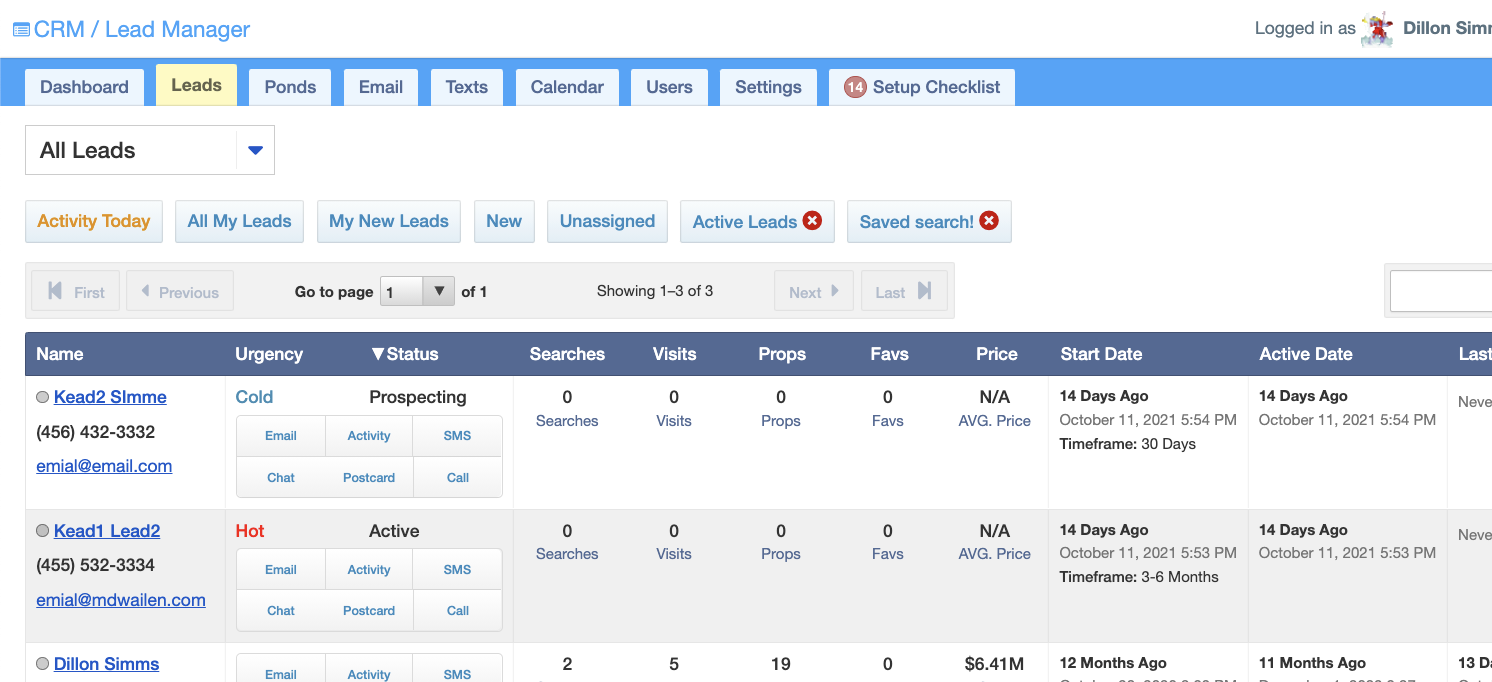 After: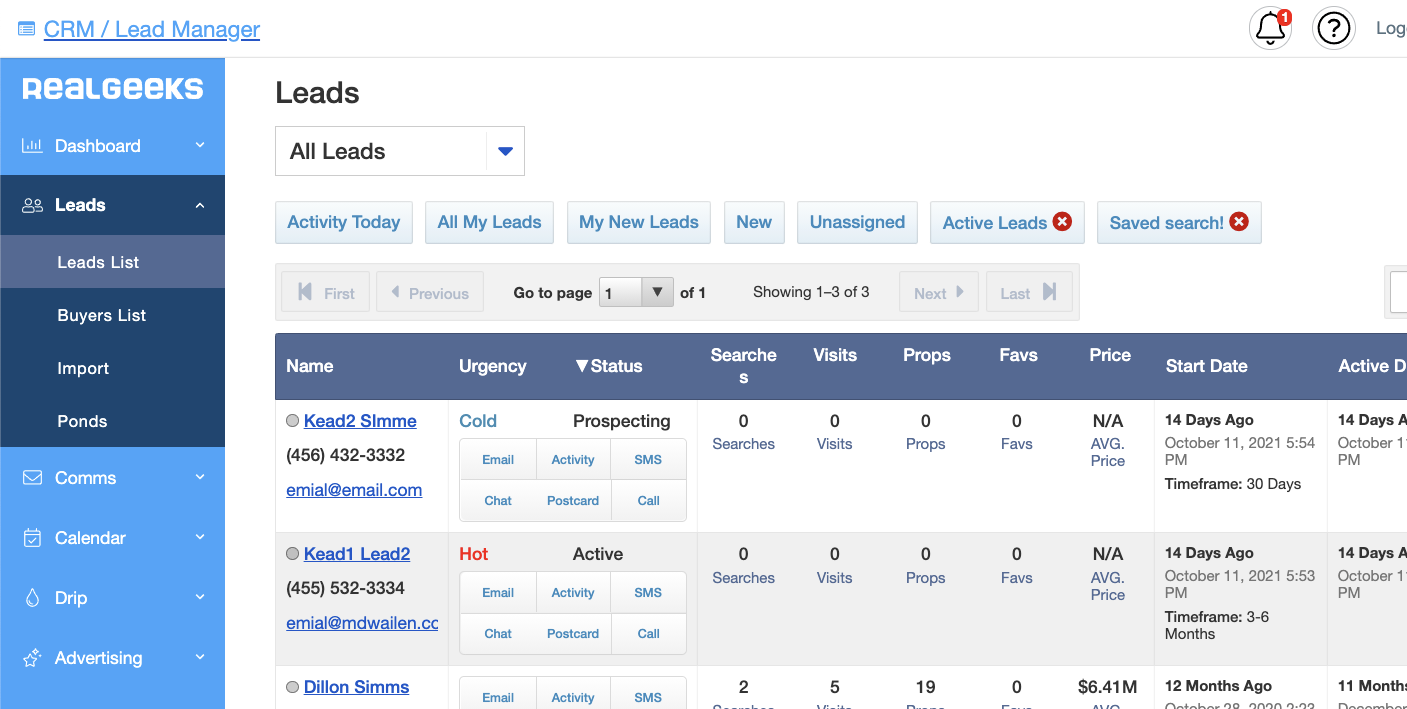 Buyers List and Importing Leads
We felt both of these features were important enough to bring forward from their previous locations.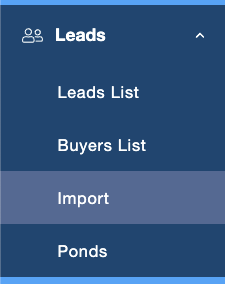 All Comms and templates in a single place.
We've brought together all the methods of communication and made it easier to edit their respective templates. This should save power users a couple of clicks.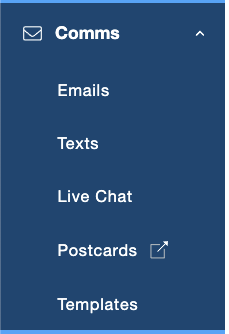 Calendar View and All Follow-Ups
Did you know that the CRM has a useful view for seeing all scheduled follow-ups at a glance? We found that it was all-but-hidden before, so brought it up to the surface. Check it out for yourselves!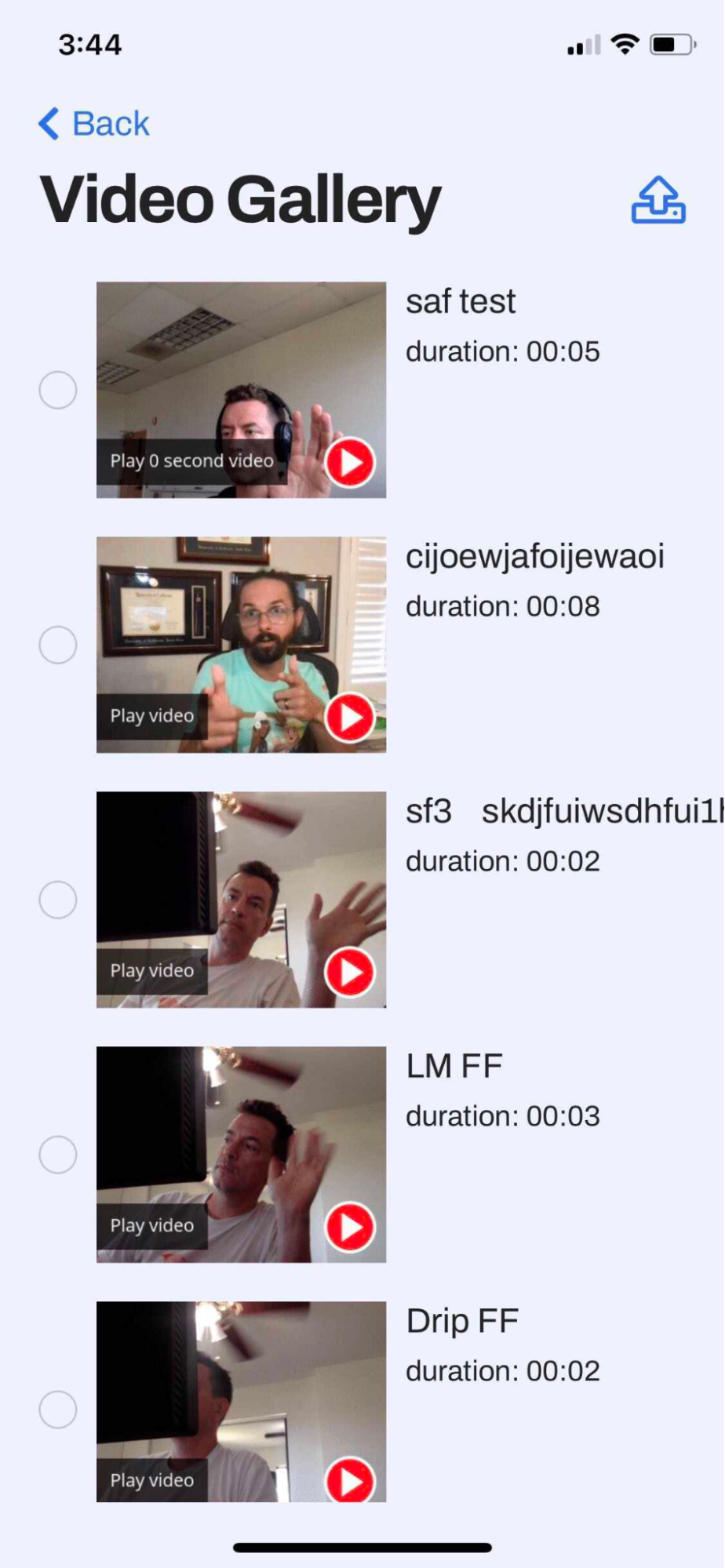 Any drip page you need in 1 click
The Drip system is a powerful addition to CRM that deserves to be front and center when you need it.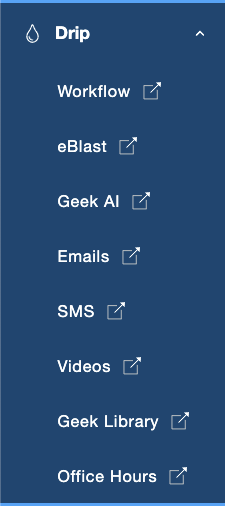 NEW! Advertising
This section holds some of our ad tools and services offered to help boost your business.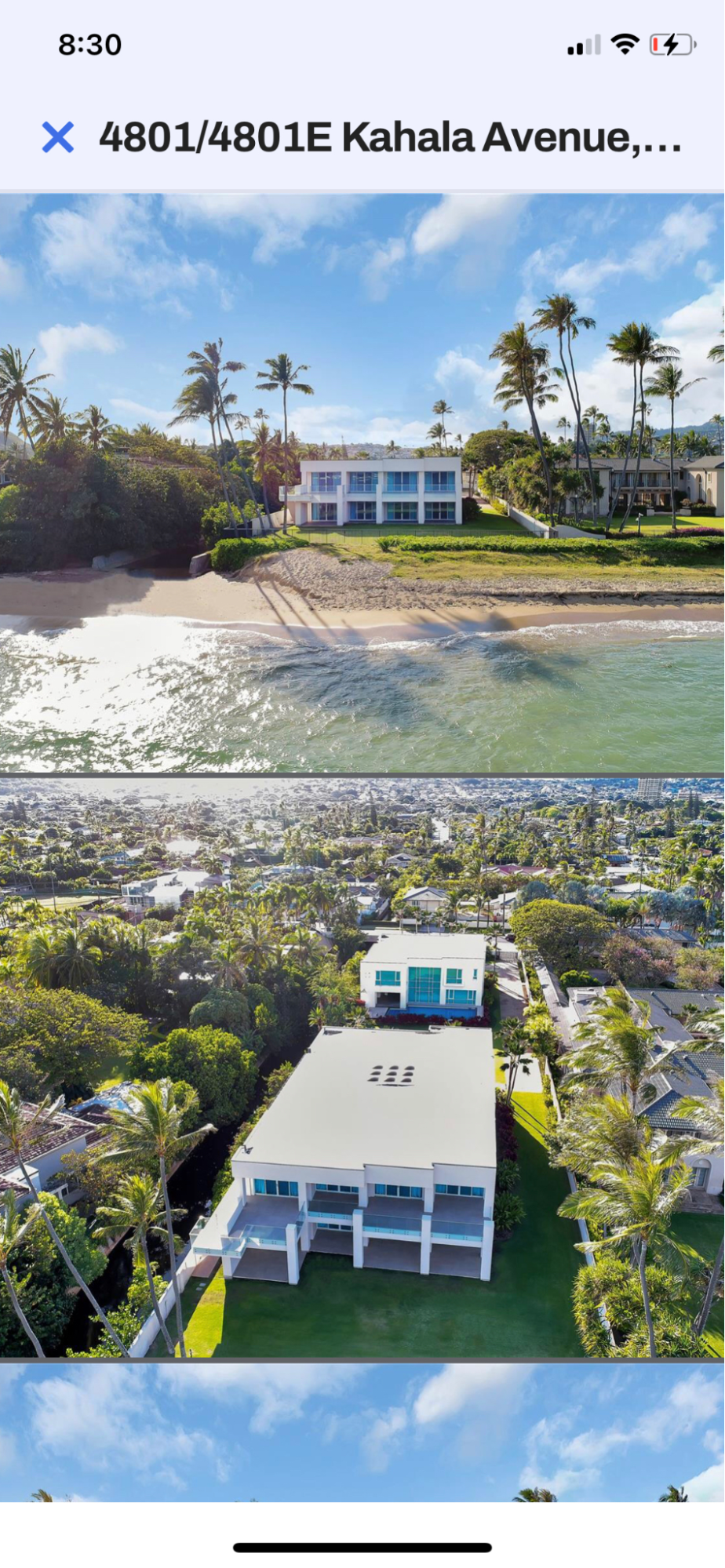 Managing Users and Lead Routing
Lead routing and users were buried in settings. We've given them a dedicated space. Admins who work in larger teams revisit these pages often, so this only made sense.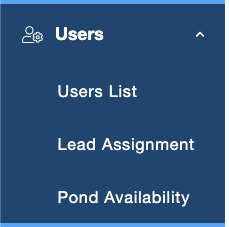 Edit your websites in Settings
We streamlined the settings quite a bit to make key configurations easier to find. This is the place to go to customize real geeks to your business.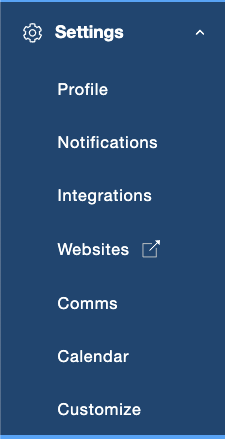 "Status" is now on the leads list!
Use the status to keep your pipeline up to date. We've added an indicator for statuses to the table so that you can see at a glance which leads are in which stage.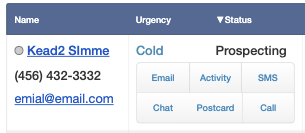 "Last Contacted" is now on the leads list!
When was the last time we talked? Oh yeah! We've added this to the lead list so you can easily scan when the last phone, text, or email happened. Prioritize your list by when you last spoke by clicking the column header to sort leads by most recently contacted or by those who've never heard from you.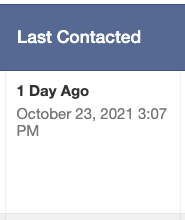 Anna is now Generally Available
At Real Geeks we believe that it is important for us that whatever we deliver to you has been tested and proven to help you grow your business. We now have full confidence that Anna the same or better than your existing Real Geeks site. To see an example, CLICK HERE

List View > Grid View > Map View
The list view is now the default view for property searches instead of the grid view. Users can still toggle between views if they would like. We recommended driving PPC traffic to the search results page to generate home search leads for best conversion.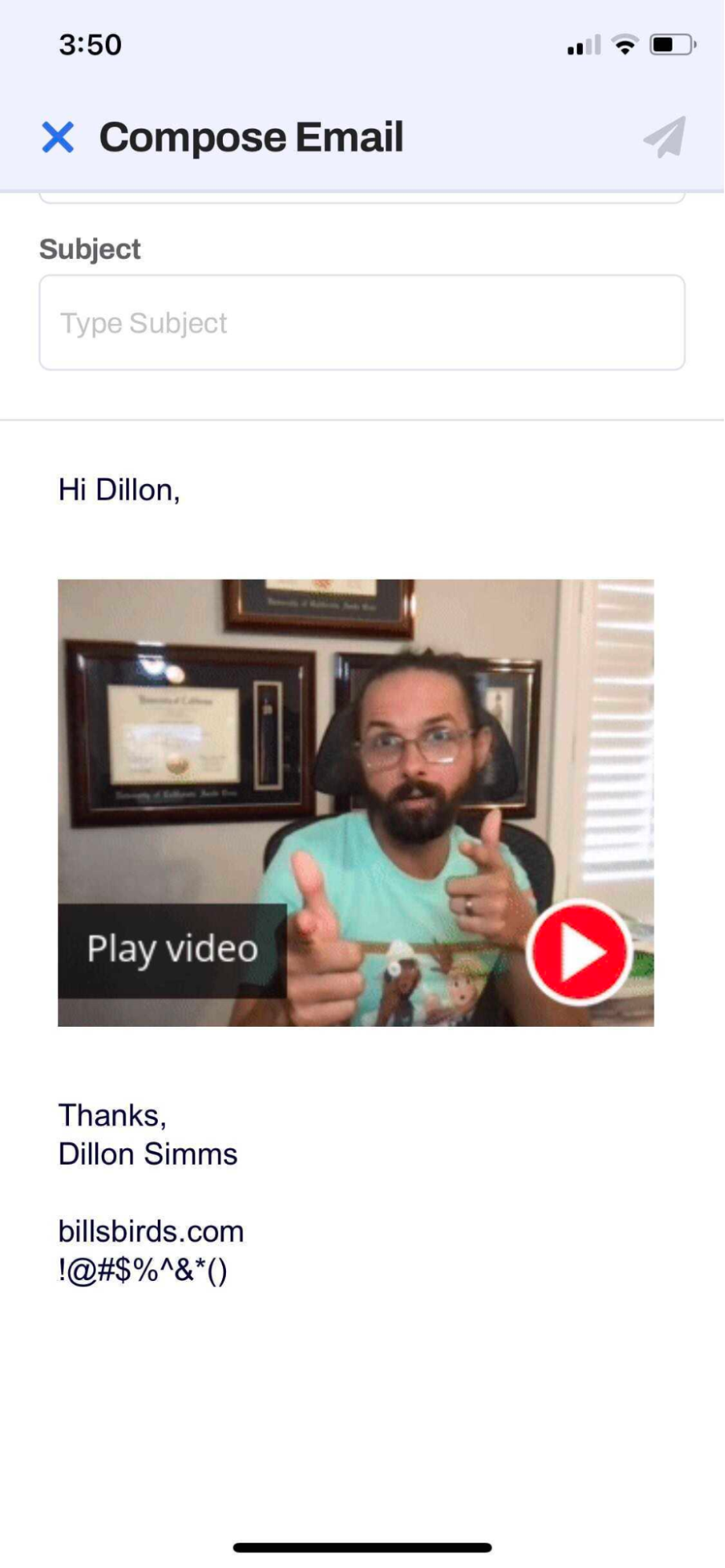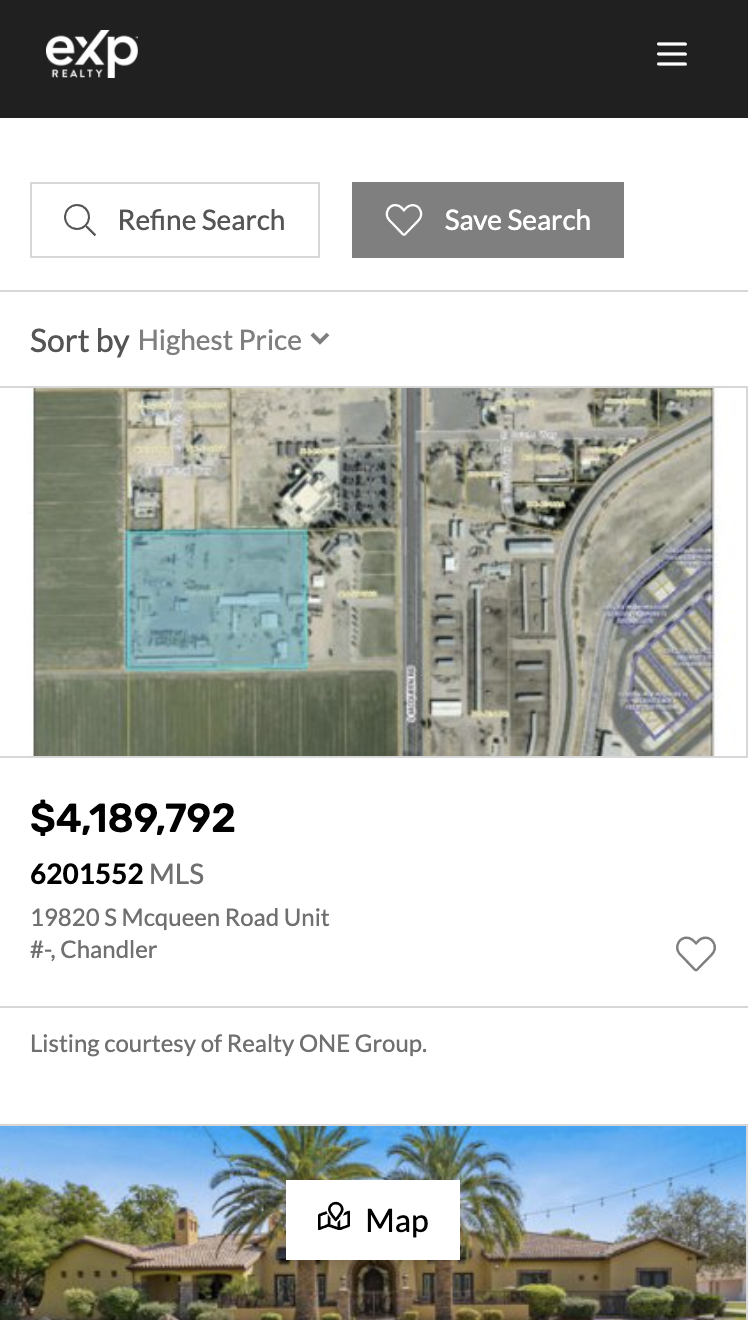 comments
|
Share:
|
Posted in Tech
Written by The Professor
Oct 28, 2021
Return on investment is something every agent is worried about deep down. Moreover, that fear and worry aren't entirely unwarranted. Having a low ROI is a reality many real estate agents face today.
This is exactly what Greg Harrelson and Abe Safa talked about on their latest Real Geeks Masterminding call. Both of them agreed that ROI is an area most agents can and should improve on. In the call, the two discussed four major reasons why agents still see low returns, despite already using the Real Geeks all-in-one real estate solution.
Here is what they talked about:
1. Differentiating Expenses and Investments
ROI is something you only expect from an investment, not from an expense. However, Abe and Greg noted that many agents still get confused about whether something counts as an expense or an investment.
Being unable to tell whether something is an expense or an investment can cause you to neglect it. Not nurturing or following through on an investment will naturally cause lower returns. Greg tells agents that by simply shifting your mindset, you can shift the results you get.
2. Majority of Leads Fall Through the Cracks
Both Abe and Greg agreed that if agents leveraged automation and workflows into their business, they can avoid having leads fall through the cracks.
Workflows allow you to make a few attempts manually then use an automated workflow afterward. This allows you to continue reaching out to those unresponsive leads while also trying to capture more others.
Additionally, workflows let you connect with all the people already in your database multiple times throughout the year — something impossible to do manually. Abe encourages agents to try to contact leads at least six times. If you make six or more attempts to reach a lead, that 15% national average of leads you reach can go up to 90%.
If you're already using the Real Geeks CRM platform, you already have a built-in solution to counter this problem. The Real Geeks library has a "no contact after first attempt" workflow. Utilizing this one workflow can potentially triple or even quadruple your ROI.
3. Agents Don't Leverage Market Activity Reports
This is another case of using automation and the tools that are already in the system you are paying for. You already have the information, the tools, the database, and the leads, admonished Greg. All you need to do to improve your ROI is to start using them.
Make sure to enter all your leads and information into your database. Once they're in your pipeline, leverage system automation to make it easier to reach out to them.
4. Lack of Digital Footprint, Especially Videos
Videos are an amazing tool for any real estate agent. They allow you to showcase properties and make a deeper, more genuine connection with your potential customers. This is something that Zillow and many large online listing companies can't do. As such, it is an opportunity you should take full advantage of.
Only a few agents leverage video sharing for their lead generation and ROI. Creating and sharing videos thus allows you to differentiate yourself from other sellers. It makes you more stand out and in touch with the current trends — something that may help with younger clients.
The Bottom Line
Going digital is the way to go, even in the field of real estate. Although calls will continue to be indispensable in the industry, texting and using automated workflows to reach customers are becoming just as important to boost ROI.
Before ending the call, Greg and Abe remarked that all the solutions they shared are tools already included in the Real Geeks system. If you're already paying for the service, that means you don't have to make any additional investments to improve your ROI.
Written by The Professor
Oct 13, 2021
Sometimes, we need to leave something to see how valuable it truly is.
Craig Schneider is the owner of Norchar Real Estate, a Rochester-based real estate brokerage firm. A user of the Real Geeks platform, he talks about his struggles with taking his real estate business online. He also goes into how he tried other CRM platforms only to return to Real Geeks after realizing that it was the platform that offered the most for his business.
Read on to learn what led Craig Schneider from and back to Real Geeks and how it can help your real estate business!
Why Real Geeks?
Craig Schneider is an engineer by profession, gifted with expertise and acumen for all things tech-related. Nonetheless, for him, one of the most challenging areas in his real estate business is web development.
The necessity for lead generation and distribution that comes with a CRM platform is what led him to try Real Geeks. He ended up becoming a user of the real estate CRM platform for quite some time.
Throughout his initial experience with Real Geeks, he gained marketing tools for lead generation. With his investment in the platform, he also got multiple integrations, few of which he learned to use initially.
Craig's Departure From Real Geeks
Despite what Real Geeks was able to do for his business, he confessed to trying other platforms after noticing a couple of pain points.
Lead distribution had always been an issue at Norchar Real Estate. Due to management constraints, the Round Robin lead distribution feature of the platform did not deliver what Craig needed. This forced him and his wife to try lead shifting as an alternative method of lead distribution, only to abandon it after some time.
Keen on using Slack for his lead distribution, Craig had wanted to integrate his Real Geeks page with it for his agents. While the integration was possible in Real Geeks, he was not able to figure it out.
On top of the issues surrounding the Slack integration, he also had a problem integrating data from his MLS to the platform. This combination was what caused Craig to try out other platforms.
The Return to Real Geeks
Craig tried several platforms on the understanding that he would have full backend access to adjust his pages and make the integrations he desired. Unfortunately, these platforms did not deliver on his expectations despite benefiting him in a handful of ways.
Coming back to Real Geeks, he discovered a new array of features he did not know about before he tried other platforms. By spending a bit more time on the platform, he was able to finally integrate Slack to suit his "Shark Tank" lead distribution technique.
His Slack integration has now allowed leads to funnel from his real estate site into Slack for his team of agents to pick up. This single integration alone has done much to streamline Craig's lead distribution.
Real Geeks Is Your All-In-One Real Estate CRM Platform
In Craig Schneider's words:
"Real Geeks is the best investment I have in my business in the sense of how much I pay and how much value I get."
Real Geeks delivers most of the results Craig needs for his real estate business. It's why he returned as a user of the platform and continues to use it as we speak.
Real Geeks is an all-in-one real estate CRM platform that has taken care of his thriving real estate business. Let Real Geeks do the same for yours!
Written by The Professor
Oct 12, 2021
Agents can now edit super saved searches!
If you've been with Real Geeks a while, you've probably felt the pain of creating a very specific search for a picky client, only to figure out that you have to create it from scratch. What a pain! Whelp, now super saved searches can be edited*.
*Note: this only applies to searches created after Oct 1.

Don't know what a super saved search is?
Geek AI Assistant
We've been improving Geek AI Assistant, our automated text-based assistant this month based on some feedback. If you'd like to learn more about AI click here:
More lead sources for the AI Assistant
One of the pieces of feedback we received about AI is that it only worked with Real Geek's sources. Well, we heard you and expanded the list to include our most popular sources:
Homes.com
kunversion
movoto
zillow
trulia
realtor.com
Google
Facebook
Updated AI Assistant Scripts
Our team reviews the AI weekly to make sure that the scripts are always getting better. For example, this past month we've tweaked our AI scripts to be a little less repetitive by removing a redundant qualification question, fixed typos, and adjusted one of Robin's more controversial responses that made them appear condescending in certain scenarios. Specifically:
"Oh that's interesting, helpful for us to know. Mind telling me more about your situation?"
-Robin
AI Assistant support in the App.
Sometimes you are on the phone or communicating via email with a lead and you want Robin to hang back. Now you can stop the assistant and view "Assistant" delivered messages right from the App.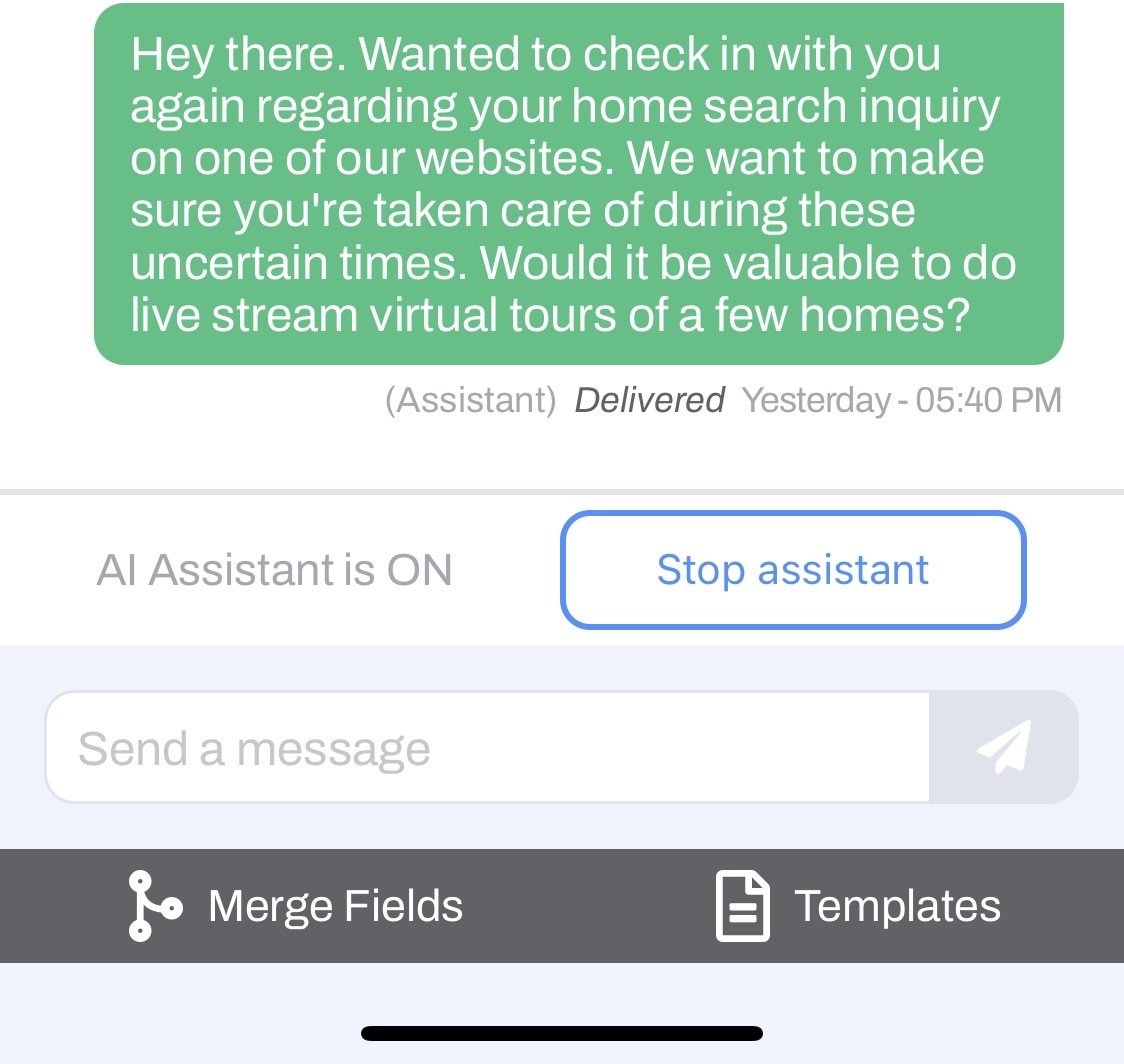 Unread message badge in CRM App
To make sure you never miss a conversation, you now have a badge for unread messages:

Online Lead Indicator in CRM App
The theme for the CRM App this month is messaging & communication. We have expanded upon chat, fully integrated AI assistant, and made some quality of life improvements to make the app feel more natural. We've added an indicator for online leads in conversations window, so you can make sure you are chatting with a person who can see your message.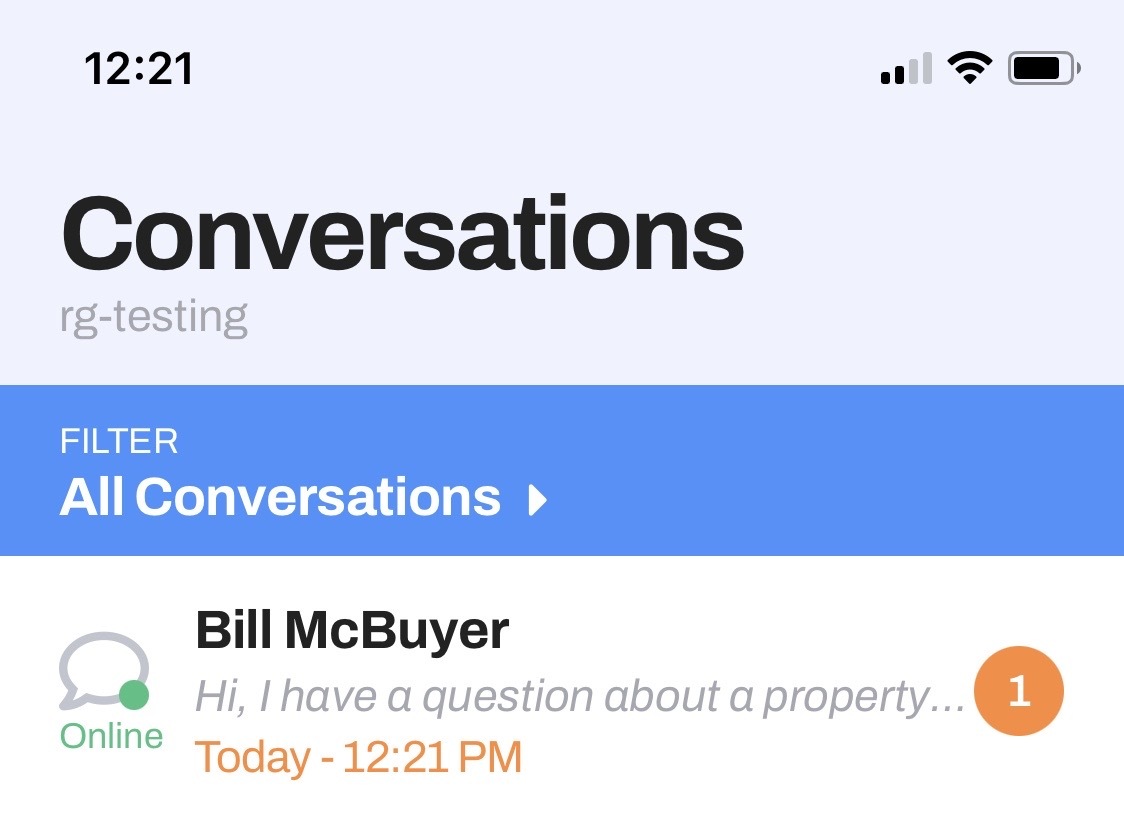 comments
|
Share:
|
Posted in Tech
Written by The Professor
Sep 3, 2021
Kevin Kauffman and his business partner Fred Weaver have 25 agents on their real estate sales team in Phoenix. They sold 306 homes last year ($110 Million).
They originally set their agent splits based on what's taught in the Millionaire RealEstate Agent book. Their bottom line, however, was only 10-20%.
After reflecting on that, they decided to actually increase their agent splits to 60/40 and70/30 (in favor of the agent), while cutting all the fixed, hard costs their agents saw as "low-value," but in fact were very high cost to them.
Kevin says his agents are happier than ever, keeping more money, and his business is now more profitable than ever. This is a topic we wanted to dive deeply into with you!
We talk about the optimal way to pay your agents if you have a real estate team. Kevin shares how he did it, how his numbers work, and why it was the best move for their agent/team model. This is a hot topic with a lot of opinions - this is an exciting discussion!
To hear even more from Kevin:
Join Kevin's Facebook Group
Listen to Kevin's Podcast
Watch Kevin's Youtube channel for Realtors
IDX Real Estate Websites that Convert
Get Started Now
Sign ups have increased by a factor of 10 times over our previous IDX website provider. –Lee Cunningham, Greenville
View More Testimonials
Real Geeks Demo & Overview
Categories
Archives