Real Geeks Blog - Internet Marketing
Written by The Professor
Apr 26, 2021
The release of Real Geeks video messaging makes it easier than ever to get in front of clients!
Engage your database with a video showcasing current trends, or simply talk about your weekend plans and extend an invitation. With our video messaging feature you can do all of that and more, in minutes.
Real Geeks Video Messaging shows that seeing is believing.
Simple to use and send, Real Geeks Video Messaging instantly engages in a few easy steps!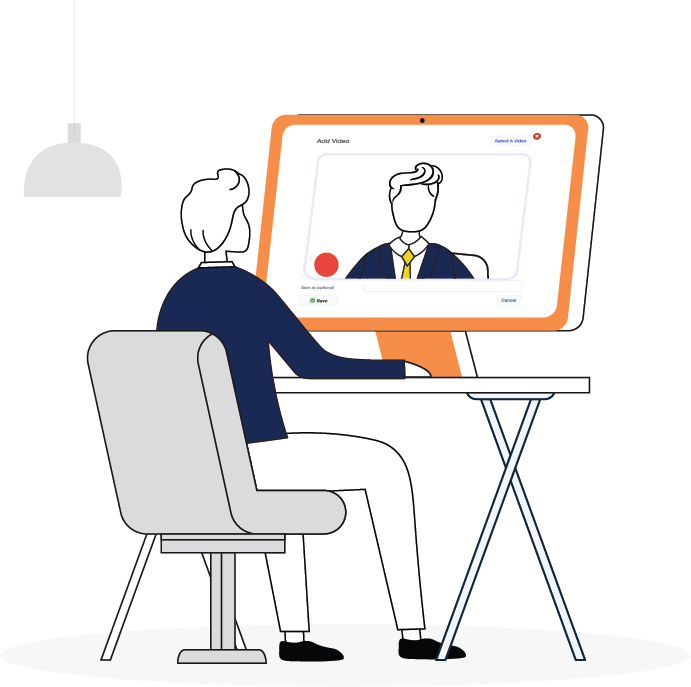 Open an email window in the CRM.
Click the start video button.
Smile and begin recording.
Record your message.
Name and save your custom video message to the library for reuse.
Insert your video into an email, text, workflow, e-blast or template!
Send the video and watch as your client visits the video page on your website.
Engage, deliver news and update quickly through Real Geeks Video Messaging. Communicate authentically and connect with your clients and leads face-to-face! Show them why you are their go-to resource for current real estate information!
Real Geeks Video Messaging gives you the tool you need to be present and bring leads to where they need to be - searching your website! And, like many of our other features, Real Geeks video messaging is provided free of charge to existing clients.
comments
|
Share:
|
Posted in Tech
Written by The Professor
Apr 23, 2021
This Real Geeks Mastermind Training "Setting More Buyer Appointments," with Greg Harrelson and Abe Safa of Century 21 The Harrelson Group, teaches secrets to getting more buyers and listings even in an accelerated seller's market! Find out why Harrelson believes, "It's always a numbers game."
Safa shared that the National Association of Realtors® (NAR) expects sales of 6.2 million homes in 2021. He explained that the problem is not a lack of inventory, as much as it is that the timeline on each property is very short. Due to this, agents need to focus on how they can best help their buyers find homes and prevent their buyers from experiencing repeated rejection on their offers. Safa suggested building relationships with other agents to share knowledge of available inventory before it syndicates.
Fulfill a Buyers #1 Need
Harrelson and Safa know that buyers have plenty of information and many sources available. "What they don't have is access," Harrelson explained. This is why he believes it is important to set an appointment no matter what and make access the forefront of the conversation. "They don't have the physical key," he said, suggesting a modified approach to the buyer by first setting the appointment, asking questions, and getting qualifications at the end. "Set the appointment and say I can call if I can gain access earlier." Harrelson continued, "When you set the appointment, what you did is, you just put a stop to them calling the next four agents... The agent that gives access first wins the business."
Stand Out in a Sea of Facebook Posts
Safa and Harrelson also recommend using Facebook to advertise the buyers you represent. Post buyers in Facebook groups for the communities they want to buy in, so people know they're real, they encouraged. Using the phrase, "I promised my buyer I'd do everything I could to help them move into THIS community," has helped Harrelson successfully find homes for his buyers on Facebook. Safa agreed, "Find the inventory and you can set more buyer appointments," he said.
This strategy needs to be done consistently. Harrelson suggested visiting Facebook every Tues. at 9 a.m. ( or whatever time works best for you) and posting links to the top 5-10 new listings of the week. Harrelson explained that by actually posting property detail links in that post and making it consistent, agents can train people to look for the post every week. He then watches who shares it and messages the person shared to, offering access, and thanks the person who shared it, offering them access, as well.
Approach a Forgotten Seller
"Not much fear here, just doing things slightly different," Harrelson said, as he explained his strategy for reverse prospecting for sale by owners. He reaches out to expired and withdrawn listings, going back three years and cross referencing the list to make sure the properties are not already listed with another agent or sold. "When they start asking questions," he said about property owners that have become active on a workflow, "you've found a bullet proof strategy."
Harrelson uses his CRM to find people that wouldn't have been called, sharing an actual workflow that activates leads through a series of texts. Explaining that the text doesn't need to say anything special, but was more about reaching out with something similar to, "Are you still open to purchasing?"Then, when no response is received, following up with, "Am I texting the right person, you haven't replied. Is this Jennifer?"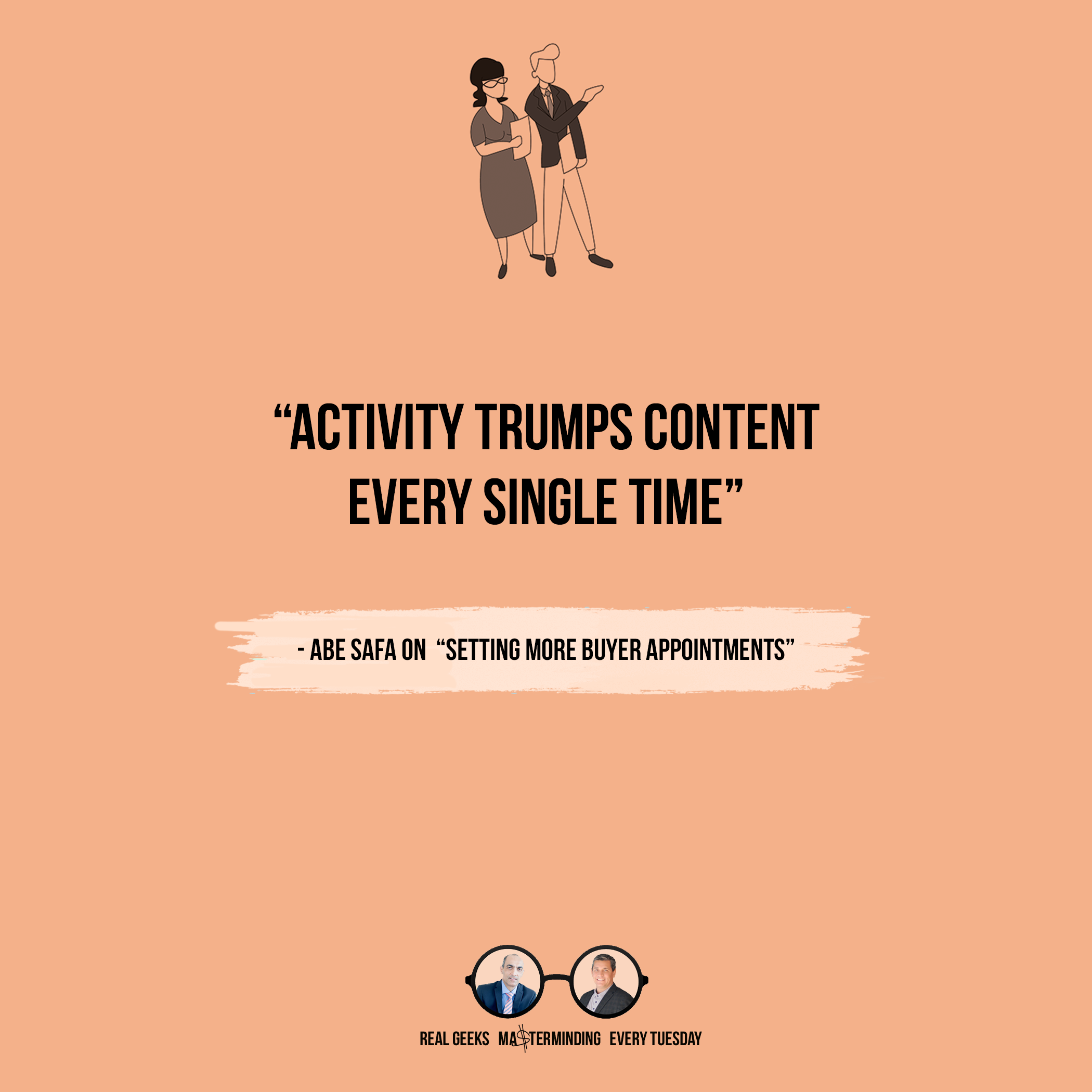 Turn a FSBO into a Buyer… and a Potential Seller
"It's all about being creative right now," Greg reminded agents. He said that he approaches a FSBO seller with questions and statements like this:
"I wanted to call to see when you sell, are you staying local or are you going to be purchasing outside of the market?"
"I specialize in buyers..." Harrelson suggests a script to set an appointment to earn their buyer business as that sets agents apart. He explained that as an agent shows one property, establishes rapport, and engages the seller as a buyer, they may ask questions about their sale. At that point, the conversation can be turned. "I have no doubt a FSBO will sell," Harrelson said he tells the owner, "but I can net you more money."
Explaining that "it is so much easier to build rapport with a buyer than a seller," Harrelson reminded agents that a buyer buys with emotion, whereas a seller sells with logic. "They'll do everything they can to sell on their own," he said, "but when they are a buyer, they want to see EVERYTHING so will hire an agent."
Find Available Homes for Your Buyers
"Go through the MLS and take the top 20 sellers agents in the market out to lunch," Safa recommended at the beginning of the training. Harrelson agreed and also suggested reaching out to rental managers as sources for leads. Explaining that 'being in the know' is critical, Safa said,"Access to more inventory helps you set more appointments."
Safa said he does Zoom calls to show clients criteria as he does a property search. On these calls, Safa shows his buyers his screen so they know that's everything that is there. He said his buyers then qualify homes themselves based on what they see - such as pool or no pool. Safa shared that three out of five times, the buyer will consider properties you may not have originally chosen. Harrelson strongly endorsed this strategy, reminding agents, "Don't put your buyer in a box," because sometimes buyers will settle for something less than they originally required.
These tried and true techniques, available to all Real Geeks Mastermind clients, will stimulate your success when implemented today! Watch this fast paced episode and reset your business today!
Written by The Professor
Apr 7, 2021
April's first Keeping It Real Training offered by Real Geeks and hosted by Greg Harrelson and Frank Klesitz explored direct mail strategies for lead generation in affluent real estate markets. Featuring Brett Jennings, a real estate agent and team leader in the Silicon Valley, this episode provides direct answers to the question, "How can I generate seller listings now?"
Establishing credibility through sending direct mail to property owners and following up with phone calls, targeting mapped school areas, and circle dialing were all ways Jennings suggested staying in front of sellers. "All will sell at some point," he said.
Recalling the words of his mentor Tony Robbins, "Wealth exists in the gap between ideas and their implementation," Jennings explained that exploring that gap has been the key to his success. He sells real estate in a very affluent area, Silicon Valley, and has found that consistency as a team effort has allowed for predictable results. He targets an area of at least 2,000 homes and defines it by school district boundaries in his MLS. Using Remine or Realist, he then downloads the contact details of those homeowners and sends hand addressed, stamped letters to each. He mails one to himself so he knows when the letters are received. After they've been received, typically 3-5 days later, his team begins calling as follow up. This technique has allowed Jennings and his team to secure listings in a low inventory market.
Jennings said the direct mail campaign works alongside his digital efforts. Every lead also is set up to receive a monthly Corefact postcard, monthly e-market report, and he has seller alerts set up for his CRM, showing pending and sold homes within 2 blocks of the property owners' address. In addition Jennings uses HomeBot for his entire SOI and reports a 70% open rate using that tool. Jennings said his focus is to become known in a variety of ways. "Not just digital, but do digital and print to make you unforgettable," he said.
It's More Than Direct Mail Alone - You Need a Team
These techniques alone are not the cause of Jennings GCI jumping from $3.9 million to $12 million, however. He had a plan to scale and said he only did that through hiring a "rockin' admin," scaling lead generation, scaling to 50 quality agents, and scaling quality support.
Listing Realtors Property Resource (RPR) as another tool, Jennings, Harrelson and Klesik discussed how this could be used to print out market updates for all buyers and send personal messages congratulating them on their increases in home values. The note could also provide the "most universal offer to sellers" which is the idea that you have a buyer. Jennings suggested leveraging your most committed buyers by finding out from the agents on the team who the buyers are and what types of homes they need.
As you mail to your farm areas, Jennings advised to intentionally choose a hand written font, even on the envelope. He explained that using a service such as Addressable, which uses a real robot pen to write addresses, can achieve a 50% open rate for mailings. Jennings then shared that his team accentuates results with mail and a followup call in a 3 tap system, "either call, mail, call or mail, call, mail," he said. He also recommended using a short url for zoom to make it easy for people to get on a video call, such as zoom.name.com.
Jennings acknowledged that this approach is large scale and cost-prohibitive for soome, but encouraged agents to look for partnerships on the mailing. He suggested including a 2nd page with a referral to a financial advisor offering a seller tax implications webinar, and having them cover a portion of the postage.
Explaining that letter frequency mattered due to message fatigue, Jennings said that in his market, "the ideal cadence is every 3-4 months," and explained that this way, "if you call behind the list, you may get advance news of seller plans so you can add them to CRM." Harrelson and Klesitz agreed, with Harrelson adding, "Never do direct mail unless you're willing to prospect behind it."
Direct Mail Stays in the Home Longer
Harrelson spoke from experience saying he's found that sellers take a letter and "put it in a property folder to access in 6 months," and encouraged agents to do multiple things, as Jennings does, not only direct mail. Speaking of Jennings, Harrelson said agents needed to be more like him, "He's not a dabbler. He's a doer, he's a get-it- doner. He goes deep." Klesitz suggested more tools for agents to use if they need to find buyers, explaining that institutional buyers are available through multiple companies, including Offerpad, and Opendoor. Klesitz also mentioned Homelight as a trade-in way to access equity and then sell the property as an "Exclusive Partner."
In wrapping up this episode of Keeping It Real, Klesitz mentioned his "Magical Seller's Email" and offered it to agents. He recommended personalizing it and emailing the letter to an entire database as a way to get conversations started. Download it here.
This Keeping It Real episode shows you best practices for staying in front of potential home sellers.
Utilizing these concepts and tools with your Real Geeks CRM is sure to increase your seller leads and grow conversion in 2021. Let us know what works for you and reach out if you have techniques you'd like to share in Real Geeks training. We'd love to have you on LIVE event!
... Read More!
comments
|
Share:
|
Posted in Tech
Written by The Professor
Apr 6, 2021
Determining mindset and defining success are critical to improving quarter to quarter growth. In this Real Geeks Facebook LIVE training, Greg Harrelson and Abe Safa discuss the need to evaluate, build momentum, and set up a personal strategy to enhance results for the next 90 days.
Saying agents, "It's insignificant what the market's doing. What is significant is what you're doing," Harrelson and Safa tell agents that individual action matters most. As they discussed how to have impact in 2021, Harrelson suggested they focus on techniques and strategies that will lead agents "to have a breakthrough or gain momentum in the second quarter."
One of the most important ways to increase that momentum is by tracking performance. This can be done in any number of ways, for instance, agents can focus on the number of leads generated, how many took, how many appointments were scheduled, how many listings taken, how many listings sold, or whatever other metrics are critical in that specific market. Harrelson shared six questions that help his team bring in focus and allow agents to evaluate their individual performance.
Accountability Questions to Consider Each Quarter
How many days did you lead generate a minimum of 2 hours in that day [as one session]?
How many people did you talk to in that last quarter?
How many appointments did you set? Sellers vs. Buyers?
How many listings did you take?
How many contracts did you write?
Do your results match your activities or do your activities match your results?
For understanding, Safa answered the first question, saying that he generated leads for a minimum of 2 hours a day almost every business day or 58/60 days in the first quarter. Harrelson and Safa said as you review these statistics, it's essential to think on whether your results match your activities or whether the results were higher or the activities were higher.
Safa cautioned that fear and hesitation can become a learned activity and urged agents to start fresh if their mindset has been affected in the last year. "When something happens in the market and your business or you get rattled," he asked, "How long is it taking you and your business to pivot from that?" The faster you can make the change, the more quickly you'll see success, Safa and Harrelson agreed.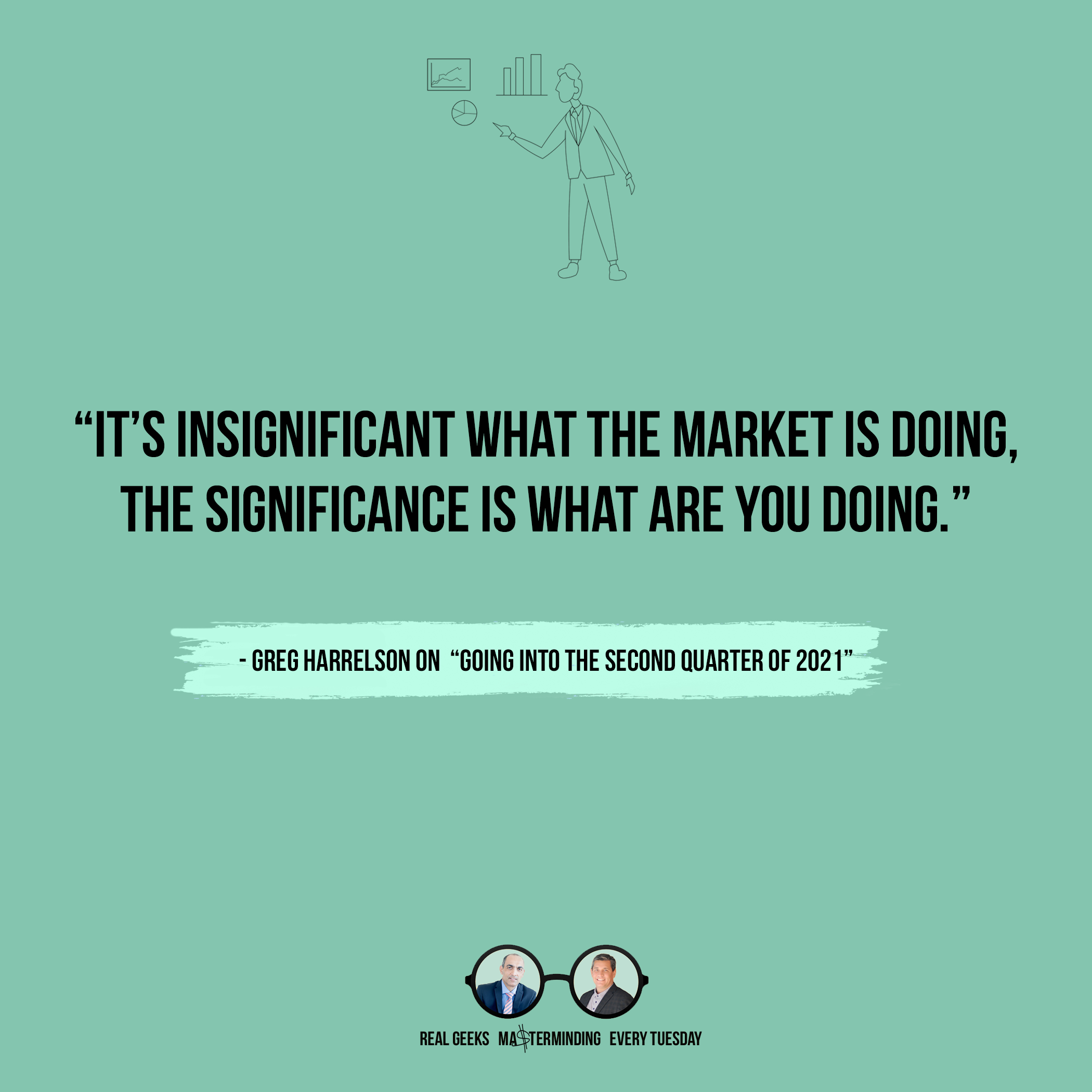 Are You Asking the Right Questions to Grow Your Real Estate Business?
Harrelson shared three questions that inspire him which he learned from real estate and business coach and author, Tom Ferry.
What do you need to start doing in the next quarter that you didn't need to be doing in the last quarter?

What do you need to stop doing in the next quarter that you didn't need to be doing in the last quarter?
What do you need to be doing in the next quarter that you didn't need to be doing in the last quarter?
Discussing tools that can assist with reaching second quarter goals, an audience member asked if email drip campaigns could be considered lead generation. Both Safa and Harrelson agreed that these workflows are lead generation tools, but were clear that they should not be counted as contacts, unless the email or text triggered a specific event which led to contact. Safa clarified saying anything you do, from a drip campaign to placing a billboard could be considered lead generation.
Harrelson explained that when monitoring your activities, you need to be reflective. "Is there something in your skills that needs to be improved to get better results?" he asked. He also was quick to point out that often agents think their success is based on skills when in fact the success is due to a hot market.
Harrelson compared selling homes to riding a bicycle, explaining that just because your time is better with a strong tailwind, it doesn't mean your overall speed has increased. He explained that anomalies are often not indicators of future success and so can't be relied on. "We can go faster than what our strengths are because the market is assisting," he said. "If this happens, agents may shift habits and weaken their business long term." However when activities produce anticipated results, agents can create a very predictable and duplicatable business. When activities and results align, Harrelson urged, "Go all in. Push the chips all in on that!"
"It's insignificant what the market's doing," Harrelson wanted agents to recognize. "What is significant is what you're doing," he said. "It's your truth, not the truth."
Sharing an equation that he uses as inspiration, Harrelson coached that, "Desire + Belief + Show Up = Success" and suggested three attributes to encourage that success.
3 Keys to Agent Success
Discipline - Show up every day.
Focus - Do 2 hours of income generating activities daily.
Joy - Make it something you want to do.
"Success is defined by you," Harrelson concluded as he and Safa wrapped up the episode by encouraging agents to take the steps to achieve their goals in the second quarter.
comments
|
Share:
|
Posted in Tech
Written by The Professor
Mar 31, 2021
Working on the go has long been a reality for real estate professionals, and the new Real Geeks CRM App takes getting things done on the go to a whole new level! Now you can access and manage your entire database from your pocket!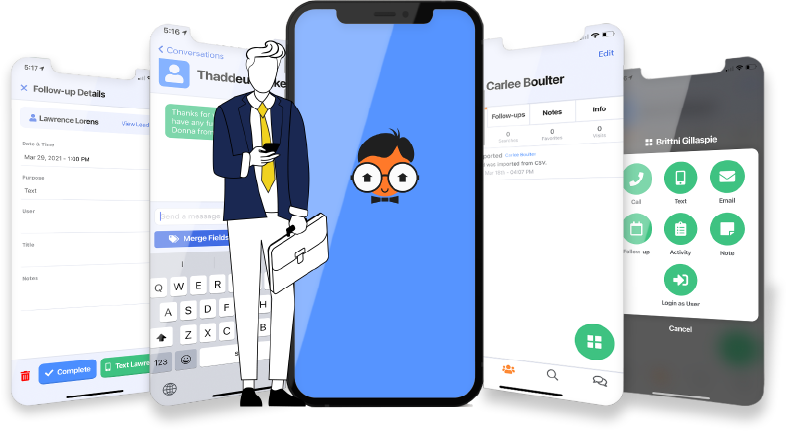 Easy to use and navigate, the Real Geeks CRM App allows you to:
Seamlessly call, email and text your clients
Use your favorite email and text templates
Set follow-ups to stay in touch
Take notes to keep your team in sync
Use your advanced searches to find leads important to your business
And so much more, all without logging into a computer!
Make working away from the traditional office a breeze and ramp up your speed to lead conversion with the Real Geeks CRM App. Coordinate team efforts seamlessly as you and your team view current lead activity and communication in real-time, at any time! Get updates and send custom messages at just the right time and close the gap on follow-up!
The Real Geeks CRM App puts the power of lead management in your pocket.




Download it today!


comments
|
Share:
|
Posted in Tech
Written by The Professor
Mar 26, 2021
This Keeping it Real gets deep into "The Optimal Economic Structure for a Small Real Estate Team w/ Anthwon Thomas." Hosted by Greg Harrelson and Frank Klesitz, the episode talks about the realities of agent splits, staff compensation structure, marketing budget percentage, and setting up an overall economic model when planning for a small team. More importantly, you'll be inspired as you hear the passion, commitment, and joy evident in Thomas and Harrelson as each shares the journey of becoming a leader.
As a passionate entrepreneur seeking a life in real estate, Thomas spent hours preparing for his career as an agent, but more importantly as someone who could lead a team. In the beginning it was just him, but from the day he hired his assistant, he knew he would be a success. He knew it, because he could see it. Thomas had prepared by watching hundreds of hours of training ahead of time, in the form of Keeping it Real episodes and related Real Geeks training. This coaching helped Thomas internalize the message, "Whether I was going to fail or succeed, it was a win for me," Thomas said.
Klesitz and Harrelson were amazed at his drive, and Harrelson recognized it as a key to Thomas' success. Harrelson says: "Anthwon minimized his risk by maximizing his learning," he said. Thomas attributes his success to his supportive wife and the knowledge gained as he internalized the role plays shared in those video trainings. I had to have focus and the belief that I was a winner, and a competitor," he said.Thomas went on to explain that success is about working smart, "It's not about how intelligent you are, it's about how many times you were being intelligent," he shared.
Your Market Does Not Determine Your Success
With a business based in Lafayette, Indiana, Thomas shows that "you can still be profitable in any market" as his small team consisting of three sales agents, a director of operations, closing coordinator and virtual assistant generated 120 deals last year in a market with a median sales price under $200,000. Thomas himself is no longer closing deals, and instead serves in a management role, helping his agents stay focused on prospecting and closing deals.
Part of Thomas' success lies in keeping costs low (marketing budget was $53,000) and morale and expectations high. His company has published standards for work efficiency and production for their agents which include:
Have a minimum of 25 contacts per day (125/week).
Close a minimum of 2 transactions each month.
Attend all team meetings (2 grace days permitted).
After 6 months, agents pay $495 unless monthly transaction goals (2) are met in the previous month.
If the above goals are not met, the agent agrees to participate in a system of change.
Thomas finds that his system provides clarity, incentivizes, and works well for his motivated team, and shared that the agents hold one another accountable. "When we bring agents on the team," he explained, "We future pace them… We let them know what to expect." Believing that the amount of contacts you have per day will be the number of closings you have per year, Thomas provided insight into why his system works. Even knowing this, Thomas felt building systems and processes was the value he could best contribute in his business, so left transactions to his agents.
There Is No One Answer to Building a Team
Impressed by Thomas' system, training, and team, Harrelson and Klesitz discussed how approaches may be different, but that success happens with consistency. Harrelson shared that his team approach is unlike Thomas' in some ways. For instance, Harrelson requires no minimum sales standard, but guides individual agents based on their own goals. "My job is to help them accomplish what they want to do," Harrelson said. Harrelson encouraged agents seeking to grow a team to make their first hire an assistant and suggested they convert 50% of time saved into lead generation time. When growing their businesses, Harrelson and Thomas took different approaches. Thomas reinvested his time into building a business. Harrelson reinvested his time into listings. "Both of us probably did it right, based on our vision of the model," Harrelson said.
Thomas explained that he didn't do everything perfectly in the beginning. Talking about his failures, Thomas acknowledged, "Even though I sold homes, I didn't lead correctly. The first agent I brought on didn't stay with us long. I needed to prove myself a little more and make sure I was gliding, not grinding, everyday." He realized he had to be more of a team player and changed his process so he could deliver more value and add more support, Thomas explained saying, "At that point things started taking off." Harrelson agreed, "I'm a big believer in leading by example," he said. Harrelson shared that he doesn't have his own office, though he does make use of a conference room, because his goal is to build and teach his team. "I want to be with agents," Harrelson said, talking about his leadership style.
Leadership Success is About Accountability and Drive
"The reality is if I need to sell a home today, I can," Thomas said, adding that his role and value is in building out "a strong bench of great players" to contribute to the team's success. Thomas believes in accountability. He shared that his son checked in with him everyday when he was getting started at building his business with the question "Dad, did you follow or execute on your obligations today?"
Explaining that leading a team is about feeling led, Harrelson said, "Let your passion and your heart take precedence in your decision. The economics will magically disappear." A true leader puts in the effort required to see the dream through, Harrelson explained as he shared a story about ditch digging. "It's not about being a resource," Harrelson said, "It's about being resourceful."
If you're planning to grow your team in 2021, or anytime in the future, you'll want to watch this amazing episode. Internalize these practical tips and insights to ease your transition and have you seeing success from the start!


... Read More!
comments
|
Share:
|
Posted in Tech
Written by The Professor
Mar 24, 2021
Discover "7 Real Geeks Hacks +/- " with Greg Harrelson and Abe Safa on this Real Geeks Mastermind Training video and find ways to add value to your clients and business, while decreasing your spend of time and effort. As Harrelson explained, the goal is to "Add more value but decrease the amount of time it takes."
Hack highlights include explanations of how to use:
Market Activity Reports - Explaining that the key is to take advantage of automation with these, Harrelson said, "Get them in your system so they get notifications. Agents neglect to see that this person has a property to sell when they have them as a buyer," he said. Once a buyer sells, they need to be viewed as a potential seller in the database, tagged that way, and added in the automation. Harrelson explained that this is an underused feature of Real Geeks. "In only a few clicks they can be sent the report every few months" which allows the agent to stay top of mind. Harrelson continued, "Ask 'How can I get 10-12 people signed up on an activity report every month?'," he said. "It will be one of your highest open rates."
Buyers List - Go into a listing presentation with the data of how many buyers are looking for homes in that community, zip code, etc. As this information is readily available on the CRM activity feed and in reports, Harrelson showed how it can be used in a listing presentation to get attention and show expertise. Harrelson and Safa said this is a hack because these are the things that get everyone's attention and make the most difference.
Saved Searches - Safa explained that saved searches for sellers encourage price reductions. He noted that while "price reductions are not as needed now, they will come back, so you want to remember that strategy."
Facebook Share Button - Harrelson wanted all Real Geeks clients to be aware of this easy way to generate free leads, simply by being consistent. "On every listing there is a little button that says share. You can share that property on your FB page," he explained. Share a few every week and monitor whether anybody comments or shares it with anyone else. Do it 5 times a week and Harrelson said he guarantees every week someone on one of those listings will share it to someone else. This allows the agent to click on the unknown person's name and reach out and also click on the referrer's name and thank them for the referral. This is a free technique that allows anyone to widen their sphere of influence and gain prospects. "Make that a routine," he said, "and you will generate leads for free."
Workflows as an ISA - Safa encouraged everyone to use the workflows. "You've got an automation tool that allows you to reach out," he said. "That's very powerful." Safa encouraged that "before you hire an ISA, you need to use the automation in the crm that emulates an ISA." Harrelson agreed, "An ISA makes sure to find the low hanging fruit," he said. "They nurture your people because you don't have time to."
Pre and Post Listing Campaigns - Safa explain how a pre-listing and post-listing campaigns helped to ready a seller so that the first meeting had the maximum potential for success and continued to follow up if an agent didn't get the listing.
Banners - Safas loves using the banners available on Real Geeks sites to highlight certain property types, such as homes with pools. "Whatever there is a shortage of," can draw in clients, he said.
Every hack mentioned is available to all Real Geeks clients, however many go unused. They are considered a hack, Harrelson said, because they capture attention and make the most difference. Consider those listed above and choose one to implement today!
comments
|
Share:
|
Posted in Tech
Written by The Professor
Mar 15, 2021
In this Real Geeks Facebook LIVE training, Greg Harrelson and Abe Safa shift the narrative, helping agents understand that "your state of mind determines your state of production." As they shared 'Your Next Breakthrough - 10 Simple Steps', they focused on how mindset, purpose, buddies, and more can lead to more production and satisfaction in 2021.
Step 1. Define what a breakthrough is.
Specifically state what you are wanting to accomplish. Harrelson said that though this seems obvious, it continues to get neglected. Agents were encouraged to imagine the success and describe what it looks like. "You will never have a breakthrough," Harrelson said, "unless you can define what a breakthrough is." Safa agreed, " A lot of times people are so close to a breakthrough, where it looks like nothing is around the corner..." and when nothing happens quickly, they get discouraged. "We need to talk about the activities that lead to a breakthrough, because it is right around the corner," said Safa.
Step 2. Determine the activities needed to hit that goal.
The equation is simple, if you want more listings you need to talk to more sellers. Regardless of your goal, break it down to what activities are necessary to do daily to hit that goal. "Compare your goals with what activities will get you there," Harrelson said. "A lot of agents get stuck here. Initiate the re-engagement workflow." Just doing that one thing could see engagement gain 40% which is a successful activity.
"People worry about missing out on an activity, if you do not act today, you will lose it," Greg said and then had a practical suggestion of how to make it happen. Decrease the amount of time it takes to speak to new leads, he suggested. Safa said, "A lot of buyers are seeing how quickly the turnover is. Speed to lead is critical because buyers know if they don't act now,they won't get the home they're after."
Step 3: Create a plan.
Create a schedule & stick to it. Lead generating activities should be first on the schedule. Then plan the activities you created in Step 2.
Both Safa and Harrelson agreed that the key is consistency and gave guidelines for how this can be done:
Every activity should be accomplished before 12 p.m.
Have it be a reoccurring and standing appointment.
Keep appointments with yourself.
Through being consistent, achieving your breakthrough goal becomes easy.
Step 4: Show up consistently.
Calling consistency THE most important step, agents were encouraged that "even when you feel 'busy' or when you are seeing results, don't stop!" Keep doing it or else you will continue to experience those pitfalls. Harrelson also advised, "Be careful with self talk. Do not let anything prevent you from showing up. You have to be very stubborn about showing up. If you are consistent with those activities, "You are going to blow up...you are on your way to a breakthrough."
Step 5: Find a buddy--a breakthrough requires support.
An accountability buddy with a common goal is a huge asset. "You are more likely to show up more frequently if you have a buddy there, because you don't want to let that person down," Harrelson said. He added that the Real Geeks Mastermind facebook group is a great place to find a breakthrough buddy.
Step 6: Be present to your purpose.
Urgency to achieve the why creates results. Getting in touch with your purpose will have you showing up every single day. If you can't explain why you want to achieve your breakthrough then your likelihood of success decreases. Start your phrasing off, "I want this because..."
Remember that discovering your buyers "why" is important too. "Buying the house is a transaction that must occur in order for them to get what they want."
Step 7: Chant some affirmations.
"If we say we can't, we can't. If we say we can, we can. If we say nothing, we don't. Let's not waste the power of our mindset," Harrelson said. "if you're going to focus on something, at least focus on something productive," added Safa. "Be intentional with the conversations we are having with ourselves."
Harrelson stated that, "Positive thinking could be a breakthrough, it can be an activity to put in your schedule." He further explained to make a checklist of ten things and have an accountability buddy make sure you accomplish at least 80 percent and never miss the same activity two days in a row."
Step 8: Gratitude sets you up for a breakthrough.
Through gratitude we attract positivity. "Write down 5 things you're grateful for.. Maybe you write down 5 victories you've had in the last 24 hours," Harrleson suggested this as a way to deliberately counteract the negativity the world puts into our minds. Safa shared that it is impossible to balance gratitude & negative thoughts, saying, "Gratitude is the miracle drug for everything."
Step 9: Escaping frees you up.
Carve out a few hours for yourself during the week. "Escaping is the remedy for burnout and the avenue for breakthrough," said Harrelson. Harrelson works on classic cars as an escape and Safa runs and swims while traveling is not an option.
Step 10: Repeat this recipe.
"Repeat week, after week, after week, and breakthrough appears in spite of you," encouraged Harrelson. Reflecting on the breakthrough steps, he said, "If you follow every one of these, you'll just open up the oven and pull out a pan of breakthrough."
comments
|
Share:
|
Posted in Tech
Written by The Professor
Mar 9, 2021
As agents navigate real estate in a COVID-19 world, technology has taken a more important role. This month's Keeping It Real Training from Real Geeks, features Greg Harrelson and Frank Klesitz discussing, "The Best Real Estate CRM(s) + Latest Technology To Stay Competitive." Get the resources you need to function more effectively in 2021 in this training session.
Starting with the basics, Harrelson names Real Geeks as his preferred CRM and technology solution. Stating that his team produces over 3600 transactions a year, Harrelson has compared it to other systems and still finds that the Real Geeks system "does everything that I need it to," he said. By being able to "drill down to small segments" with Real Geeks, Harrelson has been able to outperform his competition, having over 2,000 specialty pages on his website. Each of these pages are connected to custom Facebook audiences, as well. Harrelson also likes the LIVE feed of client engagement and that the Real Geeks CRM allows his team to be able to follow up in real time. "It's a nice integration," Harrelson explained, adding, "I do the ads through Real Geeks and the leads go right there... Lead capture, to lead management, to marketing... I can do all that within one system, that's why I use Real Geeks."
Beyond and in addition to Real Geeks, Harrelson has other tools he uses to add a "soft touch" to nurture his clients, using sold reports and market reports. He also suggests using HomeBot. Homebot gives line graphs and pulls in a client's mortgage balance, interest rate, and equity with name, email, and address. It shows the sellers interest rates and shows how much they can save by refinancing, calculates how much buying power they'd have on a future property, and estimates the opportunity they could have if they list their home as an Air B&B. Using a tool like Real Synch agents can integrate these services together for a seamless solution.
Based on speed and accuracy, Harrelson uses exactdial.com to harvest client information that has partial information. Harrelson strives to have all points of data on each potential client. The service provides email and physical addresses, phone numbers, and IP addresses.
When contacting expired sellers, Harrelson suggests that agents subscribe to Vulcan7 and RedX and for transaction management, his team uses DotLoop. For PPC he uses Real Geeks and has great success with the Real Geeks home valuation tool. Harrelson feels the biggest mistake agents make is, "Judging the quality of a lead based on how long it takes to convert.... We've got to stop thinking like that!" he exclaimed. "Low quality has no correlation with time to conversion."
Harrelson uses Canva for thumbnails on videos but doesn't use many other tools. "I believe in going deeper on the tech we already have," Harrelson said. When he considers other tools, he debates on whether the features they offer produce measurable return or duplicate existing tools. "I want to get every dollar and value I can out of the one tech I use, before I start looking for new tech," he added.
Klesitz discussed the tools he recommends for clients in his marketing practice and outlined why he found them to be valuable tools.
As they focused on tech, both Harrelson and Klesitz were quick to point out that all of these tools are nothing when compared to relationships. "We're not guaranteed that there's going to be a tomorrow," Harrelson reminded. "If we don't make an extra million, but our family experiences a little more love, that's wealth."

... Read More!
comments
|
Share:
|
Posted in Tech
Written by The Professor
Mar 3, 2021
Focusing on small changes makes all the difference! In this Real Geeks Facebook live training session, Greg Harrelson and Abe Safa discuss, "Real Geeks Hacks You Probably Haven't Thought About." Learn some little known tips that will have you thinking like a guru about your website and your follow up!
Set the Website Up To Generate Leads
Harrelson started off the episode discussing his thoughts on registration and the actual makeup of the website content. "My opinion is that we should force people to register," he said, based on the fact that when Real Geeks looks at numbers, people who force registration seem to be getting more leads. Still, Harrelson stated, "Before you get leads, you have to have traffic." He suggested that long tail keywords give a lower quantity of traffic, but a higher quality lead. Those people will be more receptive to registration because they are in the mode of buying as compared to those who search more general terms.
"Are you building community pages?" Harrelson asked saying that was the key. "They don't own SEO for long tail terms," Harrelson explained referring to real estate portals like Zillow. "They typically don't show up #1 for neighborhoods and communities."
"If we'll make a little bit more investment... you're very likely to start showing up in rankings." Harrelson suggests agents reference Real Geeks help files and tutorials in the Facebook group. If you will start building and use organic content, with original paragraphs and descriptions, with a picture you're more likely to get high quality traffic and leads. "I'd rather have one lead that's looking for a home for sale in Cresswind, than have 10 leads in Myrtle Beach," agreed Safa.
"Just having a website does not guarantee you leads," Safa explained. "It's not a Real Geeks' issue, you've got to be able to drive traffic to it." Safa and Harrelson discussed the number of leads needed to get a sale, "You only need one," said Harrelson. "It's what you do or don't do that's going to dictate the quality and volume of the leads."
Hacks Broken Down by Harrelson and Safa
"Most people don't realize that they can leverage the Real Geeks technology to help them get price reductions, " Harrelson shared. He said he would set up an active seller to receive new listings and every notification of sales near that price point that have occurred in that community. Each search is named after the client so that the client will be notified of anything that sells for less, which could prompt a price reduction conversation. Safa said that was a great way to keep the client informed and prime them for price reduction, if needed. Harrelson tells his sellers that he does this to keep them informed, because the more information they have, the faster and easier it is for them together to make decision regarding the property sale. "We can promise to do so much for a seller when its the automation that is going to actually fulfill those promises," Harrelson said.
Use all the Real Geeks tools and "just the components of the CRM alone are fantastic," according to Harrelson. We need to be building for the future," he said, referencing that at some point the market changes and "the person with the biggest database of seller leads wins." Database growth is long game because the real benefits come as the market shifts.
Safa talked about the power of workflows and how they create talking points with buyers and sellers. "Get creative. You've got a powerful communication tool at your disposal." Safa shared that his active seller campaigns allow him to make and keep promises to his sellers. He uses workflows as an assistant. Harrelson values workflows for the constant touch ability and acknowledgement they receive, but reminds agents that they still need to call. Call COI every six months and have the workflows send emails, texts, and reminders to call again, he explained. He also stressed the importance of stopping a workflow when a property goes pending (manually).
"Think about how you're creating urgency," Harrelson said. "How well are you at adjusting your conversation based on the market conditions? "Anybody who's building a buyer or seller database, the agent is going to be the winner." If you're one of the agents still standing in a down market, you'll have an advantage.
Harrelson suggested reaching out to inactives with messages that include a link to the home page of your Real Geeks website. "The longer they are inactive, the harder it is to engage them," however he has found that by adding a workflow that asks them to check out all the new listings every 60 days. "when they click on that link," he said, "They'll become active instead of inactive." His process is to keep the leads from becoming dead by catching them in the process, and forcing them to reengage before that happens. "They don't get better over time, they get better over touch."
"Share your site on social media," Safa said. Use the Facebook posting tool. "When we post properties that we've listed and post interior pictures, it attracts their attention and brings them to the site," Harelson shared. He explained that a few dollars over three days on very targeted ads can be very successful.
Use video to engage your sphere. Speaking to concerns on video, Harrelson encouraged, "You sound and look the same on video that you do in person... Get over that." Agents who use video are converting at a much higher rates. "Get comfortable with it fast," Harrelson urged, "Over time you can really establish a powerful connection."
comments
|
Share:
|
Posted in Tech
IDX Real Estate Websites that Convert
Get Started Now
Sign ups have increased by a factor of 10 times over our previous IDX website provider. –Lee Cunningham, Greenville
View More Testimonials
Real Geeks Demo & Overview
Categories
Archives