Lead Manager CRM
Real Geeks CRM: Saves Time & Maximize ROI
Purpose-built from the ground up to make Agents more successful. Everything you need to maximize your time and investments.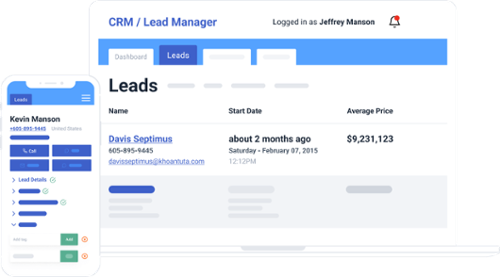 Optimize Your Workflows with Custom Features
We constantly research industry best practices, interview customers, and talk to our coaches to provide the best CRM for agents by agents.
Live Feed

Agents can monitor real-time activity. Active leads are a great target to contact since they are currently engaging in the site.

Advanced Search Filtering

Filter leads on any field, including user behavior, properties viewed & favorites, geographic area, price range, and time on site. Helps agents intelligently target and follow up with prospects.

Email & SMS notifications

As leads enter the system, agents are automatically notified by email and SMS to follow up immediately.

Social Profiles

Automatically find leads' social presence on the web to help agents engage.
Features
Everything you need in an easy to use package.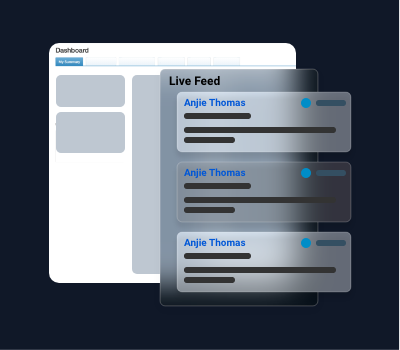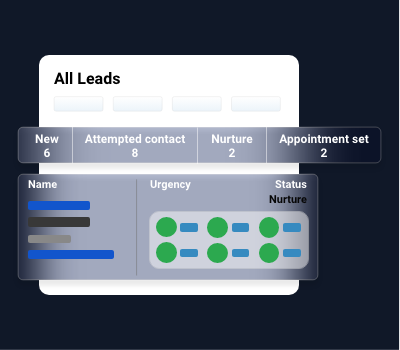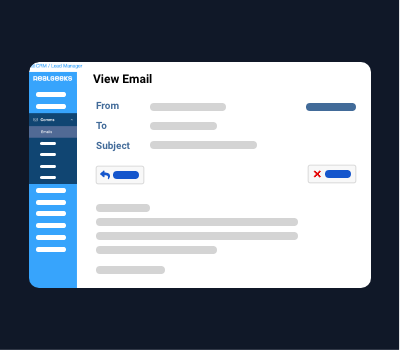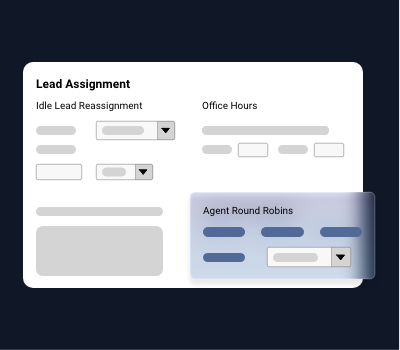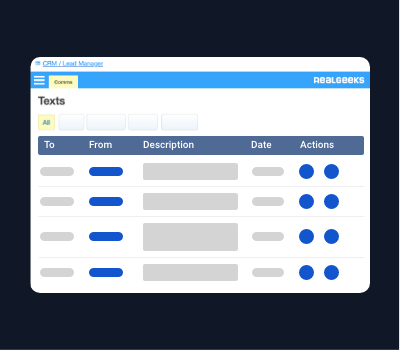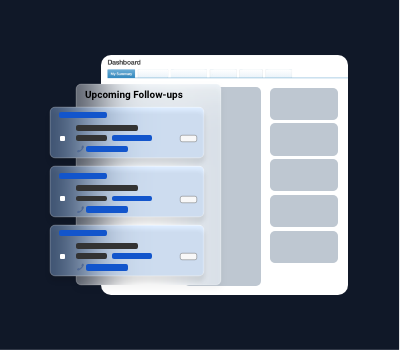 Track Lead Activity
A fully integrated Website and CRM creates powerful possibilities. See every page your prospect is engaging with. Know when they are coming back, and notify agents to follow up on high-engaging leads.
Statuses & Urgencies
Segment your lead pipeline seamlessly with the status and urgencies feature.
The Status bar rests just above the Leads List table. Agents will be able to quickly visualize the distribution of clients throughout their sales pipeline. Moreover, this tool enables agents to filter down to the leads within a particular stage so that they can prioritize whom they help advance toward closing.
Our background logic in the CRM automatically updates a lead's Status based on their behavior.
Agent/Lender Lead Routing
Automatically assign leads based on source and geographic location.
Email Integration & Sync
All conversations are automatically synced with agents' emails and integrated into CRM.
Idle Lead Reassignment
Leads get reassigned if agents don't take action.
Lead SMS Autoresponders
Ensures fast response time to leads increases engagement and conversion and saves time.
Follow-Ups & Reminders
Agents use the CRM to schedule appointments and get reminders. Also, log calls and add notes.
Real Geeks Products
Explore Real Geeks Products
Real Geeks staff works closely with single agents, teams, and brokerages that have been producing business at a high level online for years. Their experience will be shared with all Real Geeks customers.
Testimonials
What Our Clients Love About Real Geeks
"I started using the Real Geeks platform around 5 years ago. Since then, I have created 4 more sites with Real Geeks in the different markets that I serve. I have been very satisfied with my websites. This is the only website that I have ever had where my buyer leads tell me how much they love my website.

Greg Harrelson
Myrtle Beach
'Once we commited to Real Geeks we felt a sense of relief not only was the site easy to use it also brought us lots of good quality leads. We love our site and we are always getting positive feedback from clients telling us how much they like using our website to search for homes. Jeff and his team are five stars."

Veronica Gonzales
Albuquerque
"We have had our Real Geeks since Nov. 2011 and out of the gate has been a lead generating machine. The customer service is outstanding!"