Speed to Lead
Automated SMS
Increases Lead Engagement
Instantly Connect with Your Leads
One of the best ways to turn leads expressing interest into "hot appointments" and convert them into sales!

SMS texts convert significantly better than emails and have higher open and response rates. SMS texts have a 97% open rate compared to 20% with email.
Maintain multiple running conversations with many leads via the CRM. Powerful automation features ensure an instant response time customized to the source of the lead.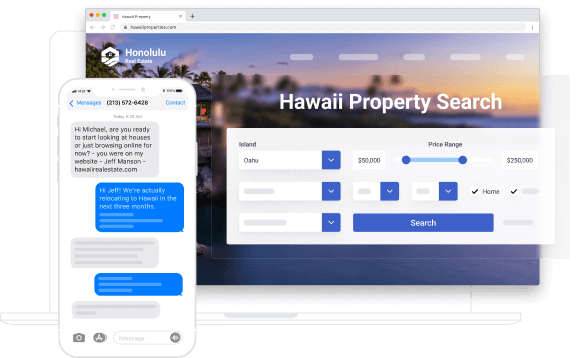 Real Geeks Products
Explore Real Geeks Products
Real Geeks staff works closely with single agents, teams, and brokerages that have been producing business at a high level online for years. Their experience will be shared with all Real Geeks customers.
Testimonials
What Our Clients Love About Real Geeks
"I started using the Real Geeks platform around 5 years ago. Since then, I have created 4 more sites with Real Geeks in the different markets that I serve. I have been very satisfied with my websites. This is the only website that I have ever had where my buyer leads tell me how much they love my website.

Greg Harrelson
Myrtle Beach
'Once we commited to Real Geeks we felt a sense of relief not only was the site easy to use it also brought us lots of good quality leads. We love our site and we are always getting positive feedback from clients telling us how much they like using our website to search for homes. Jeff and his team are five stars."

Veronica Gonzales
Albuquerque
"We have had our Real Geeks since Nov. 2011 and out of the gate has been a lead generating machine. The customer service is outstanding!"