How to Manage The Shift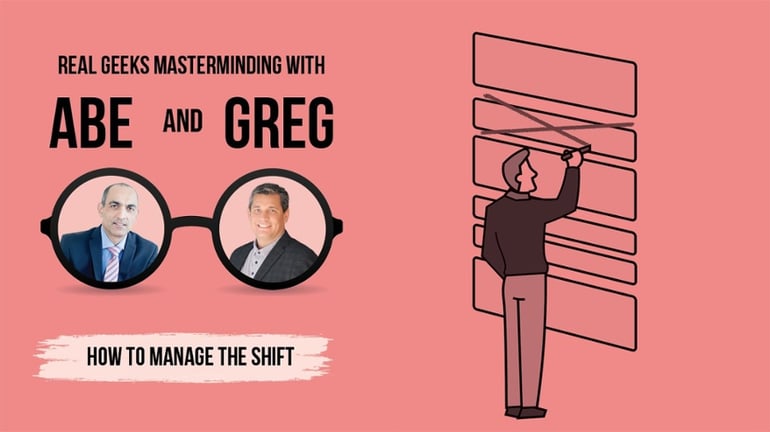 Admit That It's Real
We all know that things are changing and there's a lot of uncertainty in the stock market and economic inflation. You must first start by admitting that it's okay. The market is going to be different now than it was before. Get ready for what needs to be done to find opportunities in this shifting market.
Take 30 Minutes and Hit Pause
Before doing what needs to be done, you need to take a step back for 30 minutes and just think about your business. Write down five things you must adjust, assuming the market is shifting.
This gives you time to think. People are always rushing and are constantly stressed out, and having a break will give you time to be creative. Do this during the morning when your mind is still fresh.
Set a New Daily Contact Goal
Talk to at least 20 people a day and just check in with them and see if they're curious about whether the value of their home has changed or not.
See if they have questions about what is happening in the market. You could be a good resource if you open up the conversation.
Get a Coach
If you're in coaching right now, the big question you have to answer is, "Are you showing up for every call?"
And, if you don't have a coach yet, who can be your coach?
The problem in hot markets is that even though they can afford to have a coach, they do not do anything the coach says.
On the other hand, when the market is down, few people are getting into coaching because they are afraid they cannot afford it. Those that do show up and follow the coach thrive in a shifting market.
Use Tech Tools To Increase Your Bandwidth
You've got one of the most powerful features in CRM out there with the workflows. It helps you connect with more people; this means more business. Connect and talk to at least 30 to 40 percent more people to do the same amount of business.
Don't let your business go down just because the number of transactions in your market goes down.
Bandwidth means the number of people you can talk to within a certain period of time. Using technology and having an ISA will increase your bandwidth because you can communicate with more people in the same amount of time.
Rewrite Your Schedule and Eliminate Anything You Cannot Track a Positive ROI From
Look at your schedule and all the things you consistently write there and ask yourself what your ROI is. If you have a hard time answering that question, you need to think twice about whether that needs to be in your schedule.
Re-evaluate your schedule and eliminate stuff that doesn't contribute to investments' gains.
Get an Accountability Partner
Do so and set your goals. You can have two or three accountability partners to help you stay on track. Having an accountability partner will motivate you on days when you don't have a hundred percent in you. The sizzling hot market can make you create bad habits and lose focus.
Work on Your Mental Endurance
You need to have the mental endurance to stay the entire day. Talking to 20 people a day is no joke. Stick to the game and avoid all distractions that come your way.
Work on Your Physical Endurance
This is a good time to get back in shape because you will be needing that energy and stamina. Having good physical endurance makes you think more clearly and perform better. The physical side really helps the mental side. One way to break the pattern of lack of motivation is to start increasing your physical strength. As Tony Robbins would say, physiology dictates your psychology.
Know Your Numbers To Know Your Market
As the market is shifting, your market knowledge becomes more valuable. Start separating yourself from the rest of the market. Gather all the data to have conversations with people about what's happening at the local or national level, stock markets, interest rates, or inflation because people are talking about this now. You need to be able to have intellectual conversations with sellers and buyers on these topics.
Remember: your job is to be able to find the data that makes the buyer comfortable moving forward. These buyers know all the news around them, and you need to present the data that will otherwise make them feel confident about buying. Your job is to bring certainty to a world full of uncertainties; that's what they need right now.
The shift doesn't mean the market has completely flipped...
A coach is an investment.
Tech, Tools, and Real Geeks
Calculate your value per hour.
Mental Endurance
About
Real Leads by Real Geeks is a highly efficient and effective marketing solution for generating, capturing and managing home buyer/seller leads.

One of the best lead generation and management systems available. A fully integrated custom IDX and marketing solution to drive traffic, capture leads, manage-cultivate them and close more transactions.