Generating 'Come List Me' Calls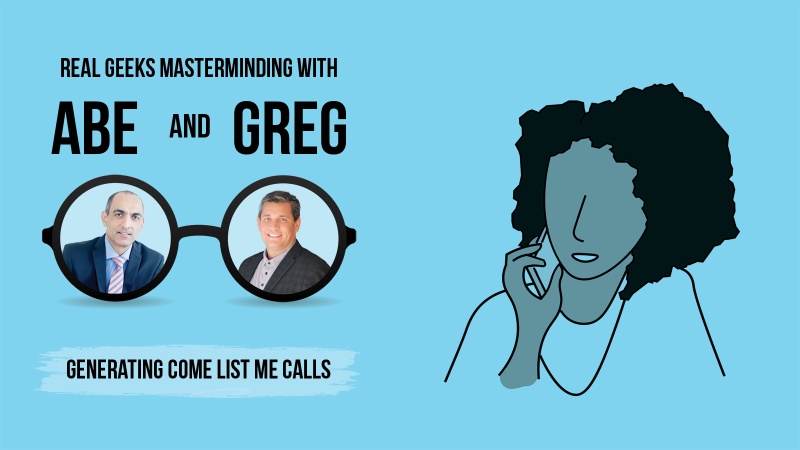 Getting on the phone and working with buyers is every real estate agent's dream task — but when it comes to getting in touch with property owners to generate seller listings, it's a different story.
In this episode, Abe and Greg talk about how to generate come list me calls. They go into depth about the obstacles of generating come-list-me calls, as well as the best practices for creating seller databases.
Abe and Greg also get into why you need to distinguish names on your lists from the ones that comprise your seller database and vice-versa. Tune in to the discussion and discover how you can add more property sellers to your list of high-value leads.
Database vs. List
"I never (ever) mingle my database with my lists." - Abe
Abe mentions why it's key to separate lists from databases. A list or seller list consists of property owners who are either actively selling their property or who are on the fence about selling. Databases, by comparison, aren't as specific or targeted, and this can create issues with correspondence and lead generation.
One of the issues Greg brought up concerned email deliverability and spam. On a CRM with a database of thousands, sending emails can spell disaster. With so many emails saying the same thing to too many people, the email can end up in spam folders.
Applied to a select list of sellers, generating listing calls through email yields statistically better results. It's for this reason that you need to bulk up your seller's list — not necessarily your database.
Offer Market Updates and "Plant the Seed of Thought"
"I'm not in the business of convincing you to sell. I'm here to let you know how I can help in the event you do decide to sell in the future." - Greg
On your database or seller's list of "expires," you'll still find some opportunities to convert past leads into members of your seller's list. According to Greg, one of the ways to do this is to offer market updates. These market update offerings can work wonders for nurturing leads.
Firstly, it can position you as a real estate agent that isn't there to convince an owner to sell. By providing updates for free, you'll be positioning yourself as an agent that's willing to be part of the owner's sale in the future. This adds intimacy to the correspondence — especially if you send video updates specifically to those who view your market report.
Secondly, with the data points in your market report, you'll also be planting the seed of thought. With that in mind, it might just be a matter of time before the owner sells and lists you as the agent.
The offer of free information is too good to pass up. This makes it easier for you to get owners to give you their email addresses.
Revisit Your FSBO List/Database
FSBO lists consist of sellers who are ready to pull the trigger on their property sales. This makes FSBO listings excellent additions to a seller list or database, as Abe puts it.
FSBO lists are accessible on many real estate platforms or sites; Abe mentions platforms like Zillow. Real Geeks also has integrations that allow you to perform advanced searches on your expired leads, including FSBOs.
By adding FSBO leads to your lists, you'll be generating listing calls in no time.
Key Takeaway: Generating Listing Calls Is All About Making Distinctions
Generating listing calls comes right down to identifying who's interested in what you have to offer and who isn't. When you're able to make this distinction, you'll be in a better position to solicit email addresses and position yourself as the go-to agent.
Implement these steps today, and your phone and inbox will be abuzz with sellers in no time.
About
Real Leads by Real Geeks is a highly efficient and effective marketing solution for generating, capturing and managing home buyer/seller leads.

One of the best lead generation and management systems available. A fully integrated custom IDX and marketing solution to drive traffic, capture leads, manage-cultivate them and close more transactions.