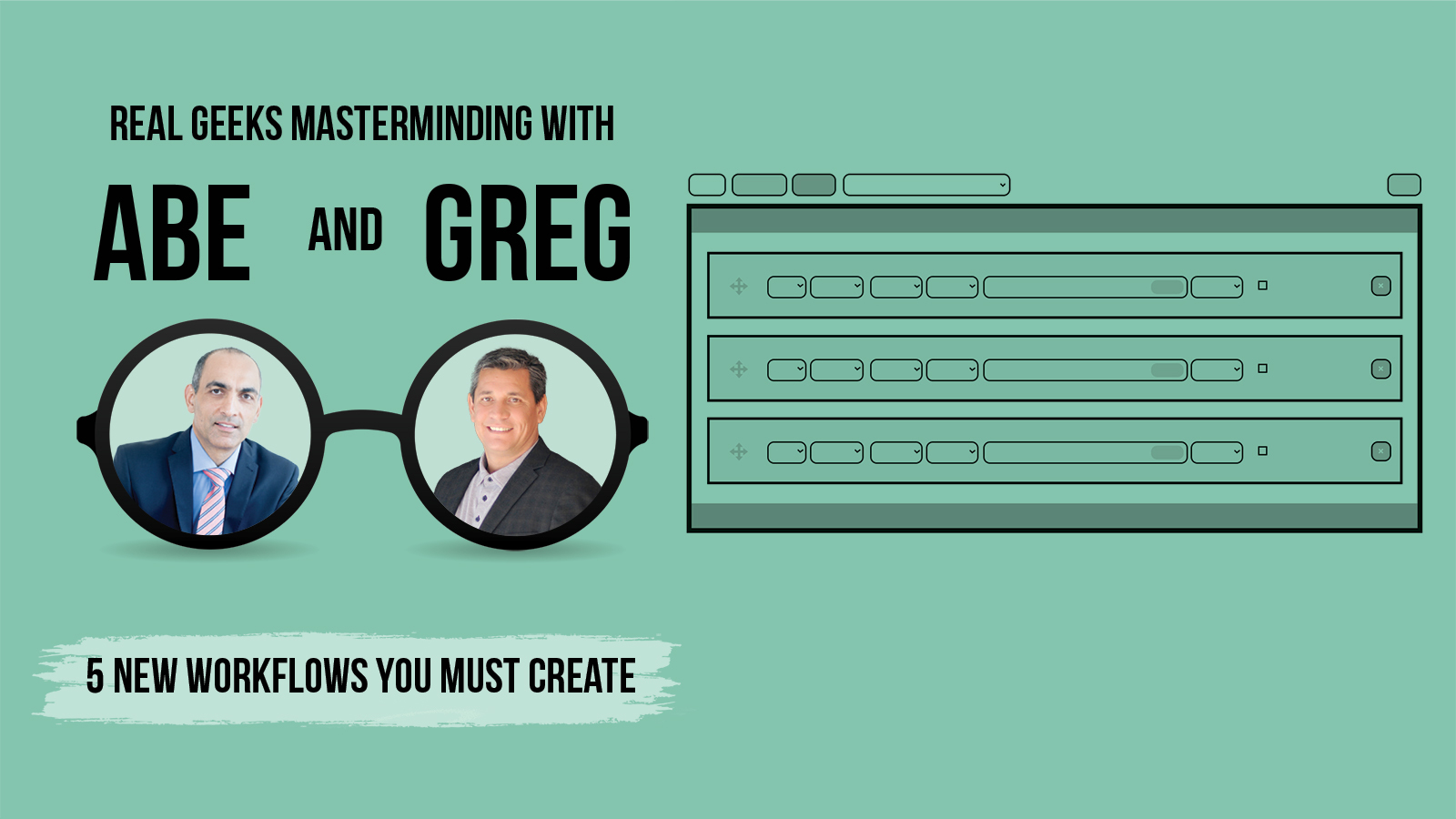 Greg Harrelson & Abe Safa discuss 5 workflows that you must create and use in the current market.
New Workflows You Must Create
1. Re-Engagement Workflow
The language needs to be relevant to today's market. A re-engagement workflow would be designed to communicate with non-active people.
This is the workflow you would use when you have a past client or lead that you have not talked to in a while. These people are not dead leads; they are just not re-engaging with you.
You're going to want to put them into a re-engagement workflow if they haven't been active in the last six months. You might say, "We've noticed you haven't been active on our site yet.
If you're still looking for a home, here are some houses that have come on the market that we think you might like." You want to ensure that you maintain that relationship with them, even if they're not actively looking.
The Buyer-Leads Quality Should be Going Up.
What is important is that you are the one answering the questions!
Short Workflows
Segmentation
2. Seller Valuation Workflow
Some sellers are concerned with the market and ask if there are still buyers. As a real estate agent, you should have a workflow for this so they don't feel like they need to go to Zillow or Redfin. You can give them an estimate of their home's value and let them know that you'll be happy to do a more accurate evaluation when they're ready.
Seller valuation workflows are vital because they build trust with potential clients. By being transparent and providing relevant information, you show that you are knowledgeable and trustworthy.
This type of workflow shows that you are willing to help, even if the person is not ready to list their home yet.
3.
Centers and Spheres of Influence
Everyone wants to know what's happening in real estate. Both buyers and sellers are interested in the market. It would be best if you had a workflow to stay on top of your spheres and centers of influence (COIs).
You can include market activity reports, articles about the market, or even a quick update on what's happening. These workflows help you stay in touch with your COIs, so they think of you when they or someone they know is ready to buy or sell.
Plus, you get to show off your market knowledge!
4.
M
onthly Update to Sellers
Sellers want to know what's going on with their home, even if it's not currently on the market. You should have a monthly update workflow for sellers to feel informed and supported.
Sellers appreciate this type of communication because it shows that you are keeping them updated on what's going on in the market. It also helps build trust and rapport, so they will think of you when they are ready to sell.
5.
Monthly Update to Buyers
Like sellers, buyers want to know what's happening in the market. From new listings to market changes, you should keep them updated so that they feel informed and supported.
When you take the time to segment your database and send relevant information, you are showing that you are knowledgeable and invested in your clients.
You take the time to understand their needs and provide them with the information required to make informed decisions
If you send the message to both buyers and sellers, you are not being as efficient with your time or your database. By taking the time to segment, you are showing that you care about your clients and their individual needs.
By creating and using workflows, you can nurture your leads, build trust with clients, and stay on top of your COIs. Workflows help you be more efficient with your time and database, so you can focus on what's meaningful — building relationships and closing deals.
If you don't have workflows, now is the time to start creating them. And if you already have workflows, look at them and see if they need to be updated.
About
Real Leads by Real Geeks is a highly efficient and effective marketing solution for generating, capturing and managing home buyer/seller leads.

One of the best lead generation and management systems available. A fully integrated custom IDX and marketing solution to drive traffic, capture leads, manage-cultivate them and close more transactions.