Is Your Morning Routine Helping You or Hurting You?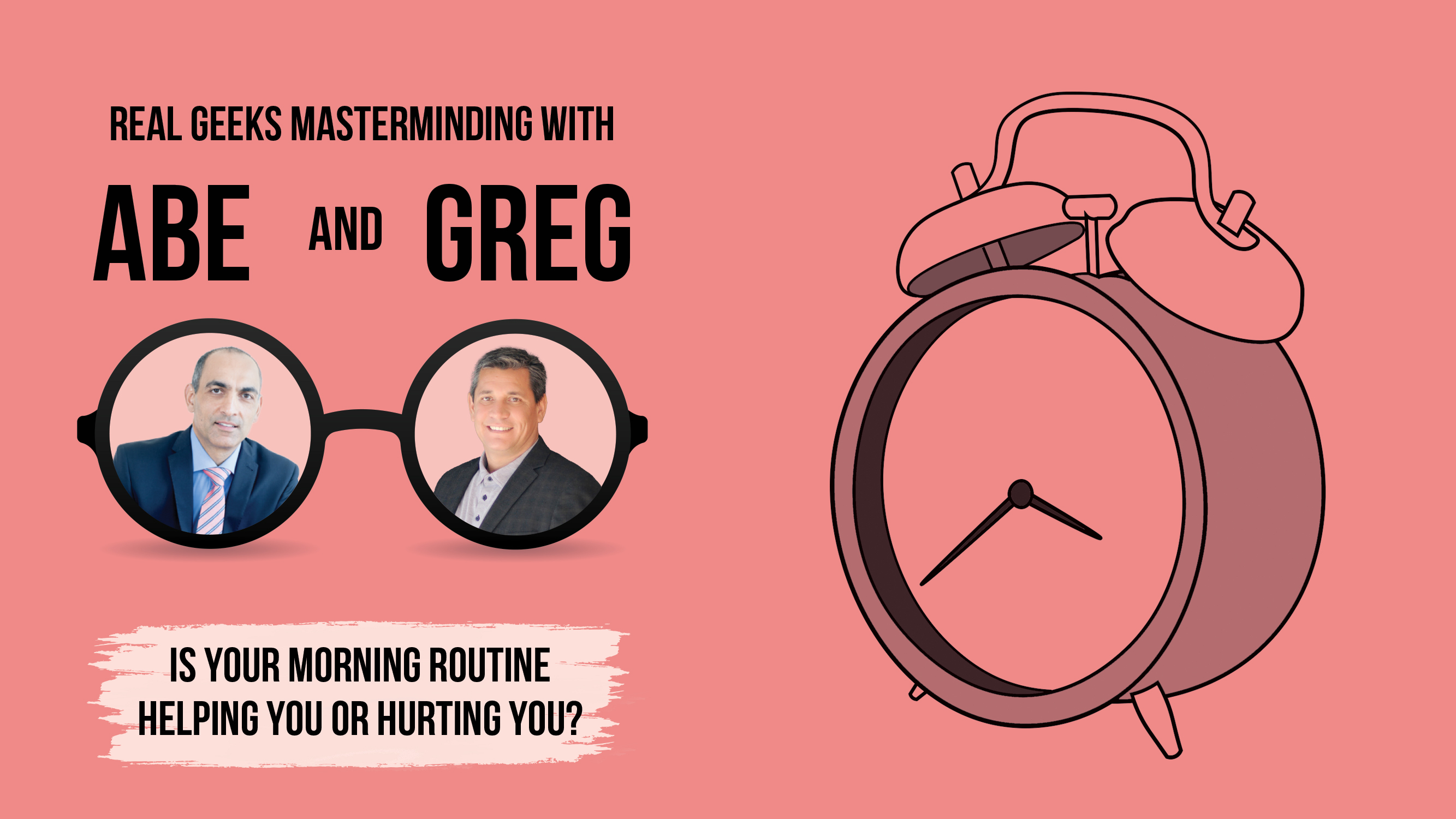 Since June 2022, there has been a housing recession that has caused a lot of real estate agents to change their routines. However, you must step back a bit and consider: is your morning routine helping you or hurting you?
Everyone has a routine, even if you say that you don't follow one (having no routine is still a routine). It all comes down to the steps you take, and whether it gives you an advantage or not.
Fill out the form for The 3 Blueprints of Success Digital Download from a previous episode of Abe & Greg Masterminds.
Questions To Ask Yourself
Real estate coach Tom Ferry presented the following questions to ask yourself to help you establish your morning routine:
What do you need to start doing that you're not doing?

What do you need to stop doing currently?

What do you need to do more of?

What do you need to do less of?
Answering these questions will help you put your goals into perspective by understanding what your operations currently look like, so you can make any necessary adjustments.
Factors That Make a Solid Routine
A routine that helps you consists of three primary factors:
Gets Results: Routines are successful if they are working for you. In real estate, this means helping you get business.
Predictable: You must know what to do next so you don't get blindsided and can easily adapt to whatever curveball you encounter along your day.
Duplicatable: A solid routine that's helping you is something that you can easily repeat everyday.
What Makes a Powerful Morning Routine?
Morning routines should generate energy. You must stimulate yourself mentally to take control of your day and show up to work with intentions. Generally, the things that you should think about when forming a morning routine include what you need to do between the time you wake up and get to work that will put you in the best position to have a productive day and accomplish everything that you want.
7 Things That Make a Powerful Morning Routine
Waking Up at the Same Time Every Morning:

This practice goes beyond real estate. Studies show that, over time, your body and mind will adapt to the clock you set for it. Stick to one time in the morning every day.

Do Something Physical:

Physical exercise is a great way to start your routine because it gets the blood flowing. You can do anything that you like, even something as simple as walking for a few minutes. Just as long as you make it the first thing you do.

Do Something Mental:

Try watching something that interests and motivates you. Perhaps a video on real estate strategies — as long as the media gets you thinking and stimulates your mind.

Do Something Spiritual:

As you stimulate your body and mind, be sure to do something that also slows you down a bit. Not in a negative sense, but more along the lines of grounding yourself at the start of your day. For example, try reading affirmations or a religious text.

Put Yourself in the Right State of Mind:

Your physiology dictates your psychology. Motion dictates emotion. Be sure to move around as it goes hand-in-hand with establishing a healthy mindset.

Go to the Office at the Same Time Every Day:

Just as you wake up at the same time every day, be sure to arrive at your workstation at the same time to establish that pattern.

Be Intentional About Your Day:

Think about what you are committed to accomplishing within the day. Suppose you want to call every person with a past due in your calendar, which you should have done two days prior. Be clear on what you want to accomplish.
Final Thoughts
Establishing a morning routine is critical to success in the real estate industry. How well your day goes is tied to your physical, mental, and spiritual health, which you can exercise by adopting certain attitudes. Consider incorporating these seven habits into your morning routine to improve your success rate as a real estate agent.
About
Real Leads by Real Geeks is a highly efficient and effective marketing solution for generating, capturing and managing home buyer/seller leads.

One of the best lead generation and management systems available. A fully integrated custom IDX and marketing solution to drive traffic, capture leads, manage-cultivate them and close more transactions.