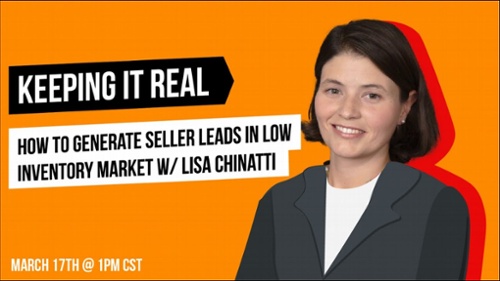 We are excited to welcome back one of our favorite guests, Lisa Chinatti, for this episode of Keeping It Real. Lisa is a top producer based in Westford, MA, with over ten years of Real Estate experience.
Jason Posnick, the Sales Manager for the Chinatti Realty Group, also joined and has an enormous passion for developing others, solving problems, and conveying positivity into people's lives.
The market is hot right now. A shortage in housing inventory has been a problem faced by real estate agents for years. As times change, you also need to adapt and learn how to generate seller leads even in low inventory areas. Lisa gives you her tips and shares what she and her team are doing to maintain their seller lead flow.
Lisa and Jason break down the most effective approaches to 5 different lead sources and how to create a plan that meets your needs regardless of which market you are in.
Online Home Value Leads
People want to know what their home is worth. For this, they usually go to a landing page or web form where they have to input information that will help them discover just how much their home is worth in the market. How do you lead traffic to this page?
Lisa shares that the best way to get online home value leads is to be diligent with retargeting and email work. Some strategies you can do to approach this lead source is to also take advantage of Google Pay-per-Click (PPC) and Google My Business.
Having a lot of photos and geotagging them will increase your visibility as Google tends to favor local experts. Google reviews will also help drive traction, as well as links to your other content or social media pages.
Circle Prospecting/Door Knocking
While circle prospecting or door knocking are considered older, traditional techniques, they will never die. How to generate seller leads through this lead source requires some timing and knowing the five touchpoints for circle prospecting. These five touchpoints include:
On the day of signing the listing

Before the listing goes to the market

Once the offer is accepted

On the day of the inspection

When the deal closes
Each of these five touch points necessitates a different message from which you could build your business. Instead of feeling like they're talking to a company, which may be off-putting, consumers can view you with trust, which will convince them to do business with you.
Buyer Leads From Buyers Who Have a Home To Sell
Using ads strategically in your follow-ups can lead you to discover that a lot of buyers have a home to sell before they can make any purchase. There's a big chance you can get buyer leads who have homes to sell by marketing Facebook posts towards listings and open houses.
In a low inventory market, it can be effective to market every new listing as a "coming soon."
However, there are some workarounds that won't get you in trouble with laws concerning coming-soon marketing. Along with Google PPC, this can prove to be an effective way to generate seller leads.
Google Local Services
When using Google services to generate seller leads, reviews are crucial. Reviews don't just get you credibility, but they also tell Google that you're a local business or service, which is more favored by their algorithm. Many potential seller leads also rely on Google reviews to see if an agent is right for them.
That said, building reviews increase your chances of being more visible while also convincing seller leads to contact you directly — especially when they want to know the value of their home.
Agent-to-agent Referrals
Agent-to-agent referrals are all about nurturing relationships with other agents regardless of your industry. Usually, people who want to sell their house will be moving to a different state, so they contact an agent in the state they're moving to.
This agent can then send you a referral, so you can help them give the client a smooth transition and experience. This is only possible if you build relationships with other agents by giving value and sharing knowledge.
Put Yourself Out There
Learning how to generate seller leads in a low inventory market can take some time, but the effort is well worth it when you start generating an incredible amount of leads.
Begin by putting yourself out there and taking advantage of online tools like Google PPC, Google My Business, social media marketing, and email marketing.
About
Real Leads by Real Geeks is a highly efficient and effective marketing solution for generating, capturing and managing home buyer/seller leads.

One of the best lead generation and management systems available. A fully integrated custom IDX and marketing solution to drive traffic, capture leads, manage-cultivate them and close more transactions.