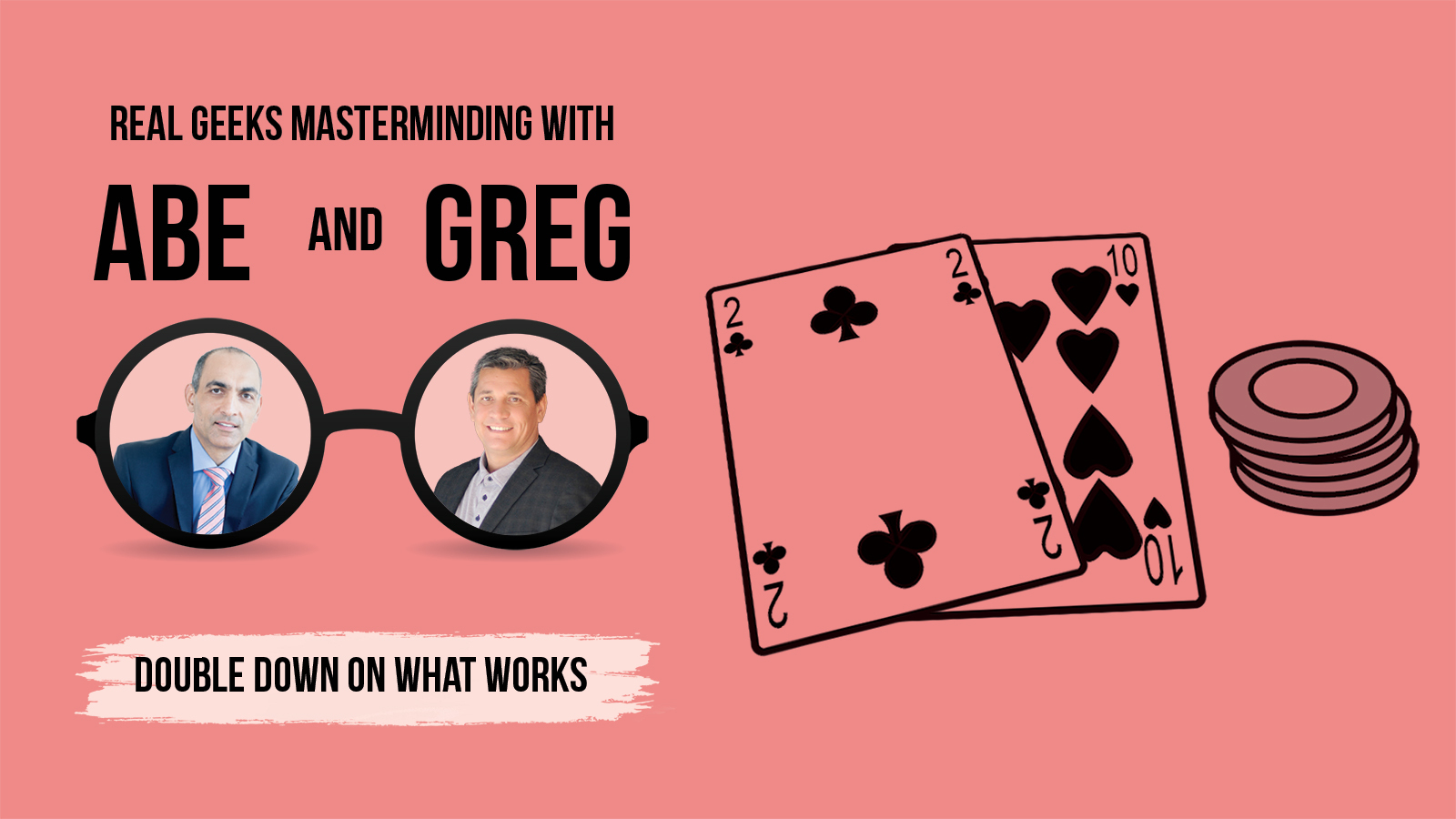 Double Down On What Works
Greg Harrelson & Abe Safa discuss doubling down in this shifting market.
It's easy to become complacent when life gets simpler. You're more prone to letting up on the gas pedal a little. In the end, however, it will affect your productivity.
If lead generation has seemed effortless in the past, a market shift can easily change this. Those who have slowed down in recent years suddenly realize that the tailwind they were riding on has dissipated.
However, success leaves clues. Any good real estate agent knows that the only way to get better at what they do is to keep doubling down on what works. What's the best way to do this?
Take Control of Your Lead Generation
Regardless of what the market is doing, lead generation is an important element of a strategy. After all, lead generation exists in any market, regardless of whether the markets are rising or falling.
However, this is especially critical in a market shift. And if someone were to ask you how to recession-proof your business, the answer would be to ensure that you are in charge of your lead generation efforts. For example, you may use Facebook's publishing tools to create your database, but you choose who you add and how often you contact them.
Lead generation exists in every market
More correlation between contacts and business
Make More Outbound Calls
Making more connections and having conversations with more people is one of the most important things you can do to step up your game.
Real estate is a contact game so expanding your networks and interactions is necessary. If you can receive 20 incoming calls in a day through advertising and marketing, that's great!
Unfortunately, most of us don't know how much to spend and can't even afford to spend enough money to get 20 inbound calls a day. That's why those who can make outbound phone calls should do so.
You should contact everyone in your database: sellers, buyers, centers of influence, and prior clients. If you don't know what to say, such as when dealing with a "cold lead" or someone who hasn't contacted you right away, this is the best time to spark conversations about what you're offering.
However, making outbound calls doesn't mean cold calling. What this means is to take action.
Show up and do something because you can't just be a doormat, waiting for someone else to take the initiative and contact you.
Set Up a Monthly Newsletter
Whenever there's a shift in the market, there's going to be a period where there's a lot of uncertainty. Confusion reigns in the minds of customers. This is your chance to shine as an industry expert and make a lasting impression on others.
When the market is volatile, you must keep your customers up to date on what's going on with a monthly newsletter that provides them with reliable information and data.
Then send a text message, followed by a phone call, to see if individuals understood the message and to get their feedback. Double down on this by building it into a workflow and doing it monthly.
Retargeting
Many visitors look at your website, but none of them sign up or buy anything. However, the leads are the most likely to become customers. Dropping a pixel onto your website will allow you to track their activity and IP addresses.
Once you've done that, you may promote your website with Facebook ads and boosts. More exposure to your website means a greater familiarity with you as a real estate agent, which increases the likelihood that they will sign up and register with you.
This will result in more opportunities for you to acquire their contact information as a lead.
The market does not impact your production in a shifting market.
Keeping yourself afloat in a rapidly shifting market can be challenging. But by doubling down on what works, you will not only survive but also thrive.
About
Real Leads by Real Geeks is a highly efficient and effective marketing solution for generating, capturing and managing home buyer/seller leads.

One of the best lead generation and management systems available. A fully integrated custom IDX and marketing solution to drive traffic, capture leads, manage-cultivate them and close more transactions.