Building an Audience Versus Database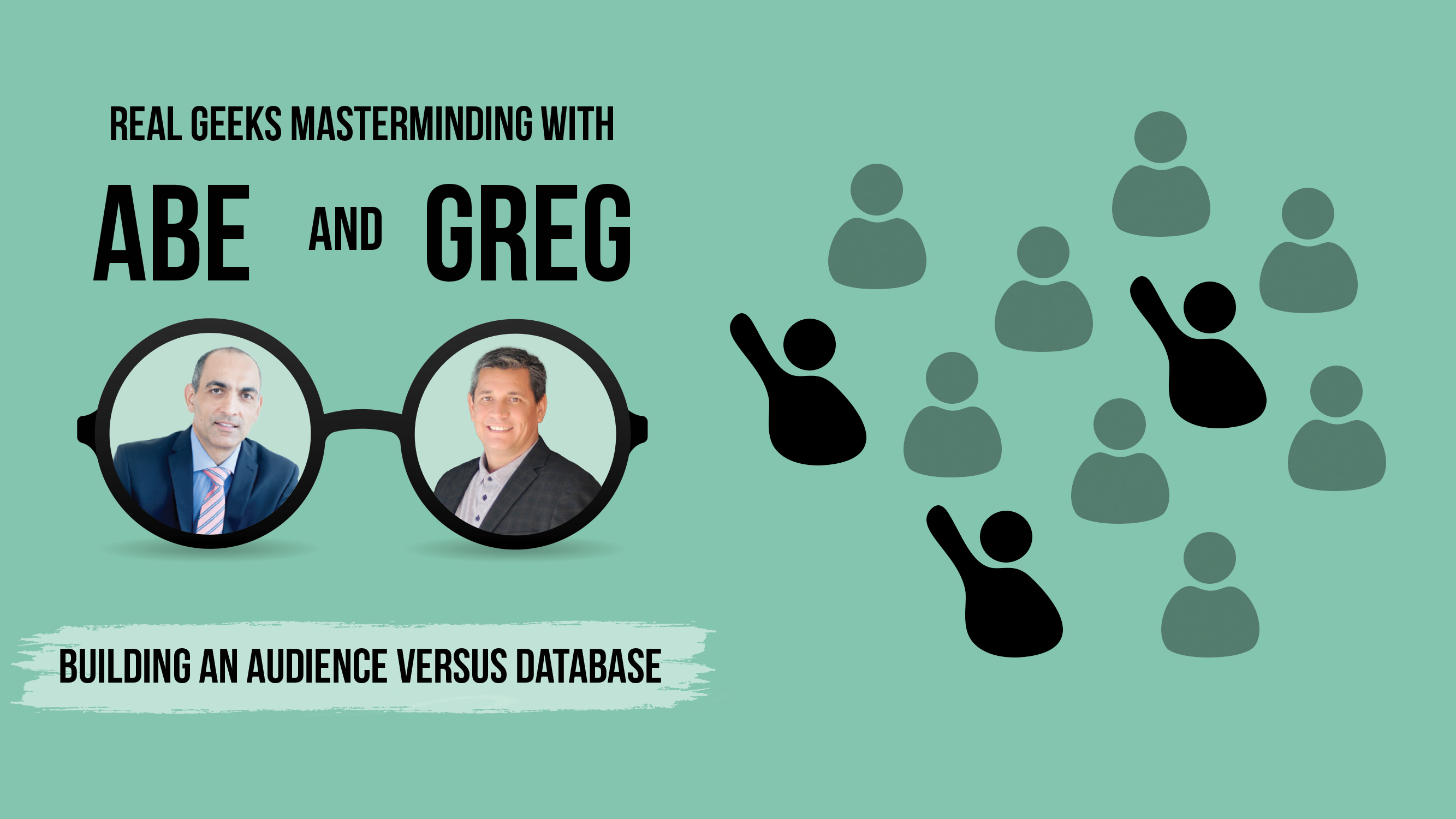 Greg Harrelson & Abe Safa discuss Building An Audience Versus building a Database
As a real estate professional, you probably have a Google Sheet document with hundreds or even thousands of names and contact numbers listed on it. But do you know exactly what to do with it and the potential it holds?
In this video, Greg Harrelson and Abe Safa differentiate an audience and a database and how you can reel in your lead to become an avid follower of your content.
Learning to turn names from your database into an enthusiastic audience is an invaluable skill that could help you generate unlimited hot leads and boost your sales.
Fill out the form for The 3 Blueprints of Success Digital Download:
What Is a Database?
A database is a simple list of names and contact details that you've collected from various sources. This data could be collected from a customer survey, your website signup form, or even through social media — similar to your Google Sheet document.
According to Abe, "A database is nothing if you do nothing with it." Unfortunately, many real estate professionals only use their databases to put names and contact numbers without knowing what to do with them. Worse, they send out multiple messages to these leads and hope they will "snag a fish by accident," as Greg described.
Who Is Your Audience?
On the other hand, an audience is someone who's actively engaged with you and your brand. They are the people who take action when they receive a message from you, such as signing up for a newsletter or inquiring about your listing.
Finding an audience is easy, but building one is another story. The audience looks up to people with authority — someone they can learn something valuable from and would help them make their lives easier. Audiences are attracted to value, and they seek it from the people they follow.
How Do They Relate to Each Other?
As Greg said, consumers are no longer interested in meaningless sales talks. They want to engage with someone who can provide value and insights worth listening to. This is where you can put your database to work.
Rather than just bashing your database with multiple emails or messages about an open listing, give them something they can learn from. Give them a free report about the latest trends in the local market or invite them to an open forum with other local real estate experts.
Once you've engaged them with valuable content, your "database" will eventually convert into an enthusiastic audience that follows and values your content. After building an audience base from your database, they are more likely to transact with you since you've already earned their trust.
How Can You Convert More Audiences From Your Database?
"Change the concept of what 'database' means to you," shared Abe during the session. This is the best first step you should take when trying to convert more leads from your database.
Think of it as a valuable tool to help you build relationships with potential customers. Use this opportunity to engage them by providing meaningful content that adds value to their lives.
From there, you can slowly transition them into being active followers of your content and, eventually, a hot lead for your real estate business.
Greg shared a quick audience-converting strategy you can also use with your database. He said you could take all the email addresses of all the leads who interacted with you in the past 30 days and send them an annual real estate market report in PDF form.
Key Takeaways
There's nothing wrong with building your database. After all, this is where a business transaction could start. However, spamming them with sales messages won't do you any good.
Instead, use this as an opportunity to establish contact by providing valuable content that could help make their lives easier. Once you've earned their trust, it will be much easier for you to reel them into paying customers.
About
Real Leads by Real Geeks is a highly efficient and effective marketing solution for generating, capturing and managing home buyer/seller leads.

One of the best lead generation and management systems available. A fully integrated custom IDX and marketing solution to drive traffic, capture leads, manage-cultivate them and close more transactions.