2023 Business Planning: What Must Be Considered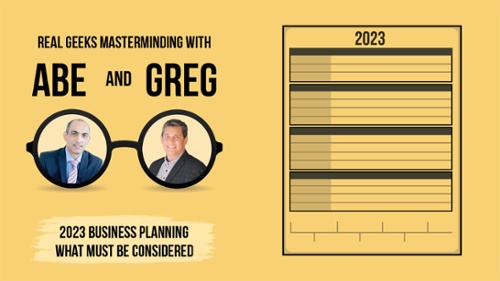 Greg Harrelson & Abe Safa discuss business planning for 2023 and what you should be considering when making your plan.
Most people in the real estate industry don't lay out their business plan until December, but you'll be three months behind if you do that.
In real estate, you don't just take a listing today and then sell it to a lead right away. It can take months to post a listing, market it, screen interested buyers, and close deals, especially when you're also busy gathering and warming leads.
That means it's time to start your 2023 business planning. Read on for our breakdown of everything you need to keep in mind while nailing down your business plan.
Form Plans for Different Trends in the Market
This isn't about predicting the ups and downs in market prices; this is about preparing for those ups and downs so you're ready if and when they happen. How will you adapt to the changes that happen in the market next year?
You can't just go with the flow of the market. If you do this and the market goes down, you risk going down with it also. That's why effort and planning is so important.
Scale up Your Effort
If the market goes down by 40 – 50%, you'll be at half of what you earn this year. You can't control that — but you can control how you respond to it.
Making half as much for your effort? Well, put in twice or three times as much effort, then. Double down on calling and take charge of your success.
Be Consistent
While working on phone calls and lead generation for three hours a day for 100 days is the same time commitment as doing this for an hour and a half for 200 days, consistency is king. Putting in an hour and a half each day for 200 days will have a far larger impact.
Refuse to Be Passive
Don't just accept the loss that the market brought to you — fight it instead. Continue being an active participant in your own life and learn how to adapt and problem-solve if things get tough.
Track Your Numbers Closely
Your future depends on your numbers. Tracking your sales and losses is extremely important, as it gives you an overview of your business so you can make informed decisions.
Eliminate Distractions
One thing that keeps us from moving forward is distractions. If we're constantly distracted, we can never get properly focused to do our best work. Shut your personal phone off and ignore any notifications that aren't related to real estate; 2023 is the time to buckle down and get serious.
Keep Generating Leads
Your hot leads were probably only hot because they were excited about low-interest rates and swept up in the excitement of selling and buying properties. However, negative sentiment about real estate has seriously impacted almost every lead, meaning that your hot leads have probably cooled off a bit.
People who were motivated to buy six months ago are not nearly as motivated now. This means you need to focus on warming your leads back up and generating new leads to keep things moving.
The game has changed, but guess what?
We all have the tools and knowledge to win at this new game — we just have to change along with it.
About
Real Leads by Real Geeks is a highly efficient and effective marketing solution for generating, capturing and managing home buyer/seller leads.

One of the best lead generation and management systems available. A fully integrated custom IDX and marketing solution to drive traffic, capture leads, manage-cultivate them and close more transactions.