Social Media for People Who Don't Do Social Media w/ Theresa Bastian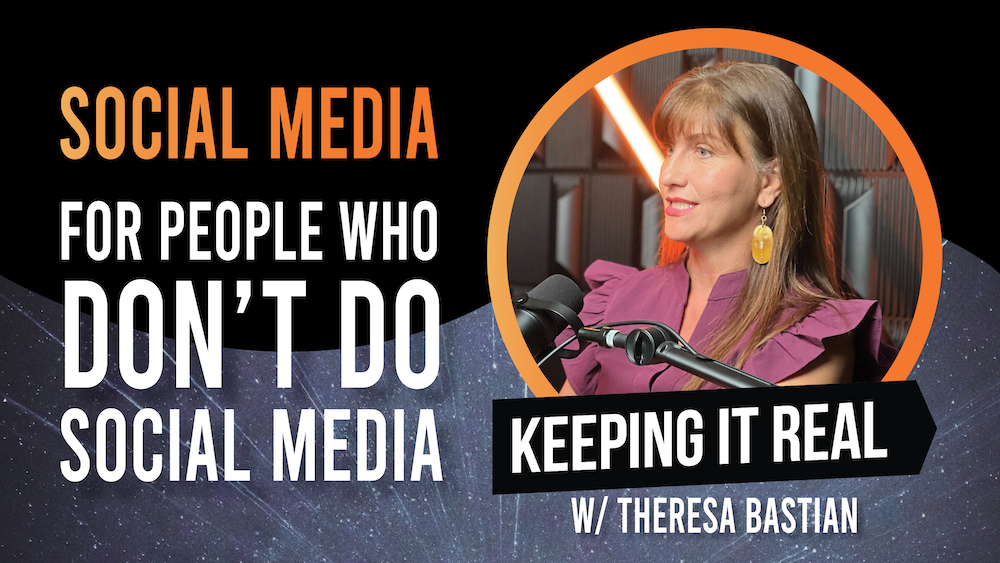 Theresa is an Austin-based broker and Certified Divorce Real Estate Expert (CDRE) with extensive experience selling, marketing, and pricing properties.

In Part One, Theresa talks to us about her approach to social media by adding layers of value to her community as a way to generate business. Theresa walks us through how she has started and managed different community groups on Facebook, describes the life cycles of the groups, and shares how she tries to keep the peace within them.

Beyond just Facebook groups, Theresa also discusses how important it is to comment on posts in order to build authority as an actual community expert and how she gets engagement from sharing things from her own life.

Our conversation with Theresa will continue in the next episode, where she fill us in on what it has been like working in the booming Austin market during the last few years.
Social media has become an integral part of many businesses' marketing strategies, but there are still some business professionals who prefer not to rely heavily on social media for promoting their business. Theresa Bastian, an Austin-based realtor, is one such example who practices the "social media for people who don't do social media" approach and has found success in her real estate business. In this blog post, we will explore Theresa's unconventional social media methods and provide tips for those who share a similar mindset.
Authenticity in Posts
Authenticity is at the core of Theresa's approach to social media. She believes in being true to her values, mission, and voice in her posts. She lets her personality shine through her content and shares helpful and interesting information that her audience will find valuable. However, the most crucial aspect of her approach is that she ensures she genuinely likes her content first. This authenticity resonates with her audience and helps her build genuine connections with them.
Make a Connection
Making connections is another key aspect of Theresa's approach. She emphasizes understanding her own interests and then focusing on building a community of followers who share those interests.
Prioritize Relationships Over Branding
By prioritizing relationships over branding, she engages with her audience in conversations and aims to be a complete individual rather than just a realtor trying to sell. This approach helps her build trust and rapport with her followers, creating a sense of community.
Share Ideas
Sharing ideas is another important aspect of Theresa's approach. She consistently shares ideas with the people in her community, which helps her identify potential clients. By sharing valuable information and insights, she establishes herself as an expert in her field and gains credibility among her followers.
Theresa's work process for unconventional social media methods is different from traditional, systematized marketing approaches. She started by creating a Facebook community page that focused on her personal interests rather than just real estate. For example, if you have an interest in dirt bikes, you can create a Facebook page exclusively for dirt bike enthusiasts. By doing so, you can attract like-minded individuals who may eventually become potential clients.
Once the community page is set up, Theresa interacts with fellow community members and builds relationships with them. This creates an opportunity for her to make connections and possibly turn them into transactional relationships. She follows a 75% personal and 25% business posting ratio on her Facebook page, where she posts mostly personal content and only a small portion of business-related content. This approach allows her audience to see her as a friend first and a realtor second, building trust and authenticity.
In addition to the community page, Theresa also has a personal page and a separate business page. Having both pages helps establish her legitimacy as a realtor, and she occasionally links her business page to her personal page to remind her friends about her business.
In conclusion, social media can be a powerful tool for business promotion, but it's not the only way to achieve success. Theresa Bastian's approach to "social media for people who don't do social media" is based on authenticity, building relationships, sharing ideas, and prioritizing community over branding. By being true to herself and focusing on genuine connections, she has achieved success in her real estate business without relying heavily on social media. If you're someone who prefers not to use social media extensively, you can still find success by following these unconventional social media methods and building a loyal customer base through patience, persistence, and authentic engagement.
About
Real Leads by Real Geeks is a highly efficient and effective marketing solution for generating, capturing and managing home buyer/seller leads.

One of the best lead generation and management systems available. A fully integrated custom IDX and marketing solution to drive traffic, capture leads, manage-cultivate them and close more transactions.