This Real Geeks Mastermind Training "Setting More Buyer Appointments," with Greg Harrelson and Abe Safa of Century 21 The Harrelson Group, teaches secrets to getting more buyers and listings even in an accelerated seller's market! Find out why Harrelson believes, "It's always a numbers game."
Safa shared that the National Association of Realtors® (NAR) expects sales of 6.2 million homes in 2021. He explained that the problem is not a lack of inventory, as much as it is that the timeline on each property is very short. Due to this, agents need to focus on how they can best help their buyers find homes and prevent their buyers from experiencing repeated rejection on their offers. Safa suggested building relationships with other agents to share knowledge of available inventory before it syndicates.
Fulfill a Buyers #1 Need
Harrelson and Safa know that buyers have plenty of information and many sources available. "What they don't have is access," Harrelson explained. This is why he believes it is important to set an appointment no matter what and make access the forefront of the conversation. "They don't have the physical key," he said, suggesting a modified approach to the buyer by first setting the appointment, asking questions, and getting qualifications at the end. "Set the appointment and say I can call if I can gain access earlier." Harrelson continued, "When you set the appointment, what you did is, you just put a stop to them calling the next four agents... The agent that gives access first wins the business."
Stand Out in a Sea of Facebook Posts
Safa and Harrelson also recommend using Facebook to advertise the buyers you represent. Post buyers in Facebook groups for the communities they want to buy in, so people know they're real, they encouraged. Using the phrase, "I promised my buyer I'd do everything I could to help them move into THIS community," has helped Harrelson successfully find homes for his buyers on Facebook. Safa agreed, "Find the inventory and you can set more buyer appointments," he said.
This strategy needs to be done consistently. Harrelson suggested visiting Facebook every Tues. at 9 a.m. ( or whatever time works best for you) and posting links to the top 5-10 new listings of the week. Harrelson explained that by actually posting property detail links in that post and making it consistent, agents can train people to look for the post every week. He then watches who shares it and messages the person shared to, offering access, and thanks the person who shared it, offering them access, as well.
Approach a Forgotten Seller
"Not much fear here, just doing things slightly different," Harrelson said, as he explained his strategy for reverse prospecting for sale by owners. He reaches out to expired and withdrawn listings, going back three years and cross referencing the list to make sure the properties are not already listed with another agent or sold. "When they start asking questions," he said about property owners that have become active on a workflow, "you've found a bullet proof strategy."
Harrelson uses his CRM to find people that wouldn't have been called, sharing an actual workflow that activates leads through a series of texts. Explaining that the text doesn't need to say anything special, but was more about reaching out with something similar to, "Are you still open to purchasing?"Then, when no response is received, following up with, "Am I texting the right person, you haven't replied. Is this Jennifer?"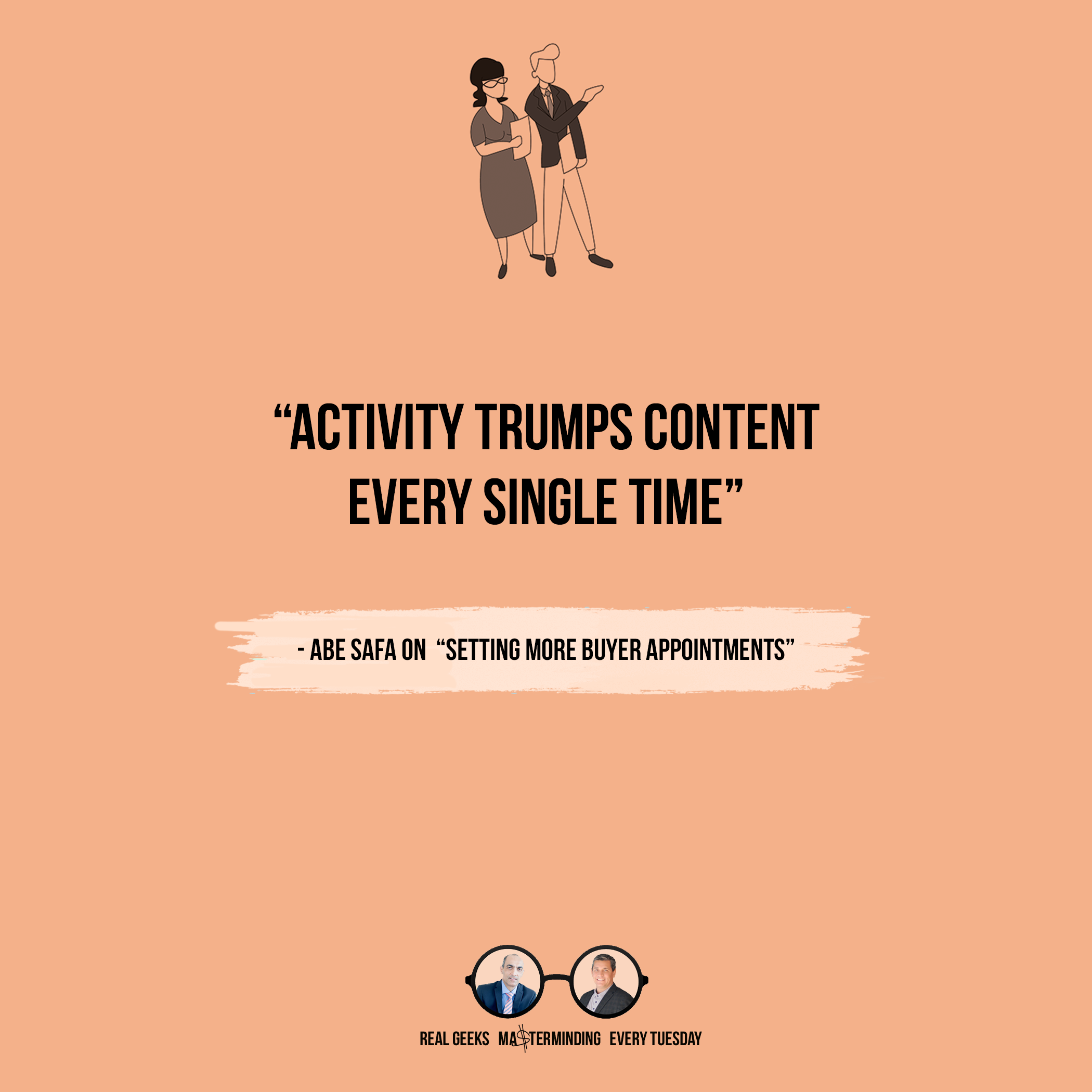 Turn a FSBO into a Buyer… and a Potential Seller
"It's all about being creative right now," Greg reminded agents. He said that he approaches a FSBO seller with questions and statements like this:
"I wanted to call to see when you sell, are you staying local or are you going to be purchasing outside of the market?"
"I specialize in buyers..." Harrelson suggests a script to set an appointment to earn their buyer business as that sets agents apart. He explained that as an agent shows one property, establishes rapport, and engages the seller as a buyer, they may ask questions about their sale. At that point, the conversation can be turned. "I have no doubt a FSBO will sell," Harrelson said he tells the owner, "but I can net you more money."
Explaining that "it is so much easier to build rapport with a buyer than a seller," Harrelson reminded agents that a buyer buys with emotion, whereas a seller sells with logic. "They'll do everything they can to sell on their own," he said, "but when they are a buyer, they want to see EVERYTHING so will hire an agent."
Find Available Homes for Your Buyers
"Go through the MLS and take the top 20 sellers agents in the market out to lunch," Safa recommended at the beginning of the training. Harrelson agreed and also suggested reaching out to rental managers as sources for leads. Explaining that 'being in the know' is critical, Safa said,"Access to more inventory helps you set more appointments."
Safa said he does Zoom calls to show clients criteria as he does a property search. On these calls, Safa shows his buyers his screen so they know that's everything that is there. He said his buyers then qualify homes themselves based on what they see - such as pool or no pool. Safa shared that three out of five times, the buyer will consider properties you may not have originally chosen. Harrelson strongly endorsed this strategy, reminding agents, "Don't put your buyer in a box," because sometimes buyers will settle for something less than they originally required.
These tried and true techniques, available to all Real Geeks Mastermind clients, will stimulate your success when implemented today! Watch this fast paced episode and reset your business today!
About
Real Leads by Real Geeks is a highly efficient and effective marketing solution for generating, capturing and managing home buyer/seller leads.

One of the best lead generation and management systems available. A fully integrated custom IDX and marketing solution to drive traffic, capture leads, manage-cultivate them and close more transactions.