Set More Appointments Immediately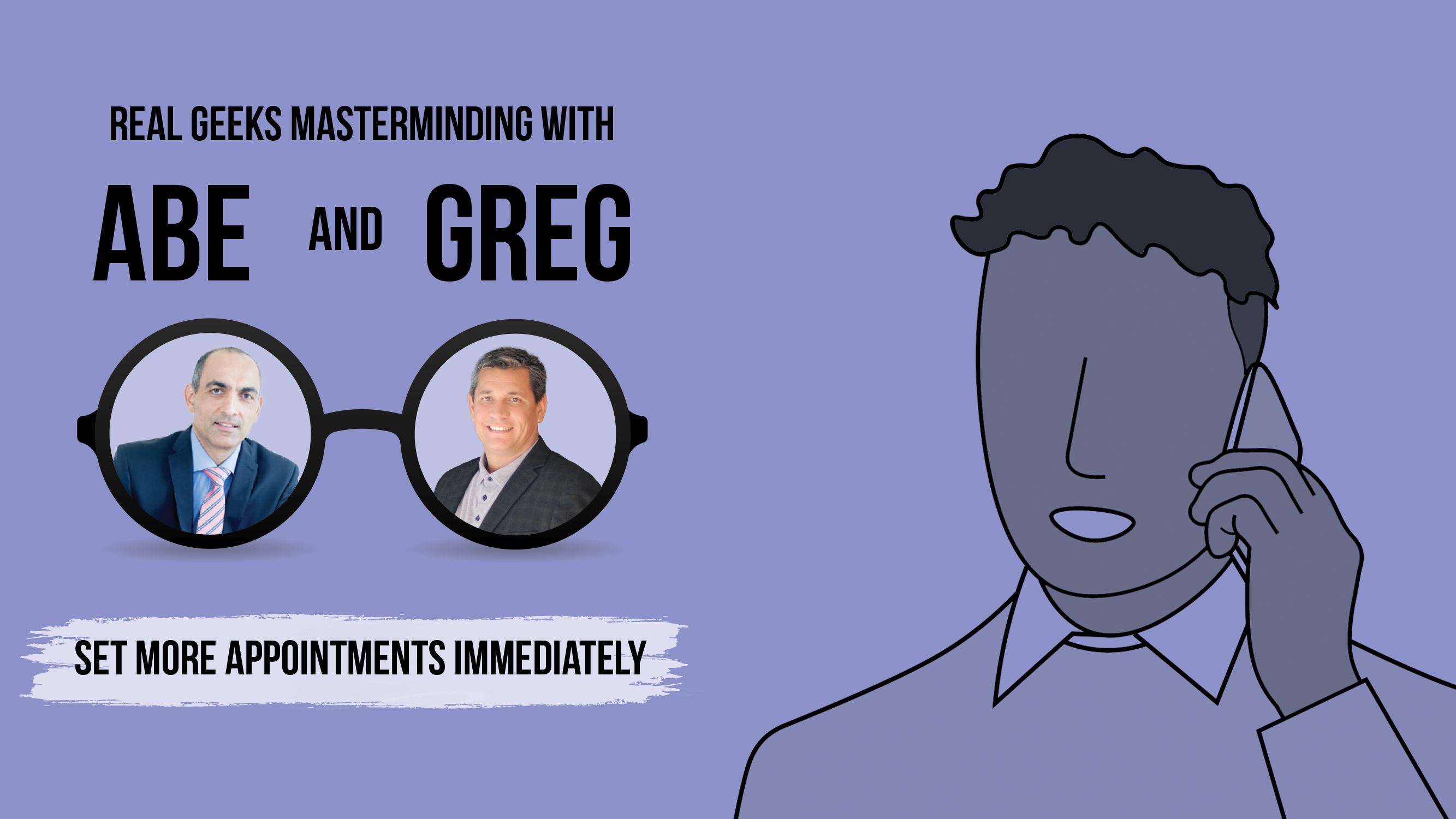 Setting appointments can be a time-consuming and unproductive process, often resulting in missed opportunities for potential deals. However, there is a streamlined strategy that can help professionals from various fields maximize their appointment-setting rate.
Fill out the form below for the virtual download from the last episode of Abe & Greg Masterminds Set More Appointments Immediately:
In this blog post, we will share key steps to make setting appointments more efficient and effective, focusing on the ALM framework: Appointments, Listings, and Motivations.
Stop Pre-qualifying Buyers as Your Main Focus
Traditionally, pre-qualifying potential buyers has been the main focus of appointment-setting. However, this approach may not be necessary anymore. Instead of spending time on unnecessary pre-qualification steps, professionals should focus on ALM when taking buyer calls.
Step 1: Setting Up an Appointment
The first step in the appointment-setting process is to set up the appointment properly. This involves offering clients access to critical information upfront and having an open dialogue to understand each other's needs before officially scheduling a meeting. This allows professionals to demonstrate their knowledge and expertise, build trust, and credibility with potential clients. By setting up a clear agenda for the appointment, real estate agents, for example, can make more effective use of their time to find suitable properties for interested buyers.
Step 2: Providing Listings
The second step is to provide listings. Once the initial appointment has been set up, professionals should focus on gathering information from potential buyers to better understand their needs and preferences. This includes asking questions about the desired number of bedrooms, price range, location preferences, and any must-haves for a property. This data helps ensure that professionals can provide suitable properties for the buyer's needs when they arrive for their appointment. It's also important to be prepared to provide alternatives in different locations or price ranges if the buyer is unable to provide specific listings they are interested in.
Step 3: Asking for Their Motivation
The third step is to ask for the buyer's motivations. This is a crucial step as it helps determine if the buyer is a serious contender for buying a property or not. Understanding how long they have been looking, their preferred cities, and their financial capabilities such as paying cash or taking out a mortgage can provide insights into their likelihood of purchasing a property and their budget. Additionally, asking about their timeframe for finding and purchasing a home helps gauge their commitment and urgency in making an offer on a property.
By following this new appointment-setting process, professionals can set more appointments and increase their chances of securing contracts and closings. The key is to focus on giving buyers what they need right away and not wasting time on unnecessary pre-qualification. Capitalizing on the 30-second window when first speaking to potential buyers can lead to immediate appointments and maximize the potential for success. Developing strong communication skills and utilizing the ALM framework can help professionals rise above their competition and achieve higher appointment-setting rates.
In conclusion, setting appointments more efficiently and effectively is possible by shifting the focus from pre-qualifying buyers to the ALM framework: Appointments, Listings, and Motivations. By setting up appointments properly, providing listings that meet the buyer's needs, and understanding their motivations, professionals can increase their chances of securing deals and surpassing their competition. It's essential to capitalize on the opportunity to set more appointments immediately and make the most of the appointment-setting process.
About
Real Leads by Real Geeks is a highly efficient and effective marketing solution for generating, capturing and managing home buyer/seller leads.

One of the best lead generation and management systems available. A fully integrated custom IDX and marketing solution to drive traffic, capture leads, manage-cultivate them and close more transactions.