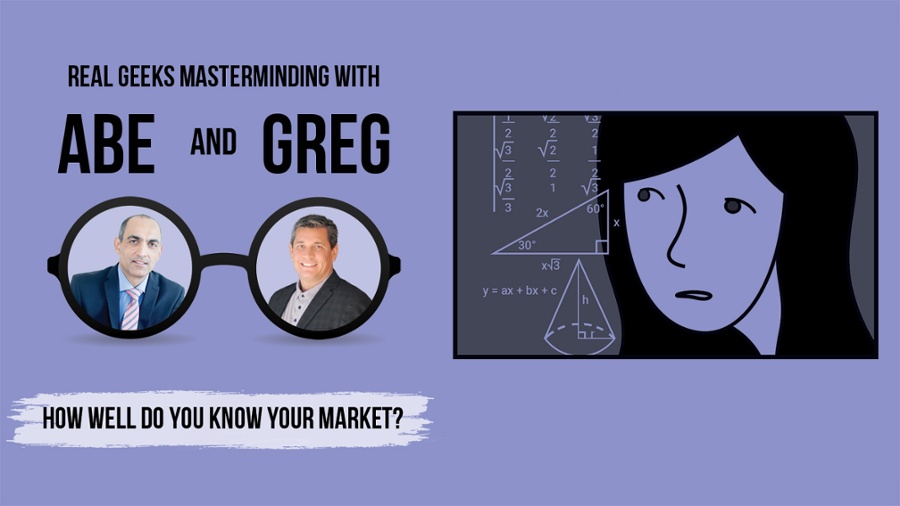 Greg Harrelson & Abe Safa discuss market stats and what information you should know and be able to communicate to clients.
Start off the week with a few stats.
You have to know the data!
You're looked at as an authority when you are the one who brings the data!
The information is not as valuable as our interpretation of it.
How Well Do You Know Your Market?
Generate more business by having a better understanding of your market. Greg Harrelson and Abe Safa discuss the importance of knowing your market statistics, as well as how you can use your market data to improve your business.
As a real estate agent, it's essential to have a clear understanding of market statistics and trends. Knowing the numbers, how to interpret them, and how to communicate them makes all the difference in helping clients make decisions.
The Significance of Knowing Your Market
The real estate industry is data-driven. In order to compete, you need to know your market inside and out, what's happening now, and what has happened in the past. This allows you to anticipate changes and better serve your clients.
When consumers are uncertain about market conditions, they tend to be hesitant about making a move. Abe mentions that "It's imperative to have many data points that you can give to them to help them make a decision."
It is your job as an agent to be the expert and provide clarity about what is going on in the market, enabling clients to make informed decisions based on solid data.
What Data Should You Focus on When Researching the Market?
Knowing your data differentiates you from other agents who may not be as knowledgeable about the market or who are presenting outdated information.
Some critical data points to focus on include:
It's not just about knowing the numbers; it's about understanding what they mean. You need to be able to explain the data in a way that is clear and concise without being overwhelming.
"Be an authority in their eyes. Know the market and then communicate the market," advised Gabe.
Effectively communicating data means translating it in a way that will not only help your clients understand but will also provide them with insights into how this information will benefit or endanger them.
Simplicity and relevance should be your utmost priority when coaching clients about the real estate market data.
Takeaways
Market data changes daily. In order to keep up, you need to be in the habit of regularly checking your market stats. This way, you can be prepared for whatever comes your way.
Paying attention to the data helps you better understand what is happening and, more importantly, why it is happening. This knowledge gives you an edge over other agents who may not be as informed.
While market data is readily available for consumers, the many conflicting pieces of information can overwhelm them. As an agent, you must establish authority and ensure that you are the resource they can rely on.
By understanding the market, you can help your clients make smarter decisions. When you know what's going on, you can explain things in a way that makes sense.
This helps build trust and confidence with your clients, which is essential for any successful business relationship.
About
Real Leads by Real Geeks is a highly efficient and effective marketing solution for generating, capturing and managing home buyer/seller leads.

One of the best lead generation and management systems available. A fully integrated custom IDX and marketing solution to drive traffic, capture leads, manage-cultivate them and close more transactions.