How to Set An Appointment On The First Call
It is critical that you feel comfortable and confident having that first conversation with an inbound buyer lead. More and more buyers are requesting video tours instead of face to face meetings and agents will have to learn how to adapt. And, if setting a face-to-face appointment is not preferred then at a minimum do a video chat. Getting face to face is important even if it has to be on video.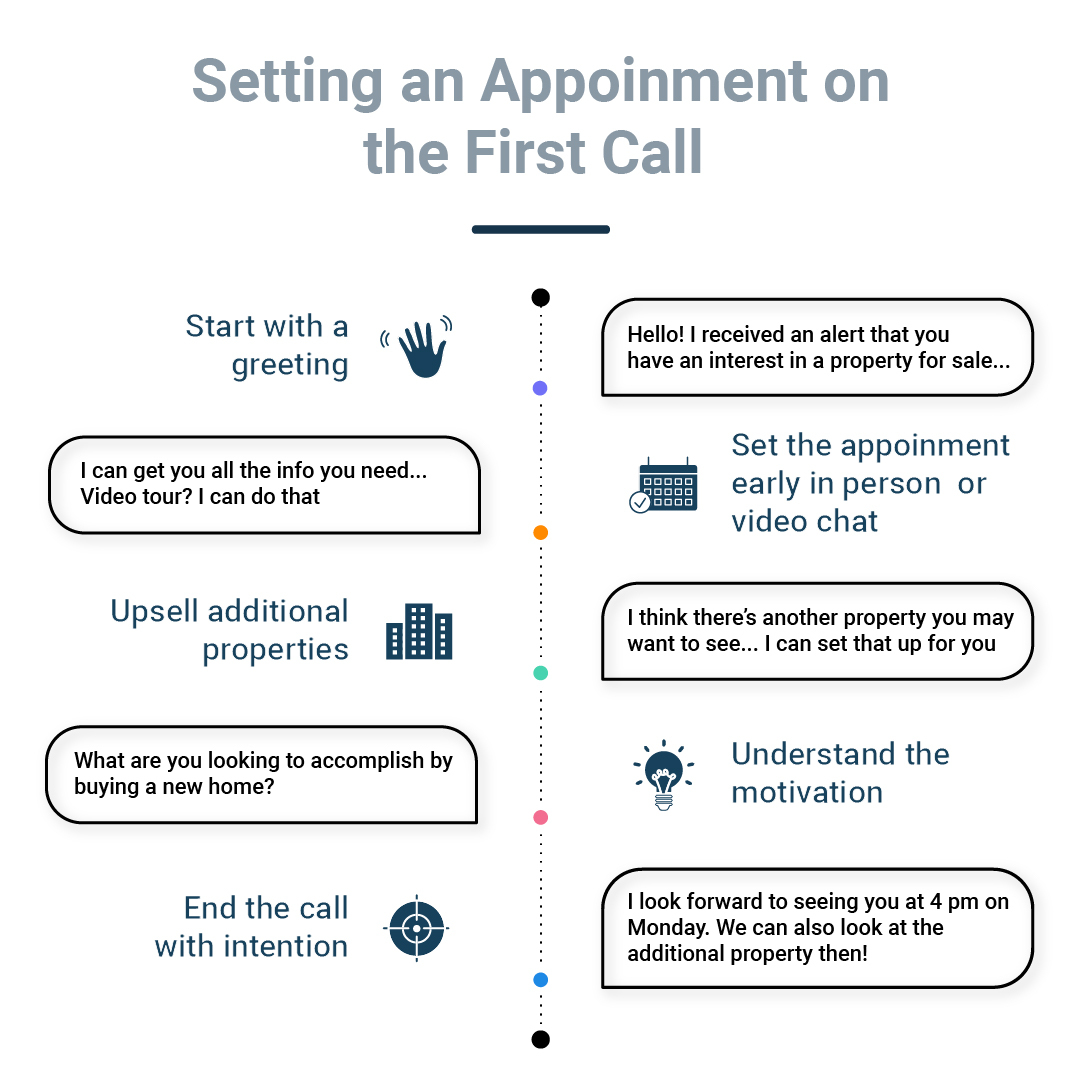 We can increase our conversion from leads captured to contracts closed by increasing the appointments set to leads captured ratio.

If you would like to get better at Scripts and Handling Objections then you should check out our coaching on Real Geeks Mastery Program.
It starts with the greeting:
'Hello _______, this is ________ with _______. I am a local agent in the ________ area. I received an alert that you have an interest in a property for sale… I believe the property is at ________. Are you interest in taking a look at that property?"

Set The Appointment Early:
The first agent to meet face to face with the lead is likely to win the business. These days, most buyers are looking to few the property since they have already seen the pictures and searched the area. Do not get off the phone without setting the appointment.
Simply ask…. "I can get you all the information you will need on this home, when are you available to take a look at it?"
In the event they ask for a video tour, ask them… "I can do that, when would you be able to do a Facetime call with me at the property?"
Upsell Additional Properties:
We know that buyers are going to look at more than one property. So, go ahead and work on setting additional showings so you can deepen your relationship and demonstrate your value.
Approach it like this… "I think there is another property that you may want to see, I will go ahead and set that up also, will that work for you?"
Understand Their Motivation:
Asking the buyer lead questions that go beyond the property is important. The more you ask, the more they feel like you care and they then become comfortable working with you.
Discovery Question… "Just curious, what are you looking to accomplish by buying a new home?"
Ending The Call With Intention:
It is important that you end the call with all parties on the same page.
Great ending… "I look forward to meeting you at the property at ______ pm on Monday. I will have additional information for the 2nd property when we meet. Of course, give me a call or a text with any additional address you want to see. I look forward to seeing you at ______."
Real Geeks Contributor: Greg Harrelson - Real Estate Sales Solutions
Published 2021/01/06
|
Share This Post (Permalink)
|
IDX Real Estate Websites that Convert
Get Started Now
Sign ups have increased by a factor of 10 times over our previous IDX website provider. –Lee Cunningham, Greenville
View More Testimonials
Real Geeks Demo & Overview
Categories
Archives