This week's Facebook LIVE Coaching session with Greg Harrelson and Abe Safa of C21 The Harrelson Group helps you see possibilities.





Below you'll find a detailed guide on how you can create and replicate systems that best utilize Real Geeks tools and help you re-engage clients and generate business and more leads.

10 Ways To Re-Engage Leads in 2021

1. Aggressive Follow-Up – Abe Safa regularly sets and exceeds personal goals with what he calls "really, really aggressive follow-up." Safa explained how he does this. "I'm calling them when I say I'm going to call them," he said, "and continuing on from the conversation from when we talked before." Though Safa regularly does lead generation, this month [January], he focused on people in his database that he's spoken with over the last few months and years.

2. Use Technology to Assist (Saved Searches, HomeBot, Email Drips, etc.) – Talking about the people he's talked with in January, Safa explained that his ability to re-engage comes from established client history. "A lot of it is based on months and years of being in communication with them," Safa said. Greg Harrelson agreed, "Real Geeks is a technology that helps you identify opportunities." Harrelson explained that because the client is already in the automation system, the drip system sends them information on a monthly or bi-weekly basis, so that agents can see which properties are being looked at in the live feed, in real-time. Then, he shared, the key is to follow up, especially on the information seen in the saved searches. "You can see them looking at that information. If they are, you call them," Harrelson explained. "If you see them looking at it over and over again, you definitely call them,"

3. Add Value – If the client is seeking equity values or searching for homes in a specific price range, use that information to speak directly to the client's needs to engage them in conversation.

4. Text – Email – Text – Harrelson suggested using workflows or doing the steps manually, if needed,d to re-engage clients. "Take 30 buyers you haven't spoken to in 60 days and send them a text," he said. Once you've sent all three of those, Harrelson predicts you'll have 50% engagement, with differing responses.

5. Pay Attention and Engage – Safa suggested specific methods for re-engagement, that are unique and similar to what the client has already liked. For instance, "Send a picture of a property that's similar to one they favorited and ask them, 'What do you think of the kitchen?' with a link to the property," Harrelson suggested. Spending time to find clients who are truly engaged produces results. He said not to ask, "Have you bought or sold yet?" or any other type of yes or no question, as that will not result in engagement.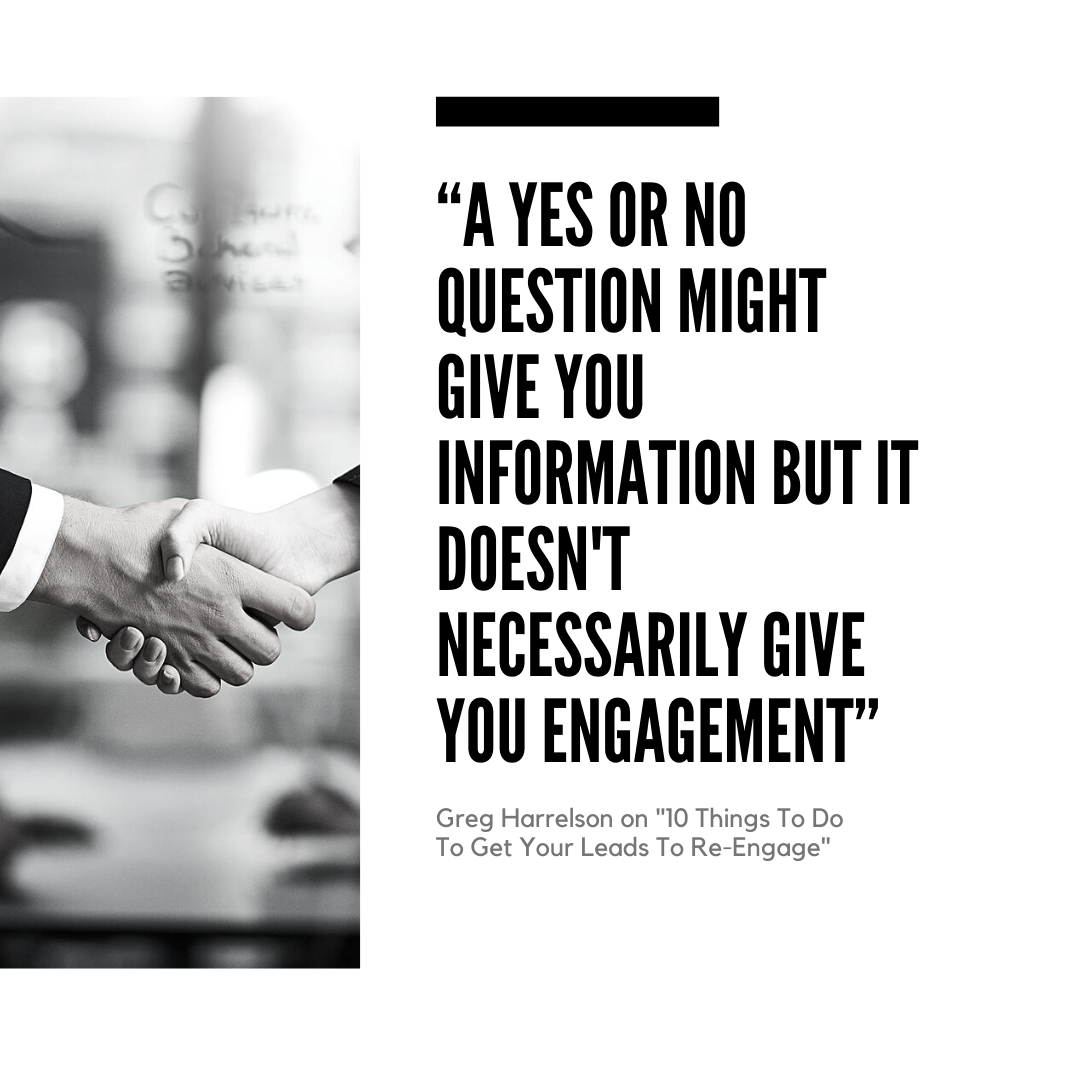 6. Find the Magic – Talking about a recent email campaign that worked, Harrelson said, "The magic is not in the message. The magic is in the activity. If you can blend a great message that works with high activity, then you are going to really do well."

7. Plant a Seed – Lead with market data in conversion, looking at pending and sold properties. Share how many condos have sold in the last 30 days in comparison to previous activity with clients who may want to sell their condo. Then re-engage every day like clockwork. "If that's done consistently," Safa said, "You'll always have a pipeline of business." Continually be incubating your clients so that they will always consider you to be their agent.

8. Engage Yourself – "The biggest thing is for YOU yourself to be engaged. Call everybody and use workflows for everyone you can't reach by phone," stressed Safa. The important thing is to start with calls. "The more conversations you have about real estate with people," Safa said, "the more business you're going to do." If you're just starting out, calling is the most effective and economical way to generate leads. "If you don't have a lot of leads, then your next lead IS high quality," Harrelson said. "The highest quality lead is the one that's better than the ones you already have."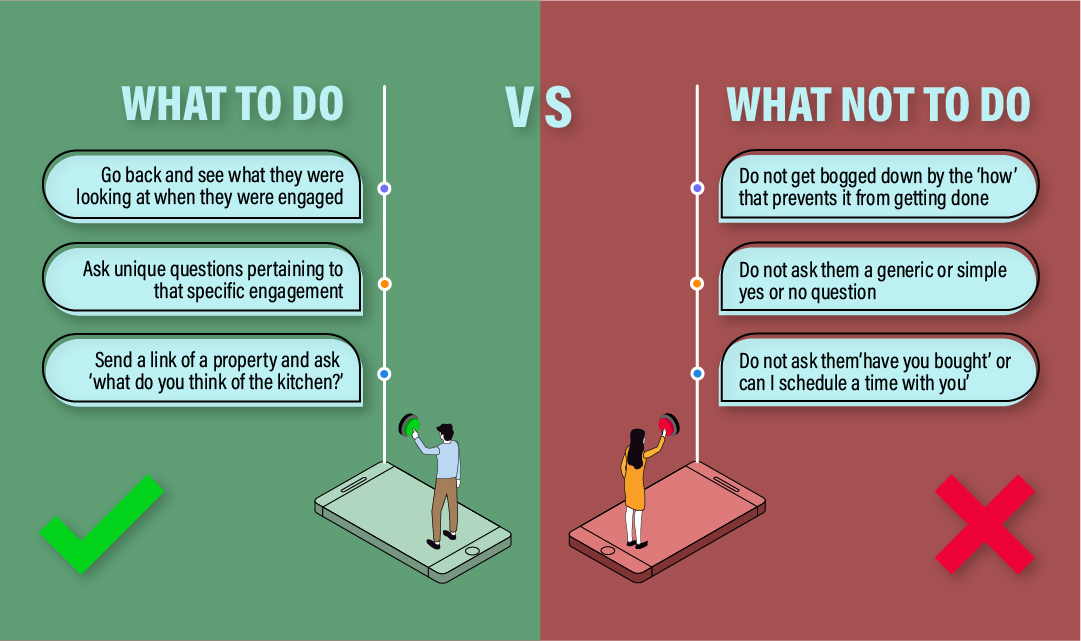 9. Go Back To What's Been Working – "Do it the most effective way, not the sexiest," Harrelson shared, saying that the things that give the next big return usually don't take a lot of time. "Stop trying to create the next best thing," he continued. Safa agreed, saying that he goes back to calls when he finds himself thinking about new options because "it's easy to think there's got to be a better way," but the reality is that calls are what work.

10. Activate Workflows – Safa and Harrelson agreed that workflows, for both buyers and sellers, were key. "A workflow is a tool for reengagement," Harrelson explained, saying that after that agents must be ready to respond. "Take the size of your database and figure out how to divide it into highest quality leads and not highest quality leads," Harrelson said. "Then find the bottom half of your database and activate some workflow." Then, respond as your clients respond, and your list will be engaged.
About
Real Leads by Real Geeks is a highly efficient and effective marketing solution for generating, capturing and managing home buyer/seller leads.

One of the best lead generation and management systems available. A fully integrated custom IDX and marketing solution to drive traffic, capture leads, manage-cultivate them and close more transactions.