This month's Real Geeks Coaching presentation, "Laying A Solid Foundation to Build Your Year On" by Dirk Zeller of Real Estate Champions focused on concrete ways that agents and teams can focus, re-energize, and motivate themselves and their leads to take action and increase wealth. Sharing the importance of a business plan, persuasive messaging, personal motivation, success indicators, and more, this episode inspires.

Tune In to Your Business Plan
At the start of the year, most of us are evaluating where we're at and setting goals for the new year. Some of us review, revise, or create new business plans. It can be an inspiring time. However many of us then put away the document to get about the business of our year.

Dirk Zeller cautions against this in his latest coaching video, reminding that "a business plan is a living breathing document," that can be modified as needed. "Review your business plan EVERY SINGLE WEEK," Zeller said, "not just to kick off your year."

Zeller also advised that agents set tangible goals that relate directly to them, asking, "What speaks to you more? Unit volume, sales volume, GCI (gross commissions income)?"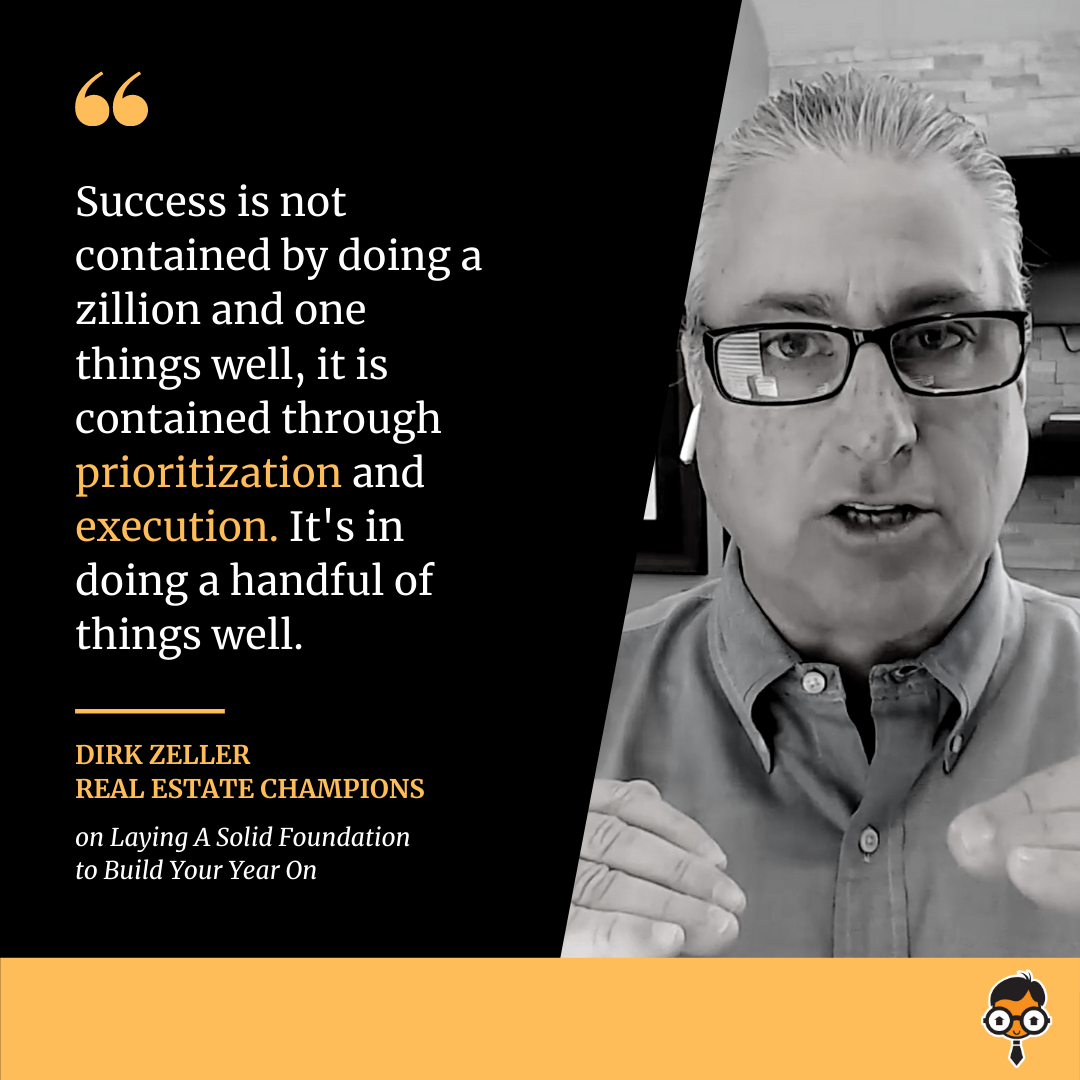 Talk to and Advise Clients
Zeller explained that now is the time to act and provide clients "fundamental reasons" to do business NOW vs. in the future. "The most important 60 days of your business is the 60-day window we're in right here, right now," he stressed.

To do this, it's important to have market stats and persuasive data. Using the example that NAR (National Association of Realtors®) reports that inventory is roughly half (52%) of what it was at this time last year. Sharing this statistic with potential sellers provides motivation for them to list their home.

Understanding the percentage of appreciation in your marketplace last year is another idea. Most sellers react favorably when they see the potential in their home sale. Discussing profit, Zeller explained how he might share this with a potential seller. "The national number [for home value in 2020] was 14% appreciation... and 2021 maybe half that, so if the bulk of that, 7%, happens between March-November." Zeller said to ask your clients, "Do you want it in your pocket?"

Framing statistics favorably, building urgency, engaging, and committing clients in the next sixty days ensures production throughout the rest of the year. Zeller encouraged each of us to ask, "What is a non-negotiable in the next 60 days, that you have to do no matter what?"

Motivate Yourself to Success and Look Forward
"Success is not contained in doing 1 zillion things well," Zeller reminded. "It's contained in doing a handful of things well." Prioritization and execution deliver results. Zeller reminded all of us of the need to look forward, especially now as the economy and the world changes rapidly. Apply the Pareto Principle 2:49 Need his quote here 20% generates 80%, etc.

Zeller encouraged everyone to "Eat, live, and breath the 80/20 rule for the next 60 days," explaining that the real estate industry is an odds game and that the odds are changing. Recognizing the odds of the game and how can agents can and need to make adjustments is critical to success. "Sales ratios have changed," he said. "We've got to adapt to the new sales ratios."

He encouraged listeners to read the book Who Moved My Cheese by Spencer Johnson, and then adjust, adapt, and accept the changes of today's marketplace. "The longer it takes you to get to the ratio recalibration, the longer it will get to the production you want," Zeller cautioned. As agents adjust their mindset, he also encouraged them to focus more on direct income-producing activities instead of production supporting activities.

Change Your Behavior and Mindset
When focusing on income-producing activities, Zeller pointed out that agents needed to ask themselves, "What is the monetary value of an appointment?" He explained that many agents put off activities because the reward is not immediate and asked, "If you got $2000 in cash for the aspect of booking an appointment, would that change your daily behavior?"

Knowing that in many cases it would, Zeller focused on the need to recognize the value of the appointment, noting that instant cash shouldn't change your behavior. "You should treat it with the same intensity even if the payment is delayed," he said, challenging each agent to make the commitment to do a call night once a week. "You've got to move the odds strategically in your favor," Zeller encouraged.

Introducing the four probabilities of success as knowledge, skill, attitude, activities, Zeller shared that high producers have a good enough attitude to DO a whole lot more and that he feels that activities, not attitude has more influence on future success. In his personal life, Zeller has seen that activity influences attitude in high performers more than attitude influences activity. Due to that, he suggests that agents focus on the activities to change their lives, dollars, and everything else. "Get out ahead of goal," he advised, "instead of playing catch-up for a good portion of the year."
About
Real Leads by Real Geeks is a highly efficient and effective marketing solution for generating, capturing and managing home buyer/seller leads.

One of the best lead generation and management systems available. A fully integrated custom IDX and marketing solution to drive traffic, capture leads, manage-cultivate them and close more transactions.