Biggest Onboarding Mistakes With Nick McLean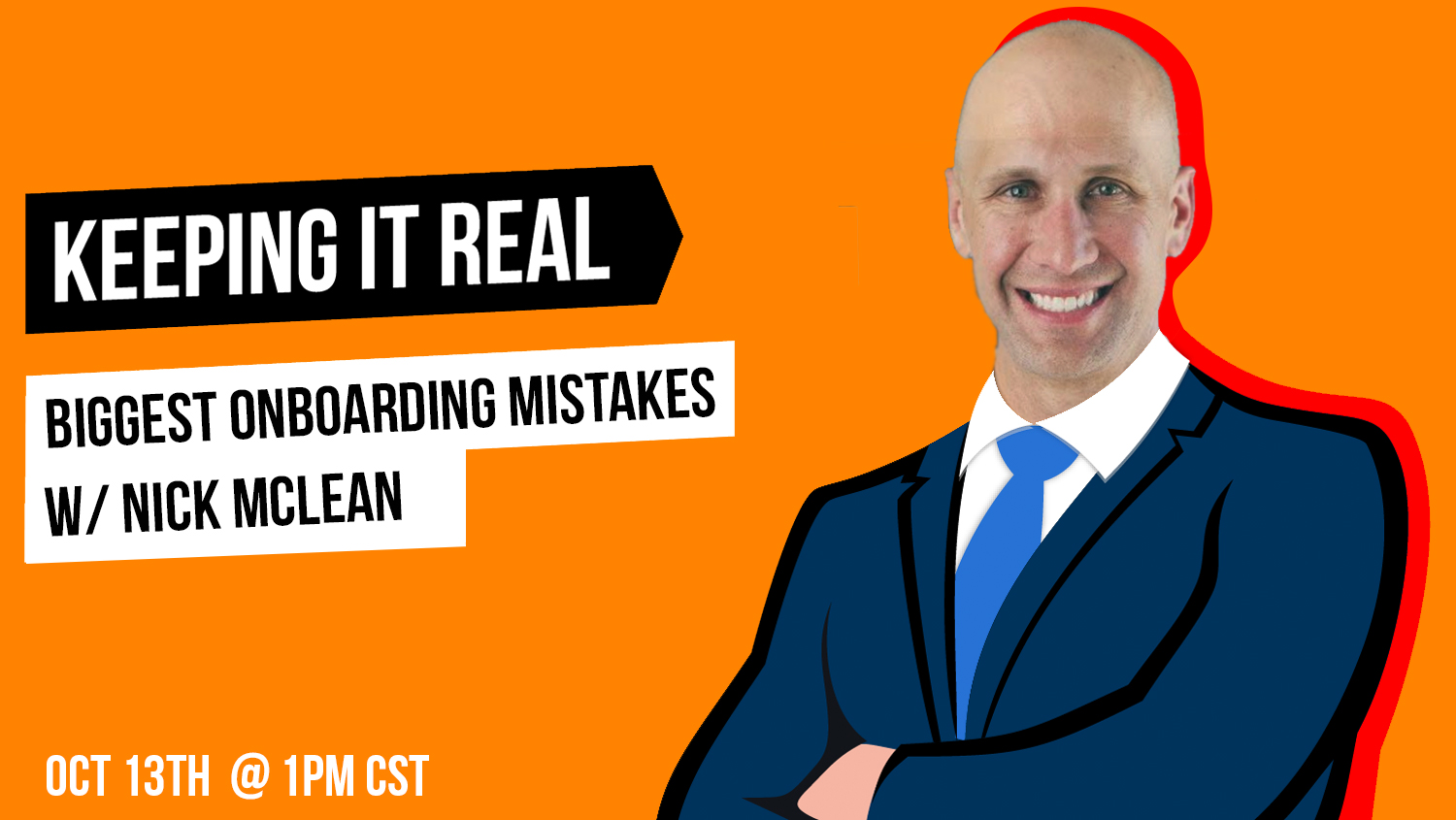 Onboarding is critical to the success of any business, yet it's often overlooked or done poorly. In this episode of Real Geeks, broker-owner Nick McLean talks about the biggest mistakes you can make with your onboarding process — and how to avoid them.
He relates his experience in the airline industry with maintaining a high level of quality customer service and how he applies those same principles to his real estate business.
Download Nick's The Ultimate Onboarding Cheatsheet here:
Here are the most important things we discussed in our conversation.
Hyper-focusing on Making a Sale
One of the biggest mistakes you can make with your onboarding process is to focus too much on making a sale. Yes, it's important to close deals, but you also need to have a method to ensure that your agents follow the proper steps and procedures.
Another mistake is to incentivize your agents primarily on sales. This can encourage them to take shortcuts and not follow the proper process. Instead, emphasize building your incentive program around following the process — this will help ensure everyone is on the same page and working towards the same goal.
Absence of Pre-and-Post-Work Training
Another mistake that McLean sees often is the absence of pre- and post-work training. He says it's essential to have a process for your agents to follow before and after appointments, listing presentations, and calls.
This will help them prepare their clients for what to expect and debrief with them afterward.
He also notes that educating your clients on the process is essential. According to him, 70% of people said they would be more likely to purchase or list properties if they understood the process. Take the time to brief your clients — it pays off in the long run.
McLean also stresses the importance of setting expectations with your agents. He says it's essential to discuss what you expect from your team and set realistic goals.
Not Onboarding Your Agents To Be Future Leaders
Another common mistake McLean sees is businesses not onboarding their agents to be future leaders. He says planning for your agents to move up within the company is essential.
This could include offering advanced training programs or refresher courses every six months or having regular conversations about their career progression.
By doing this, you'll not only help your agents grow within the company, but you'll also create a pipeline of future leaders.
Lack of Crew Resource Management
Crew resource management helps your agents be resourceful even if they encounter unfamiliar problems.
Nick maintains a library that his team members can refer to when they need help. He also teaches them how to find answers themselves. Having a system in place will help your agents be more prepared for any situation they may encounter.
Giving Them a Bunch of Leads
Another mistake that McLean discusses is giving your agents too many leads. He says giving them a few good leads is essential and ensures they can follow the process.
If you give them too many leads, they'll likely get overwhelmed and unable to follow the proper steps. This can lead to lost deals and frustrated clients.
Thinking That Your Agents Want What You Want
The last mistake you can make is to think that your agents want what you want. Each agent is different, and they may want something different from the job.
Maybe they want more money, or perhaps they want more time off. It's crucial to find out what each agent wants and be prepared to support them.
Follow Real Geeks for More Real Estate Advice
If your team is not quite ready yet for advanced training, don't worry. You can always re-onboard them and get them up to speed. It may not be easy at first, but it's essential if you want to improve your onboarding process. Just explain why you need to go back to basics and provide a mix of fundamental and advanced brokering training.
At the end of the day, what matters most is that you show your new agents there is room for growth. With the right attitude and approach, anything is possible.
Follow Real Geeks for more tips on how to take your real estate business to the next level.
About
Real Leads by Real Geeks is a highly efficient and effective marketing solution for generating, capturing and managing home buyer/seller leads.

One of the best lead generation and management systems available. A fully integrated custom IDX and marketing solution to drive traffic, capture leads, manage-cultivate them and close more transactions.