Why "STOP"? The New Normal of Text Messaging Deliverability.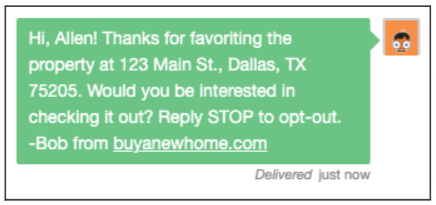 Fresh off the heels of an election season, Black Friday, and Cyber Monday, you've likely received at least a few marketing text messages lately.
SMS ads such as these are the new direction for companies to get themselves out in front of potential customers, with more and more brands jumping on the bandwagon every day.
Mobile carriers are therefore fighting a massive influx of spam consumers are receiving in their text inboxes.
As part of their efforts to address this major concern, carriers like T-Mobile, AT&T, and Verizon have begun outlining policies for how text distributors interact with their customers. For those interested, examples of these policies are available to reference through these links:
Responding to these regulations, our SMS provider, Twilio, has asked us to make a few updates to our text messaging in order to comply with the carriers' policies. In short, the changes we've made are meant to address two key sets of requirements (per Twilio's Message Policy and guidance for preventing message filtering):
Every message you send must clearly identify you (the party that obtained the opt-in from the recipient) as the sender, except in follow-up messages of an ongoing conversation.
The initial message that you send to an individual needs to include the following language: "Reply STOP to unsubscribe," or the equivalent using another standard opt-out keyword, such as STOPALL, UNSUBSCRIBE, CANCEL, END, and QUIT.

If you are contacting the same recipients multiple times per month, you do not need to provide opt-out instructions in every message, but you must do it at least once per month.
At about this point, you may be saying, "Yikes! I'm not sure I like the sound of that. Do I have to accept these updates? What happens if I don't use this type of messaging? Other services I'm using don't require us to do this, why does Real Geeks?"
These Policies aren't necessarily new, but messaging providers have recently been drawing hard lines and enforcing policies in an unprecedented way. Unfortunately, toward the start of November, ~200 Real Geeks customers had their texting stopped by our SMS provider overnight.
Not only did this affect our automated services like GeekAI (Robin) and Reactive Responses, Drip/workflows and direct agent-to-client messages were also being filtered. If other services you have that use SMS don't have any of these rules in place today, you should expect changes like this in the near future. Our prediction is that this will be the new normal.
We know how critical it is for you to be able to text with their leads. As such, we have put together a team of people focused on ensuring that messages of all types continue to be delivered. This team will also be responsible for any future updates to our messaging systems, monitoring performance of changes, and gathering feedback from our community. The goal is to strike the right balance between complying with policies and maintaining natural conversations with leads.
Here are the changes you can expect to start seeing:
For Geek AI (Robin) and Reactive Responses
The very first message sent to a lead will include "Reply STOP to unsubscribe."

For any lead that has yet to respond, we will:

Append a signature to every message: "- [First Name] from [site name/url]"; and

Append "Reply STOP to unsubscribe" every 30 days
For now, we only updated Geek AI (Robin) and Reactive Responses. That said, if we continue to see aggressive filtering on other types of messages, like Drip, then we'll make changes as needed.
While these updates might seem like a hassle at first glance, they're actually pretty positive. First, when sending a text message from an unknown number, telling the person who you are isn't just a policy requirement, it is perfectly aligns with our coach's recommended best practices. Second, we actually already implemented "STOP" language in our GeekAI messages last quarter, monitoring thousands of conversations. The numbers showed that the "STOP" language did not materially impact lead response rates. Alleviating one of our largest concerns. In particular, this change only increased opt-out rates by about 2% and that even then, those were leads who would have otherwise simply been non-responsive anyway.
While we can't guarantee that only unengaged leads will reply "STOP", we are confident that giving people a convenient way to say "No Thanks" won't "kill your conversion rates". After all, converting leads is about building relationships and helping people, and if you are doing that, no "good lead" will ever reply "STOP". As digital communications and the policies surrounding them continue to evolve, rest assured that Real Geeks is committed to your success and we'll always make the updates needed to support that.




About
Real Leads by Real Geeks is a highly efficient and effective marketing solution for generating, capturing and managing home buyer/seller leads.

One of the best lead generation and management systems available. A fully integrated custom IDX and marketing solution to drive traffic, capture leads, manage-cultivate them and close more transactions.